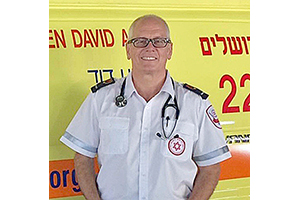 By REBECA KUROPATWA
In 2016, when Magen David Adom (MDA) introduced the Life Guardian Program, thousands of Israelis with no medical training jumped at the opportunity to participate.
The Life Guardian Program added another layer of responders to emergencies to potentially save more lives with faster response time, by certifying or recertifying everyday Israeli citizens. Many participants had learned CPR as part of their army service or teacher certification, and others took first-aid basics for the first time.
When an emergency call is taken at the MDA dispatch centre, the computer system locates and contacts the closest Life Guardians and asks them to help save the life of a person in their close proximity, while also dispatching the closest medic or paramedic.
With an eye on the rise in anti-Semitic attacks in North America, Canadian Magen David Adom (CMDA) has come out with a training program that aims to give everyday people the know-how to help if they are in proximity to the site of a mass casualty incident.
The training is designed for anyone, no matter how much or how little medical training they possess, to give people the most basic tools to help save lives. It is called "The First 7 Minutes" and will soon be making its debut in Winnipeg.
The first training session is scheduled to take place on Feb 5th at 7 pm in the Rady JCC's MPR (multipurpose room) and is being presented by CMDA and the Rady JCC. The special guest speaker will be MDA paramedic Don Sharpe, from Calgary who will train attendees and award certificates of training completion.
Sharpe has been a paramedic in Calgary for nearly 40 years. Four years ago, he had the fortune of training with MDA in Israel along with a group of other Canadian doctors.
"I've seen first-hand how an ambulance service should be run, and I think there are a lot of lessons there for us here in Canada – not just the actual frontline ambulance portion, but also for integration with hospital service, air service, and the Life Guardian Program," said Sharpe.
"I tried several times to get that off the ground here, unsuccessfully, because, I think the community and cultural cohesion that seems to exist in Israel – we don't have here."
Sharpe grew up in the Jewish community of south west Calgary, though he is a Mormon by faith.
"As I grew older and started to watch what was happening with the rise of anti-Semitism and the violence against Jewish people and the State of Israel, I came to believe that Jews were precious," said Sharpe.
"I wanted to work with a group that supported, not just the Jewish people, but also the State of Israel. So, when the opportunity came up…when I saw a presentation of a couple of doctors who had gone to Israel and worked with MDA, and they said they'd learned how to treat people on a moving ambulance…I was like, 'Well, I can do that!' They learned how to help people out in the field…and, I said, 'I can do that!'"
Sharpe was especially impressed with MDA's dispatch centre, which not only takes calls, but also provides lifesaving guidance over the phone until help arrives.
"We have so many people here now that, when an emergency occurs, they don't know what to do," said Sharpe. "The time I spent in MDA's dispatch was really eye opening.
"When I first started in Canada, people would call 911 and we'd basically just take the call, start the ambulance, and hang up the phone.
"But, MDA's idea that we can help people before the ambulance arrives is just brilliant. It makes such a huge difference.
"And now, to be able to teach groups of people, through "the First 7 Minutes" training, is perfect…groups of lay people on how to help a large number of people, casualties…in situations where everyone's panicking. With just a little bit of training and some right thinking…there is now the idea that you aren't powerless, that you can do something, you can cope. That little bit of training makes so much difference."
Through "the First 7 Minutes" training, the first thing you will learn about is how to wrap your head around the possibility that you might be in a situation where 10 or 15 people are suddenly hurt and in need of help. The training will begin with a brief talk in order to best focus as much time as possible on practicing simulated mass casualty events.
"We start with something like a wall collapse, something without a bad guy, something that's an accident rather than patients or blood," said Sharpe. "This patient has a broken arm, this person's unconscious, this person is bleeding from an abdominal wound…we go through determining who is in charge, how we know that person is in charge, where that person should stand and what s/he should do…what everyone else should do…and we also want to be alert for those people who are so freaked out by this that they don't want to help at all.
"For those people, who might say they don't like blood, I say, 'Listen, there's an important job for you. We need you to keep the people who aren't hurt calm and look after them.' I go, 'Can you do that?' And they say, 'Oh yeah, I can do that.'"
The second simulated scenario might include an assailant. The third simulation will depend on the attendees and Sharpe's observations on what should be further practiced.
"By the end of the training, you will walk away with some very basic understanding of how to work together as a team," said Sharpe. "No matter who's there, everybody can help a little bit. And, you know, if a situation ever truly arises where we have a large number of people hurt, you will remember the basics.
"You may not be good at it. Nobody ever gets good at it unless you spend the time I do treating patients, but you'll be comfortable enough to say, 'We can handle this and help people. We can take care of ourselves.'"
At the end, participants will receive a certificate. "I love the idea that people have to pay $10 for the training, because sometimes, when people just wander in and out and it's free, they aren't really paying attention," said Sharpe. "Now that they paid, they'll want to get their money's worth, so they'll have a real commitment to being there and learning this.
"I think communities need to learn to work together and to depend on themselves. And, it's not only a good way to save lives in an emergency. It's also a way to simply teach people to work together, so that, when they look at each other, they know they can depend on each other in an emergency. They're well trained."
CMDA and Sharpe are bringing the training to schools, synagogues, churches, and more.
While the topic is serious, you can expect Sharpe to include some humour along the way. "It can be a good time," he said. "We have fun. People will walk away thinking, 'I thought this was going to be pretty hard, but it was kind of fun.'"