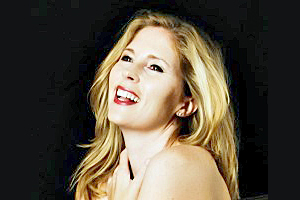 By MYRON LOVE
The Rady JCC's popular Music 'N' Mavens kicked off its 22nd season on Tuesday, January 14, with a bravura performance by the incomparable Jennifer Hanson. Accompanied by Gilles Fournier on base and Murray Pulver on guitar (both of whom are also fixtures on the local music scene) – and still getting over a cold, one of Winnipeg's leading ladies of song delivered a range of numbers beginning with long ago hits from Cole Porter and encompassing the Turtles, the Beatles, the Pointer Sisters, Linda Ronstadt and more (including a song of her own composition) while between songs chatting comfortably with her audience of nearly 200 who filled the Berney Theatre.
"Jennifer is one of the many wonderful musical talents we have in Manitoba," says Karla Berbrayer, Music 'N' Mavens' founding producer. "One of the goals of Music 'N' Mavens is to showcase that talent. There are always new people coming on the musical scene here. I am constantly on the lookout for new performers we can highlight."
Hanson's appearance was the first of 12 musical afternoons that make up the musical portion of Music 'N' Mavens. "One of my focuses this season will be showcasing the music of the '60s and '70s," Berbrayer says. "There will also be classical music, folk music and Latin American music over the next eight weeks."
The next show – tomorrow afternoon (January 23) – will feature 2018 Canadian Folk Music award winner violin virtuoso Raine Hamilton (accompanied by Quintin Bart on double bass and Natanielle Felicitas on cello) channeling the Beatles.
Gilles Fournier will be back with his own quintet (which also includes Murray Pulver) on February 27th in a tribute to the music of Aretha Franklin and on February 25th as part of the Onna Lou Quartet for an afternoon of Latin American classics.
Other upcoming performers include the Erin Propp & Larry Roy Quintet with songs of the '70s (January 28), The Very Groovy Things – a nine-musician ensemble with a tribute to the Mamas and The Papas (January 30), Nation of Two – featuring Jessee Havey and Nathaniel Good bring you protest songs from the '60's to Today (February 18), the Luminous String Quartet featuring a mix of pop and rock numbers (March 3), the Breeze Quartet with Motown sounds (March 12) and Rosemarie Todaschuk and Ron Paley producing jazz sounds with both a Jewish and Ukrainian flare (February 26 at the Gwen Secter Creative Centre).
Music 'N' Mavens will be presenting a second concert at the Gwen Secter featuring Sistema Winnipeg – high school students – composed largely of new immigrants and Indigenous students – from Seven Oaks and Winnipeg One School Divisions who receive intensive musical training under the auspices of the WSO.
Patrons attending Music 'N' Mavens programs at the Gwen Secter have the option of purchasing lunch prior to the concerts.
For fans of classical music, Music 'N' Mavens is offering an afternoon of Mozart and Tangos (February 11) featuring WSO viola player Elise Lavallee and violinist Jeremy Buzash.
Karla Berbrayer notes that the concert series that she originated over 20 years ago has grown to the point that, for the first time this year, supporters can buy tickets in advance. Individual tickets are $7 for Rady JCC members, $11 for non-members. Berbrayer points out though that you can save money by buying packages – either the mini concert pass – six concerts for the price of five ($35 for members, $55 for non-members – or the full concert pass of $49 for members, $77 for non-members – a saving of $21 for members and $33 for non-members.
Mavens are the other part of the Music 'N' Mavens series– speakers on a variety of topics including Indigenous health in Manitoba (February 4), heritage conservation (February 6), water conservation (February 13), the future of capitalism (February 20), a presentation on the iconography of the Birds' Head Haggadah by Dr. Phyllis Portnoy (March 5) and an overview of the career of Ludwig van Beethoven on the 250th anniversary of his birth (March 10) as presented by Jim Manishen.
Berbrayer notes that there is no charge to hear the speakers. "There will be a silver collection at the door," she says.
For tickets or further information, phone the Rady JCC at 204 477-7510 or go to radyjcc.com.