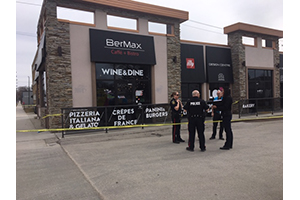 By BERNIE BELLAN
As reported on the CBC website on January 16, two of the three lawyers who had been representing different members of the Berent family, which owned Bermax Caffé & Bistro, "are no longer defending" two members of the Berent family – Alexander and Oksana Berent, following a" 'breakdown in the solicitor-client relationship,' Crown prosecutor Mike Himmelman told the court."
Both James Lowry, who had been defending Alexander Berent, and Martin Glazer, who had been defending Oksana Berent, have resigned as counsel for the accused, according to the CBC report.
The Berents were charged with public mischief on April 24, 2019, following a period of six days of sensational reporting of what was allegedly the worst case of anti-Semitism Winnipeggers had ever seen. Readers may recall that on April 19 news broke of alleged anti-Semitic graffiti and vandalism that had occurred at Bermax Caffé the previous evening, Thursday, April 18.
The WPS initially reported that what had happened at Bermax was a "hate crime/commercial robbery".
When the Winnipeg Police Service finally ended up charging the three members of the Berent family with "public mischief" following an investigation that took up over 1,000 hours of police time, according to Winnipeg Police Service Chief Danny Smyth, the reaction from most people was absolute shock.
According to the CBC report, Crown Attorney Mike Himmelman told Provincial Court Judge Robert Heinrichs on Thursday, January 16, that "he was concerned about how long it is taking to set dates for a trial."
Further, the CBC report noted that the "Berents have been commuting back and forth between California and Winnipeg. 
" 'This heightens the Crown's concerns,' Himmelman said." 
While the lawyers for Alexander and Oksana Berent have now resigned as counsel for their respective clients, Maxim Berent is still being represented by Phillip Cramer, according to the CBC story.
This is a story that seems destined to drag on for quite a bit longer. I often get asked whether I've heard anything more about what's happening with this story, but the truth is I rely upon other news outlets to provide updates on what is still one of the most fascinating cases to come our way in a long time.
Considering the rise of anti-Semitism in recent years in so many other parts of the word, it didn't really come as all that much of a surprise when we heard that a Jewish-owned café had been targeted in Winnipeg in what at first appeared to be an astonishing episode of virulent anti-Semitism.
Yet, I still maintain that the rush to judgement in this particular case – first that it was a vicious case of anti-Semitism – about which I began expressing my doubts almost as soon as the first reports of the vandalism began to emerge; then, that the Berent family committed the vandalism themselves – for money, were both without solid evidence.
I still fail to see how the Berents hoped to gain by vandalizing their own business, but like so many others, I'll be watching the trial with fascination.