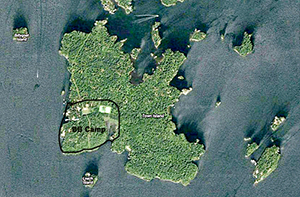 By BERNIE BELLAN
The situation regarding the possible sale of Town Island took a somewhat confusing twist these past two weeks when an online publication known as Kenora Online reported on Monday, January 13, that Kenora-Rainy River MPP Greg Rickford (who is also Ontario's Northern Development Minister) said "he's working with the City of Kenora on a possible Town Island land swap."
However, a careful reading of what Rickford is actually quoted as having said might be interpreted as the exact opposite of what the Kenora Online wrote when it said Rickford is working on a "land swap" with Kenora. Here is what the article actually said:
"Kenora Rainy-River MPP and Northern Development Minister Greg Rickford says he's working alongside staff with the City of Kenora to create an opportunity for more housing and land developments, and the plans include Kenora's Town Island."
" 'There's discussions with the city and the Ministry of Natural Resources and Forestry on the opportunity. Now that we more clearly understand the city's intentions are with it, I've assured the Mayor and Councillors (sic.) that we're going to move forward and try to create an opportunity for them,' said the minister." 
When I emailed Adam Smith, the City of Kenora's Manager of Land Services, to ask him whether he could confirm that there have been negotiations with the Province of Ontario over Town Island, Smith categorically denied that there have been any negotiations with the Province of Ontario over anything to do with a land swap for Town Island.
Here's what Smith wrote to me on January 17:
"Hi Bernie,
"The City has not had any discussions around a land swap with the Province (emphasis ours). I understand there is an article suggesting otherwise and I would suggest following up with the editor on the content." 
As a result of the possible misinterpretation of what Minister Rickford said to the reporter for Kenora Online, we have attempted to contact Minister Rickford himself to seek a clarification of what it is exactly that the Province of Ontario would like to do re Town Island.
In an email I sent to Minister Richford on January 17, I asked the minister the following:
"A careful reading of what you had to say could lead one to think that the province is interested in helping to 'develop' Town Island – which is the opposite of what those hoping for a land swap would want (which would be to see Town Island conserved in its natural state).
"Can you help me to understand just what it is that the province is interested in doing? Also, have there been negotiations with Kenora, but they don't have anything to do with a land swap?"
In a previous article we noted that the City of Kenora had set January 31, 2020 as the deadline for receiving expressions of interest re Town Island. The clock is ticking. As we noted in our Short takes column of January 8, the Province of Ontario holds the key cards in this situation if it were to propose a land swap with Kenora for Town Island.
But, it is entirely possible that Kenora will want to move ahead with the sale of that part of Town Island which it still owns regardless of the position that the Province of Ontario might take. Thus, it is crucial to understand what Minister Rickford meant when he said that "There's discussions with the city and the Ministry of Natural Resources and Forestry on the opportunity".
What opportunity is he referring to? Is it the opportunity to "develop" Town Island, which is what he seems to be saying – and which would be devastating news for the Friends of Town Island and other groups that have rallied in support of halting the sale of Town Island or is it the opportunity to conserve Town Island as a "nature conservancy", which is what the Friends of Town Island are proposing?
Certainly, ambiguity is what most politicians are very good at delivering when they offer any comments at all – if you can even get a politician to make a public comment. But, in the case of Minister Rickford, it doesn't seem that he was being deliberately ambiguous. He certainly had something in mind when he said "he's working alongside staff with the City of Kenora to create an opportunity for more housing and land developments, and the plans include Kenora's Town Island."
The problem here is that the reporter for Kenora Online didn't follow up that remark with this sort of question: "Are you talking about developing Town Island?"
Instead, the reporter – and it would seem whoever was responsible for posting the story online, took Rickford to mean that he was interested in the idea of swapping Town Island, which explains why the headline for the story read: "Province, City working on Town Island land swap".
Naturally, when I read that headline, my first reaction was: "Whew! Finally, the Province of Ontario is stepping in to help save Town Island from development", which is something I suggested in our January 8 issue was the desired outcome for this vexing situation.
Thus, when I sent an email to Adam Smith of the City of Kenora, asking him whether he could confirm that there had been discussions with the Ontario provincial government about a land swap for Town Island, I was shocked to read that, not only was there nothing to announce regarding a deal to swap provincially owned land either in or adjacent to Kenora for Town Island – Smith denied there had even been any negotiations on the matter.
But, it took three days for Smith to respond to my query about a land swap. Once I received his response late Friday afternoon, I immediately contacted the reporter for Kenora Online to ask him whether he had recorded anything else Minister Rickford might have said that would have justified going forward with a headline that Ontario and Kenora were working on a land swap for Town Island?
Here's what the reporter wrote back to me in an email: "That is the direct quote I received from Minister Rickford after speaking with him in person in regards to the Town Island land swap (emphasis ours). I'd encourage you to contact his office for more."
So, it would seem clear that the reporter for Kenora Online was asking about a land swap when he spoke with Minister Rickford. And, I can well understand the reporter's interpreting the minister's response to mean that the Province of Ontario was indeed interested in a land swap, but this wouldn't be the first time that a reporter might have rushed to judgement without asking a more specific question that would have removed any doubt as to what the minister meant.
Why all this concern about Town Island, you might be wondering? Well, if over 10,000 individuals have taken the time to sign a petition asking the City of Kenora not to sell Town Island, it's pretty clear that this is an issue that resonates with a great many people.
And, with the clock ticking as we move ever closer to the possibility that Kenora may indeed sell off the rest of Town Island to a private developer (although there is nothing to forestall an organization or individual from coming forward with an offer that would see Town Island safeguarded from private development), it's awfully important to remove any ambiguity as to what the Province of Ontario is prepared to do to protect Town Island – if anything at all.
I'm just afraid that the Kenora Online might have got it all wrong though – and, rather than wanting to preserve Town Island, the Minister of Northern Development for Ontario actually wants to develop Town Island. After all, his title contains the word "development", not preservation.
And, given the response that I received from Adam Smith of Kenora in which he said there have not been any negotiations at all with the Province of Ontario over a land swap for Town Island, it doesn't appear that the Province of Ontario will do anything to stop the sale of Town Island to private developers. Just the opposite seems the most logical interpretation of what Minister Rickford had to say: He wants to "develop" Town Island.
Post script: We have to attempted to reach Minister Rickford several times since this article first appeared in our print edition, including through his government office in Toronto and his constituency office in Rainy River –  to clarify just what is the Government of Ontario's intent with respect to Town Island, but have not heard back from anyone associated with the Ontario government.
This is one case though, where I hope I'm proved absolutely wrong though – and the Ontario government is sincerely interested in doing a deal with Kenora.