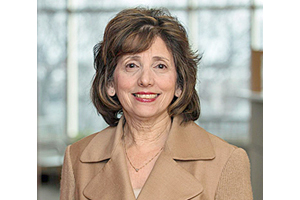 By BERNIE BELLAN
The list of recipients of the Order of Canada named by Canada's Governor General, Julie Payette, now includes Dr. Cheryl Rockman-Greenberg of Winnipeg.
Altogether 120 recipients of the Order of Canada were announced in a press release dated Dec. 28, 2019.
The Order of Canada, which was created in 1967, is given to people "whose service shapes our society, whose innovations ignite our imaginations, and whose compassions unite our communities."
The press release cited Dr. Rockman-Greenberg for "her contributions as an academic clinician and physician in the field of genetics, notably in the treatment of genetic disorders overrepresented in unique populations."
Eva Wiseman's recently published book about a century of Manitoba Jewish physicians, "Healing Lives", described Dr. Rockman-Greenberg's contributions to the field of genetics:
"Dr. Rockman-Greenberg's specialty is biochemical genetics. Her professional interest include newborn screening and metabolic and genetic discarders. She helped establish the first clinical laboratory to specialize in using DNA testing to diagnose genetic disorders. She is a world authority in the genetics of inheritable disorders among Indigenous, Hutterite, and Mennonite people. In 2008, Rockman-Greenberg and her team developed an investigational drug to treat hypophosphataisa (HPP), a rare genetic condition that causes abnormal development of the bones and teeth….
"From 2004 to 2014, Dr. Rockman-Greenberg was head of the Department of Pediatrics and Child Health at the Children's Hospital of Winnipeg and the medical director of the Winnipeg Regional Health Authority's child health program…
"In 2015, she became a distinguished professor, and she was inducted into the Medical Hall of Fame in 2018. She is currently a clinician scientist at the Children's Hospital Research Institute of Manitoba.