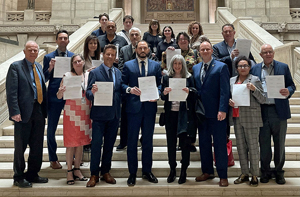 By BERNIE BELLAN The Manitoba Legislature passed a motion unanimously on Tuesday, May 31 that recognizes May as "Jewish Heritage Month" in Manitoba.
In a press release describing the motion, it was noted that "Springfield-Richot MLA Ron Schuler was pleased to present Bill 240, The Jewish Heritage Month Act, which would make each year's month of May Jewish Heritage Month.
The Bill was first read on Monday, May 30, and was debated on Tuesday May 31. Many prominent Jewish community leaders and organizations watched from the gallery.
" 'Jewish people have persevered throughout human history, and throughout Canadian history as well,' said Schuler. 'We will never forget the atrocities committed during the Second World War and the Holocaust. As Canadians, we need to learn from our past and do our part to ensure that these events never happen again.'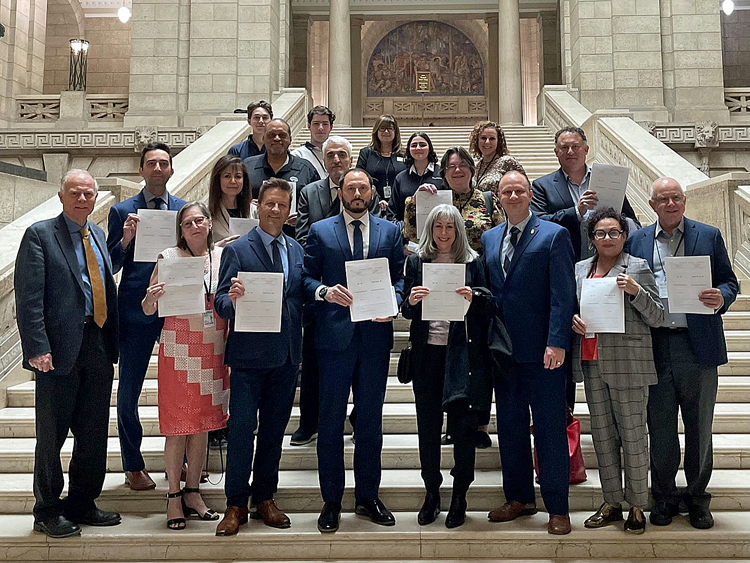 Pictured in the above photo are: front row (l-r): Jon Gerrard, MLA, River Heights; Elaine Goldstine, CEO, Jewish Federation; Ron Shuler, MLA, Springfield-Ritchot (and presenter of the bill); Gustavo Zentner, President, Jewish Federation; Carol Duboff, board member, Jewish Federation; Andrew Micklefield, MLA, Rossmere (and seconder of the bill); Shelley Faintuch, former Community Relations Director, Jewish Federation; Haskel Greenfield, U of M Judaic Studies Program Coordinator
second row (l-r): Adam Levy, Communications & Public Relations Director, Jewish Federation; Belle Jarniewski, Executive Director, Jewish Heritage Centre of Western Canada; (behind Belle) Patrick Elazar, Member, Jewish Federation board; Stan Carbone, Director of Programs & Exhibits, JHCWC; Ruth Ashrafi, B'nai Brith Manitoba Regional Director; John Diamond, CEO, Jewish Foundation of Manitoba;
third row, (l-r): Gray Academy students Emery Rosen, Max Eilberg; Adriana Glickman, Winnipeg Program Coordinator, B'nai Brith; Gray Academy student Eden Avimelek; Judi Price-Rosen, Gray Academy staff representative
Following is the text of the act:
WHEREAS Manitoba is home to a strong and vibrant Jewish community;
AND WHEREAS Manitoba's Jewish community is the fifth-largest Jewish population in Canada;
AND WHEREAS Manitoba's Jewish community reflects the vibrant history and diverse culture of the Jewish people;
AND WHEREAS the Jewish community has made significant contributions to the growth and prosperity of Manitoba while overcoming tremendous obstacles;
AND WHEREAS the month of May is meaningful for the Jewish community;
AND WHEREAS celebrating the Jewish community in Manitoba will provide an opportunity to educate future generations about the inspirational role that Jewish Manitobans have played and continue to play across Manitoba;
THEREFORE HER MAJESTY, by and with the advice and consent of the Legislative Assembly of Manitoba, enacts as follows:
Jewish Heritage Month
In each year, the month of May is to be known throughout Manitoba as Jewish Heritage Month.
Following passage of the act, various representatives of the Jewish community,along with some students from Gray Academy, met with members of the provincial government, including MLA Ron Schuler and MLA Andrew Micklefield.
Jewish Federation President Gustavo Zentner then read remarks describing the history of the Jewish community in Manitoba.
Good morning,
My name is Gustavo Zentner, and I am the President of the Jewish Federation of Winnipeg, the representative body of Manitoba's Jewish community.
I would like to begin by extending sincere thanks on behalf of our community to The Honourable Andrew Smith, Minister of Sport, Culture, and Heritage, as well as The Honourable Ron Schuler, for inviting us here today to participate in today's dedication.
We applaud the Province of Manitoba for the introduction of the Jewish Heritage Month Act, declaring May as Jewish Heritage Month in Manitoba. The Federal designation of the month of May as Canadian Jewish Heritage Month was passed unanimously by Parliament, and since then, other provinces such as Ontario and British Columbia have followed suit.
I wish to recognize the work and leadership displayed by Senator Linda Frum for her work in getting the Canadian Jewish Heritage Month Act passed in 2018. I had an opportunity to meet with Senator Frum last week and was particularly humbled to reflect on the importance of Jewish Heritage Month and its implications for Canada.
We are pleased to count Manitoba among the provinces that celebrate the contributions of its Jewish citizens, who have a long and storied history in this province.
It is from that position of strength, community building, and positive engagement that I bring remarks to mark this momentous occasion. Let me be clear: the Jewish community is joined by many other ethnic groups and faith-based organizations that have made significant contributions to our province.
Deeply rooted in Jewish values, we celebrate and promote inclusion, equality, and diversity as reflected by the Jewish community delegation accompanying me here today.
Our Jewish community has played a leading role in the development of this province and, throughout our history here, has partnered with Manitobans and others to make this a prosperous and welcoming province for all.
In 1877-1878 the first known Jewish residents of Manitoba arrived. By the dawn of the following decade, more Jewish immigrants began to arrive in Manitoba, establishing themselves as merchants, peddlers, and traders. By 1881, there were 33 Jewish families in Manitoba, and the total Jewish population numbered about one hundred.
Early settlers of Jewish descent had a profound impact on our business community. I reflect on the life of Max Goldstine, a Hudson's Bay factor at Fort Qu'Appelle during the Riel Rebellion. He moved to Winnipeg in 1880, married Jennie Cohn from Lexington, Kentucky and in 1883 established a clothing and general merchandise business, The Manitoba Clothing Company. One full century later, his great-grandson, Dr. Ian Goldstine, my friend, led the Manitoba Medical Association, now Doctors Manitoba, in 1993, and led the Jewish community as President from 2001-2003.
In the early 1880s, Alexander II, the Czar of Russia, was assassinated in St. Petersburg. The Russian government quickly pointed the finger at the Jews of Russia for his assassination. This caused its population to revolt against Russia's Jewish population, who began to face unprecedented antisemitism through violent antisemitic attacks known as pogroms.
This caused a mass exodus of Jews from Russia. Seeking a land of opportunity free of antisemitism, many of them chose Manitoba as their new home, leading to the tripling of the Jewish population here to over 300 by 1882.
All was not bright for Jews once they arrived here, however, as many struggled to adapt to new cultural, political, and socio-economic conditions.
However, they persevered, and by the late 1880s land was assigned to Jewish farm settlers within Manitoba, in locations such as Niverville, Bender Hamlet, and Camper. Closer to Winnipeg, several Jewish farmers set up dairy farms.
In the decades that followed, rampant antisemitism began to tear through Europe, which led to the influx of Jewish immigrants to Manitoba continuing. By the turn of the century, the Jewish population here had increased to just over 1,500. By 1921, it had grown to over 16,000.
Standing here with you today is a privilege I do not take for granted, and I believe it is only fitting to reflect on some of the individuals who have built the core of our community and province.
A recently published book called "Healing Lives, A Century of Manitoba Jewish Physicians," narrates the contributions made by Jewish doctors to our province. It was in Portage La Prairie that, in 1883, Jewish doctors started to engage in a variety of medical practices, primarily internal and respiratory, led by Dr. Cherniack. With growing cases of tuberculosis, Dr. Earl Hershfield led a practice in Northern and Aboriginal communities.
It is fascinating to reflect on the fact that, despite the 'numerus clausa' in place at that time – to ensure that the "right people" practiced medicine, members of our community continued with their commitment to build community and serve to the greatest extent possible…such as Dr. Ruven Lyons, who retired at the age of 82 from his obstetrics practice, and who also served as President of Shaarey Zedek Congregation.
That commitment was further carried on by Dr. Edward Lyons, whose leadership has included his role as President of the Canadian Association of Radiology and the International Society of Radiology and Ultrasound.
This is reflective of how Manitobans are in having an impact at national and international levels. Dr. Lyons, my friend and mentor, was also a former President of Congregation Shaarey Zedek and a Past President of the Federation.
Members of our community have also played vital roles in the judicial system, advocating for the rule of law, and occupying many notable positions within the judicial system in Manitoba.
It was in the decades that followed the first migration of Jews to Manitoba that Jewish people began to make an indelible mark on the historical fabric of Manitoba, through their increased participation in social, business, and political spheres.
Unfortunately, partly as a byproduct of their further integration into society, many experienced antisemitism. As late as the 1930s, Jews were excluded from private clubs and popular vacation spots here in Manitoba.
Undeterred, they continued to flourish. In the early 1960s, the Jewish population of Manitoba peaked at 21,000 and then began to decline. In 1990 Winnipeg's Jewish population had fallen to less than 16,000 due to an aging population along with younger members of the community leaving to find opportunities in larger Canadian cities.
That is when leaders of our community took charge and undertook a series of actions to reverse that worrisome trend. The first was the opening of the Asper Jewish Community Campus in September 1997 – which still serves as the beating heart of our community to this day. Our Federation's GrowWinnipeg initiative followed shortly thereafter, focuseing on the retention of our local Jewish population, and active recruitment of Jewish immigrants from all over the world.
Key to these efforts was outreach to the Jewish communities of Latin America, especially Argentina. In 1998, their Honours, Gary and Janice Filmon led efforts to open Manitoba to members of the Argentinean Jewish community, who were encouraged to consider moving to Manitoba and starting new lives here.
As a result, our Federation organized a program to actively recruit Jewish families from South America, which was quite successful in our revitalization efforts. Over the next several years, close to 500 South American Jewish families moved to Winnipeg, where they became a prosperous contingent of our local population. I am proud to say that I am here because of the initiative shown by certain individuals and humbled to play a leadership role standing on the shoulders of remarkable Manitobans.
For nearly 150 years, Jewish people have contributed to the social, political, and cultural vibrancy of Manitoba. Notably, members of our community's leadership have paved the way to enable our province to reach international heights while building a strong community in Manitoba and across Canada. The late Izzy Asper was one of our leaders who played a prominent role in government, leading the Manitoba Liberal Party, developing a strong legal and business practice, and becoming the cornerstone of philanthropy in our province by establishing the Asper Foundation. One of his most accomplished legacies is the Canadian Museum for Human Rights, which he envisioned by drawing on Jewish values and a commitment to Tikkun- Olam, a Hebrew phrase meaning 'repairing the world'.
With us today, we are surrounded by representatives of the Asper Jewish Community Campus, home of most of Manitoba's Jewish institutions.
Our community's commitment to heritage is highlighted by the Jewish Heritage Centre of Western Canada. Our sports and experiential Jewish life are enabled by the beautiful and vibrant Rady Jewish Community Centre; and our youth camps, B'nai Brith Camp and Camp Massad, leading our experiential Judaism and delivering youth programs in Manitoba.
The Jewish Foundation of Manitoba, established in 1964, has surpassed $150 million in endowments, and plays a key role in enabling and sponsoring activities within and outside the Jewish community. I am proud to serve on its Board of Directors and can see first-hand the impact its contributions make.
The Jewish Federation of Winnipeg's mandate is to enable a secure, connected, and safe community for all. We celebrate this month and look to the future by ensuring Jewish education, as exemplified by the Gray Academy of Jewish Education and other Hebrew and Jewish programs at other schools across our city, providing formal education for generations to come.
We are vigilant in monitoring the rise of antisemitism across Canada; I recognize the work done by B'nai B'rith Canada to eradicate racism and hatred.
Our clergy and others not only serve roles in our Jewish synagogues, they also engage in cross-communal and inter-faith activities, contributing to a prosperous and connected province, based on Jewish values and deep connections with other communities in Manitoba. I recognize the work done by the Manitoba Council of Rabbis with other faith groups in our province.
As I stand here today, I can't help but wonder what those first Jewish immigrants who arrived here in Manitoba would think of the active, thriving community that we have built – and what they would think of us, standing here today, celebrating the contributions of Jewish people in the Province of Manitoba, in partnership with our elected officials, at the invitation of the Government of Manitoba to the Manitoba Legislative Building. Today, The Manitoba Government has unanimously passed the adoption of Bill 240, The Jewish Heritage Month Act.
In this month of May, we recognize, remember, and reflect on the horrors of the Holocaust -Yom HaShoah. We remember and honour the Israeli soldiers and those who have fallen in defense of the State of Israel and the Jewish world (Hebrew: Tzvah' Haganat Israel), the Israel Defense Forces, or IDF.
And we celebrate the great State of Israel, a sovereign democracy, home of the Jewish people wherever they reside… a country committed to supporting humanity around the world, (Hebrew: Am Israel Chai; Eretz Israel Chai) The People of Israel Live, The State of Israel Lives.