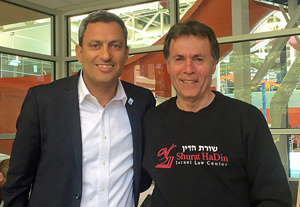 By BERNIE BELLAN It was just three short years ago (in February 2019) that the mayor of Sderot, Alon Davidi, visited Winnipeg for the first time. I was invited to attend a briefing that Mayor Davidi gave in the boardroom of the Taylor McCaffrey law office back then. Here is part of what I wrote about that briefing:
"Living in Sderot is 95% heaven and 5% hell." That is how Mayor Alon Davidi of Sderot characterized living in the Israeli city of Sderot to a small group of invited guests at a luncheon held in the board room of Taylor McCaffrey law offices on Thursday, February 28. Davidi was the special guest of the Jewish National Fund during his visit to Winnipeg. The JNF has been involved in the construction of an animal assisted therapy centre in Sderot. Davidi said his talk was titled "What it's like to thrive under pressure". "For anyone not familiar with Sderot and where it is located, Davidi referred to a map of Israel during his 40-minute talk on Feb. 28.
Sderot is situated only one kilometer from the Gaza Strip, which means that if a rocket is fired from areas close to the border with Israel, residents of Sderot have only 15 seconds to escape to a bomb shelter before that rocket could hit. "Mayor Davidi, who is 44 years old, and who moved to Sderot 21 years ago, noted that he and his wife Nurit are the parents of seven children. "Yet, despite the constant threat of attack from Gaza, Mayor Davidi said that Sderot has actually thrived as a community. He noted that the population is now over 28,000, having grown from 21,000 in 2010.
Although there had been an exodus of residents when rockets first began to be fired during the second intifadeh in 2001, and that exodus continued until 2008 when Israel launched Operation Cast Lead, with the introduction of the Iron Dome system in 2011, residents of Sderot have developed a much greater certainty that they will be protected from rocket fire. Since 2008 Sderot has continued to grow, with the construction of over 3,000 new apartments in the past five years, a sports complex, and a shopping mall."However, the residual effects of years of bombardment by rockets launched from Gaza combined with the ever-present threat that a rocket might be coming at any second have taken their toll on many residents of Sderot, especially children."
Although Mayor Davidi's first ever visit to Winnipeg came only three years ago, in many ways that seems like a lifetime ago. So, when I received a text message from David Greaves, JNF Saskatchewan-Manitoba Executive Director, on Tuesday morning, May 31st, asking me whether I would be able to come down to the Asper Campus to meet with the mayor of Sderot, I actually had forgotten that we had met. So, when I walked up to the table at Schmoozer's where the mayor was sitting with David Greaves (and two other representatives of the JNF), I was surprised when Mayor Davidi said he remembered me. (I didn't remember meeting him.) He said that he had been to Winnipeg before and made the usual observation about even though Winnipeg was cold, it has a very warm community. (I told him that if he thought it was cold when he was here the last time, he should have been here this past winter if he really wanted to experience cold.)
As it was, much of what the mayor had to tell me wasn't all that different from what I discovered I had written about what he told those of us who were in that boardroom three years ago – after I read my account of that 2019 visit again. What is different though is that a project financed by JNF Canada, known as The Bervin JNF Canada House of Excellence has now finally begun construction. Here is what we wrote about that project last year, prior to last year's Negev Gala, which honoured Ted and Harriet Lyons: "The Bervin JNF Canada House of Excellence is to be built in Sderot, which is the community that has always been the most immediate target of missiles launched over the years from the Gaza Strip. This particular facility is intended to serve as an after-school education, empowerment, and enrichment centre for high school students from Sderot and its surroundings, who will be provided with the necessary tools and skills for personal and scholastic success'."
"The choice of Sderot as the location for this year's project for JNF Canada (and, by the way, for the first time ever, all Negev Galas held across Canada in 2021 have earmarked funds for the Bervin project – hoping to raise $4 million altogether), was made long before Sderot found itself coming under incessant fire just a few weeks ago. (Incidentally, of that $4 million to be raised across Canada, over $1. 3 million has already been raised from Winnipeg donors, including $100,000 from Ted and Harriet Lyons themselves."
When I chatted with Mayor Davidi on May 31, I asked him how much Sderot has changed in the time that he's been mayor? He said, "We are not 'surviving', we believe in our city. We decide Hamas will not win us. We will build our city to be a very strong community." At the same time though, Davidi reminded me that the omnipresent fear of a missile being launched from Gaza is still top of mind for almost everyone who lives in Sderot. "You know that when you wake up in the morning, you always need a place to hide," he observed. "I need to make our lives better." We talked about the young people of Sderot – the kinds of young people for whom Bervin House may offer a life-changing experience. "The children in Sderot are like a special unit in the army," Davidi said. "They're always on the front line."
In response to the difficulties with which they're presented, Bervin House promises to give those young people opportunities to better their lives by equipping them with the skills that are so desperately needed in Israel's mushrooming high-tech sector. "Our mission," Davidi said, "is to prepare students with the skills to work in high-tech companies." On that point, I asked him whether any high-tech companies have actually located in Sderot? Davidi quickly rattled off a list of names of companies, adding that as much as the Sderot economy has improved over the years, it still is well in need of support, reminding me that it first began as a development town for Sephardi refugees from Arab countries in the 1950s. Things really began to pick up though with the arrival of thousands of Russian immigrants, beginning in the 1990s, Davidi added.
When I asked him why he had come back to Winnipeg after having been here only three years ago, he said that he wanted to thank Winnipeggers for the support they've shown, mentioning several individuals by name, including Ted and Harriet Lyons, Larry and Tova Vickar, and Nola Lazar. Then he added this interesting tidbit: One of Nola and Matthew Lazar's two daughters (both of whom have made aliyah) is now living in Sderot, as part of her social work training. I said that I would definitely try to contact her to ask her to describe her experience living there. I hope that I will soon be able to have a report.