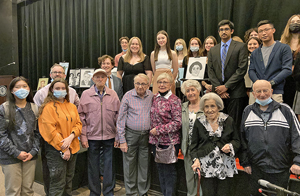 By MYRON LOVE In a sense, Kelly Hiebert could be designated as "righteous among the Nations". The Westwood Collegiate history teacher is one of just a handful of teachers in Manitoba who make a point of incorporating Holocaust education in their teaching.
"Holocaust education is optional in Manitoba schools," he points out. "I choose to teach it. Other may not. But, with the ever-increasing incidents of anti-Semitism in Canada and around the world, Holocaust education is more important than ever. I consider it important to teach the truth. There are certain truths, in my mind, such as the truth of the Holocaust that are non-negotiable."
Last month, Hiebert's dedication to Holocaust education was recognized with the announcement that he has been chosen to receive the Governor General's History Award for Excellence in Teaching for his ground-breaking work – with a number of his students – mainly Grade 12 students – who belong to the Westwood Historical Society – on the documentary "Truth Against Distortion".
"It is a honour and a privilege to have had our hard work and energy in highlighting an ongoing issue acknowledged in this way," he says.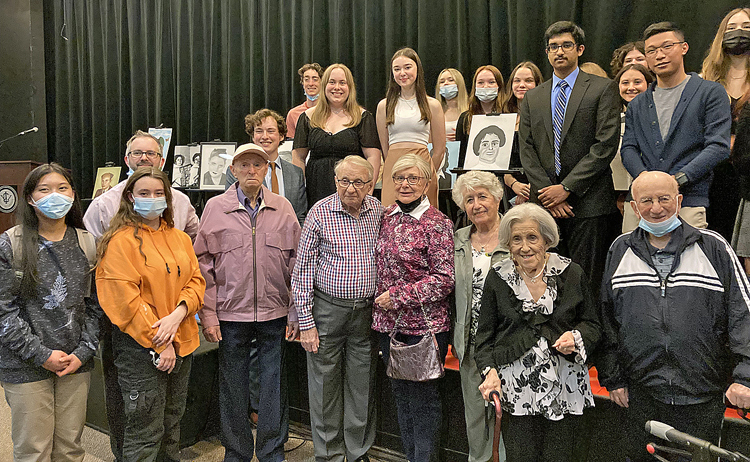 Holocaust survivors with Westwood Collegiate teacher Kelly Hiebert and Westwood Collegiate students: Kelly Hiebert is standing behind the girl in the orange top. Beside her, are, from left-right: Joel Alpern, Frank Weinfeld, Edith Kimelman, Betty Kirshner, Barbara Goszer, and Isaac Gotfried
Hiebert says that his passion for Holocaust education was kindled while a history student at the University of Winnipeg, citing in particular the influence of European history professors Robert Young and Daniel Stone – the latter of whom has been a leader in our community in Holocaust education and the accumulation and preservation of local Jewish history.
Hiebert has been teaching at Westwood Collegiate in the St. James Assiniboia School Division for the past 16 years. He teaches Grades 9 through 12 and notes that the history curriculum in Grade 9, 11 and 12: different types of government, Canada and World War II and genocide and oppression respectively – provide opportunity to incorporate the Holocaust as part of the subject matter. He also teaches in the International Baccalaureate program, in which, he says, he has been able to delve more deeply into the lessons of the Holocaust.
The making of "Truth Against Distortion" was inspired by a trip that Hiebert and some of his students took to the Warsaw Ghetto and other Holocaust-related sites in 2019. The teacher and his students began work on the documentary in March 2020.
"Truth Against Distortion", which runs for just under an hour, combines archival footage with first person accounts with a number of Holocaust survivors living in Winnipeg – including Edith Kimelman, Frank Weinfeld, Isaac Gotfried, Barbara Goszer, Betty Kirshner, Joel Alpern, Henny Paritzky (who recently passed away) and sisters Rochelle Fink and Regine Frankel, as well as Angie Orosz Richt from Montreal – the youngest Holocaust survivor, having been born in Auschwitz in late December 1944.
Hiebert gives a lot of credit for the making of the documentary to Belle Jarniewski, executive director of the Jewish Heritage Centre of Western Canada – and a world leader in Holocaust remembrance and education, who served as an adviser for the documentary.
"I have been working with Belle for over eight years," Hiebert reports. "She was really helpful in providing content and contact information for survivors."
He also credits Yad Vashem, the Holocaust Memorial Museum in Washington, and the Azrieli Foundation, with providing resources and archival footage.
The documentary, he adds, was made possible by a 2020 human rights grant from B'nai Brith. "It was a pleasure working with Ruth Ashrafi and Adriana Glickman from B'nai Brith, he says.
Hiebert and his students premiered "Truth Against Distortion" at their school on May 26. "We had over 200 in attendance and received much positive comment," the educator reports.
The next screening, he notes, will be held at the Rady Centre in November as part of the annual commemoration of Krisstalnacht.
The presentation of the Governor General's Award is scheduled for the fall in Ottawa.
In the meantime, Hiebert is working on developing teaching materials for teachers to accompany the documentary. The teacher is also working toward earning a masters degree in curriculum development.
"We hope that many teachers throughout Manitoba and beyond will be inspired to use our documentary as a teaching tool to educate their students about the Holocaust," he says.
Hiebert also says that he plans to donate the archival footage that he and students were able to gather to the Jewish Heritage Centre of Western Canada.
His next project, he says, will be related to the ongoing national effort toward Truth and Reconciliation connected with the history of Canada's troubedl relationship with our Aboriginal peoples.