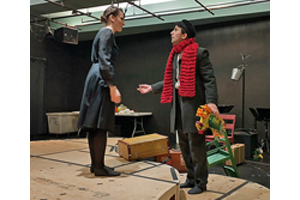 By BERNIE BELLAN Following upon the Winnipeg Jewish Theatre's resounding success with its 2021 summertime production of "Dear Jack Dear Louise," the WJT is once again about to present a play outdoors, beginning June 11, with the Canadian premiere of "The Flying Lovers of Vitebsk".
Since I really knew nothing about this upcoming production, other than how it was described in an ad that ran in our last issue: "Art comes to life in this music-filled tale of the romance between Marc and Bella Chagall," I thought I'd better contact WJT Artistic Director Ari Weinberg to give me a more complete description of what this play is all about.
Ari said: "It's a play by Daniel Jamieson, who's a British playwright. It tells the story of the relationship between Marc and Bella Chagall. It's all about their love for each other and the history of their relationship – and his painting, and the story of their meeting in 1914 in Vitebsk, the revolution in Russia, how they survived pogroms together, built a life together, and when she passed away, he shared the stories and the notebooks that she wrote – so the play is all about creativity and love."
I asked: "How is the play set? Is it dialogue between the two or is it reading out reminiscences – or letters (as was the case in "Dear Jack Dear Louise")?"
Ari: "It's sort of a memory play. It starts with Marc as an old man and then it goes back in time and we see various snippets of their relationship at various points in their lives. The time is a bit fluid – it's mostly chronological, but there are a couple of moments when we go backward in time. It's sort of like a dream play…it's sort of like his paintings.
"There are scenes where they talk to each other, and there are scenes where they talk directly to the audience. We also have a pianist and a cellist to play this beautiful music – there are also dance sequences throughout the show."
JP&N: "There's no singing then?"
Ari: "There is. There are a couple of songs in the show."
JP&N: "It sounds highly original. Where has this play been staged before now?"
Ari went on to describe how it was first staged by a British-based theatrical company known as "Knee high" which, unfortunately, was forced to close as a result of the hit that Covid took on almost all live theatrical productions.
"The Flying Lovers of Vitebsk" was first performed seven years ago, Ari explained – which also corresponded with his first year as WJT Artistic Director.
"It received rave reviews," he noted, and it "toured a little bit in Britain."
"I actually tried to get this play," he said – "in the same year we did 'Dr. Ruth.'"
At the time though, Ari continued, "Knee high" was actually hoping to tour the play throughout North America, including Canada, and they wanted to do the Canadian premiere themselves (even though their planned tour didn't include Winnipeg), "so we didn't get the rights."
"After the pandemic," Ari said, after the success of "Dear Jack Dear Louise" I began thinking of other shows we could produce and this one came up."
Like "Dear Jack Dear Louise," "The Flying Lovers of Vitebsk" is going to be performed in a tent.
"Chagall painted on a canvas. This play will be performed inside a canvas," Ari observed. "How do we bring people into the world of Chagall? This play seemed like the perfect play to do."
This will be the first production outside of the UK production then – which toured in the States, Ari said, but "this will be the Canadian premiere – the first production to ever happen that was not the original production.
"The really other beautiful thing about our production," Ari continued, "is we're doing it in the round – so the tent will be set up and the set is a giant circle."
As far as the performers go, Ari said "We have two incredible young performers: Daniel Greenberg, who is from Toronto, and Isidora Kecman, who is also from Toronto. They sing, they dance, they act – they're incredible performers."
As I was preparing to end my conversation with Ari, I added this comment: "Marc Chagall; he was quite the surrealist. I can just imagine what your set is going to look like – dancing cows and, of course, the moon prominently featured – right?"
Ari: "Wait till you see it. There are props that evoke his paintings – we've got a cow and a rooster that look like they came right out of his paintings."
Sounds like a real trip!