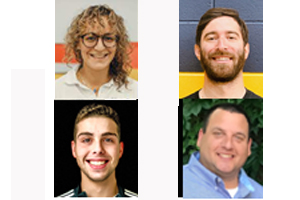 By MYRON LOVE Four Winnipeggers will be attending this summer's upcoming Maccabiah Games as either coaches or managers: Naomi Kirshenblatt – swimming team manager; David Nepon – coach, under 16 basketball team; Alan Greenberg – manager, men's open hockey team; and Zachary Baron – tennis team coach.
Naomi Kirshenblatt has twice been a participant in the Maccabiah Games as an athlete in Maccabiah Games – in 2009 and 2013. This summer, the retired competitive swimmer who has made her home in Winnipeg for the past eight years is returning to the international competition that is held every four years in Israel as manager of the Canadian Junior Swimming team.
"I am really looking forward to going back again," she says. "I have a lot of family in Israel and hope to be able to squeeze a visit in with some of them."
Originally from Ottawa, Kirshenblatt began swimming at an early age. She was just 13 when she competed in what has become known as "The Jewish Olympics".
She relocated to Winnipeg for university. While attending the University of Manitoba, she was a member of the university's Bisons women's swimming team.
She is currently working for a tech company. A further incentive for her to stay in Winnipeg, she notes, is her fiancé, Noah Kravetsky.
She observes that her charges are young swimmers mainly from Toronto and Vancouver. "They are a good group," she comments. "I am confident that the team will fnish in the top eight and one of the girls may possibly be a medal contender."
Kirshenblatt is one of four coaches/managers from Winnipeg who will be going to the games this year – the other three being Alan Greenberg (hockey), Zachary Baron (tennis) and David Nepon (basketball).
As with Naomi Kirshenblatt, David Nepon has previously competed as an athlete at the Maccabiah Games. He was a member of the Maccabi Canada under 16 basketball team in 2005. In 2017, he returned to the games in 2017 as assistant coach for the Canadian under 18 team.
"We won bronze in 2017," he notes.
This summer, the son of Dr. Jack and Carla Nepon will be head coach of the under 16 team.
Nepon recalls that his father first put a basketball in David's hand when he was four. "I started playing organized basketball when I was six and have been playing ever since," he says.
A phys-ed teacher by profession, the former Gray Academy and University of Winnipeg collegiate student moved to Toronto last fall (he is currently teaching phys-ed at the Bialik School) in order to pursue further opportunities as a basketball coach. He previously coached basketball at several local Winnipeg high schools as well as at the University of Winnipeg collegiate team.
Nepon is quite optimistic about his charges' Maccabiah prospects. "We could win gold, " he enthuses.
He is particularly excited about young Winnipegger Ariel Tsaiger (see last edition of The Jewish Post & News), the only Winnipeg player on the Canadian basketball teams at the games.
"Ariel is a special player," the coach says. "While just 14, he is already competing with 18 and 19-year-olds. I wouldn't be surprised to see him turn pro."
Unlike Nepon and Kirshenblatt, Alan Greenberg, the manager of the Maccabi Canada open men's hockey team going to the Games this summer, has never been a hockey player – at least not in any formal team.
"I was a football player," says the son of Lawrence and Lois Greenberg. "I was an offensive lineman at university (the U of M) and also played for the Winnipeg Hawkeyes."
The Garden City Collegiate grad has also been the football coach at Grant Park High School for the past few years. "We had a very successful year last season," he reports. "We made it to the finals although we didn't win."
The property manager by profession says that he was recruited to be a member of the board of the Maccabi Canada hockey program by friends Earl Barish and Gerald Olin.
He reports that he was at the 2013 Maccabiah Games with the junior hockey team – his first time in Israel – but he was unable to go back in 2017 due to other commitments.
He says that he is looking forward to the Games this summer and is optimistic that the Canadian hockey team will do well.
At the last Maccabiah Games – pre-covid – in 2017, Maccabi Canada sent a delegation of 600, one of the largest delegations from any Diaspora country. That competition featured 10,000 athletes representing 80 countries, making it the third largest event in the world, behind only the Summer Olympics and the World University Games. Canadian athletes won 72 medals at the Games, including 15 Golds.
After a year's delay due to the ongoing Covid situation, the 21st "Jewish Olympics" is back on track. The (usually) quarterly event, which was first held in 1932 and 1935 in what was then Palestine – and then resumed in 1950 after Israeli independence – is organized by Maccabi World Union – and highlights the centrality of the State of Israel in the life of the Jewish people.