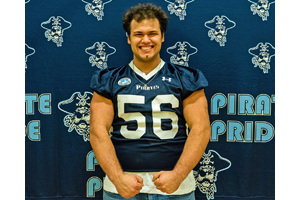 By BERNIE BELLAN Recently we published a story about nominees for Jewish Athlete of the Year. One of those nominees is Nathaniel Lisak, an outstanding football player from Grant Park High School. The picture we ran of Nathaniel, however, was not Nathaniel. We apologize for that error. A correct picture of Nathaniel appears with this story.
We admit though, that impressive a background as Nathaniel has as an athlete, of all the six nominees for Jewish Athlete of the Year, Nathaniel is the only one about whom we hadn't published a story in this paper – until now.
We were contacted by Nathaniel's father, Roman, after that issue came out. Roman informed us that the picture we had of Nathaniel was not Nathaniel. I responded contritely, apologizing as best I could, and asked Roman whether Nathaniel might be amenable to being interviewed so that we could do a fuller account of his accomplishments. In short order Nathaniel texted me, saying that he'd be glad to talk about his football career.
When we connected later that day I asked Nathaniel about his family's background. Nathaniel explained that his parents, Roman and Maria, came to Manitoba from Israel in 2004. They both had originally come from Ukraine, he noted. Nathaniel also has a sister, Priel, who is six years older than him and who was born in Israel.
Upon arriving here Roman began working for Manitoba Hydro in Gillam as a Certified Engineering Technologist, Nathaniel said – and that was where he was born and lived until he was nine. In 2014 the family moved to Winnipeg when his father was offered a job in Winnipeg. (His mother Marina, by the way, works in the Rady JCC day care.)
Nathaniel began attending Brock Corydon School when the family moved to Winnipeg – in the English program. I asked him whether he was "a big kid" back then, given how big he is now.
"No," he answered, "I was average as a kid."
But somewhere between Grade Six and Grade Nine, Nathaniel said, he began to grow…and grow. In those three short years, he told me, he grew an astounding 11 inches – going from 5' 3" to 6' 2", and gained an impressive 100 pounds. (If you look at his picture you'll see that those 100 pounds turned mostly into muscle.)
It wasn't until he was in Grade 8 that Nathaniel even strapped on pads and began playing tackle football, he noted. Prior to that the sport he played the most was basketball. He had also become a shot putter as he started to grow.
Now, if you consider how quickly Nathaniel grew, you might wonder how he adjusted to that sudden growth spurt. He said that it wasn't easy and that at times it was quite uncomfortable given how rapidly he grew in height and added weight but, given his success on the football field, it's clear that he's adapted himself to his increased size with flying colours.
As the blurb that was sent to us by the Rady JCC in describing the nominees for Jewish Athlete of the Year noted, "Lisak excelled at the defensive tackle position for the Grant Park Pirates Football team this past season. After helping his team compile a 5-1 regular season record and a spot in the championship final, Lisak was honoured with numerous personal accolades. He was named to the CFC (Canada Football Chat) All-Canadian First Team and was the recipient of the Winnipeg High School Football League (WHSFL) Kas Vidruk Lineman of the Year. At the school level he was named the Grant Park Football Most Valuable Player and was awarded the school's Football Captain Award. He was runner up for the 2021 WHSFL Defensive MVP & 2021 Harry Hood Citizenship Award. In grade 10 he became a known player in Manitoba and was named a Nationally ranked top 100 player in Canada, being a top 5 Manitoban and top three defensive tackle in the 2022 graduating class."
I wondered whether there are any particular professional football players that Nathaniel has tried to emulate since he started playing football?
"I remember watching J.J. Watt (an extremely mobile, although quite large defensive end) play," Nathaniel observed. "I was amazed how someone that big could move that fast."
Yet Nathaniel now says that his role model is Aaron Donald, the huge defensive tackle for the Super Bowl champion Los Angeles Rams, who is legendary for his quickness despite weighing 280 pounds. (Donald, by the way, stands 6'1", so in terms of comparison, he and Nathaniel are roughly the same height and weight.)
As the blurb about Nathaniel in our last edition also noted, he received numerous scholarship offers from universities across Canada. He said though that he's chosen to go to McMaster University in Hamilton. Not only does McMaster have a great football program, it also has an excellent business school. Nathaniel told me that his plan is to enter that school. Given that he's also been an honour roll student at Grant Park and that his favourite subject is math, he told me, it should be a good fit.
In addition to his studies and his athletic pursuits, for the past year Nathaniel has been serving as the Regional B'nai Brith Youth Organization president. (He's a member of "Alaphim," he noted.) His term will end this June.
Quite the package: An outstanding athlete, a terrific student, and an active member of BBYO. He was also quite forgiving of my running the wrong picture of him. On the other hand I interviewed Nathaniel over the phone. I'm not sure I would have been prepared if it turned out that he wanted to practice a bull rush on me to retaliate for my faux pas.