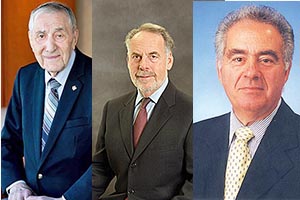 By MYRON LOVE
The recent merger of Wilder, Wilder and Langtrey with Pullan Frohlinger Kammerloch brings together some of our Jewish community's most high profile legal practitioners.
With almost 70 years of experience, Gordon Pullan, QC has been practicing law longer than anyone else in Manitoba. (Only the late Harry Walsh was in practice longer.) He was honored by the Law Society of Manitoba as a senior member of the Bar with more than 50 years of practice almost 19 years ago. At 94, he is still working full time.
Over the course of his career, he has contributed his time to virtually every Jewish community organization and many more in the community at large. He has served as president ofboth the Jewish Foundation of Manitoba and the Sharon Home. He has been associated with the Sharon Home/Simkin Centre for more than 50 years.
He has also acted as Western Regional Vice President of United Israel Appeal and is – or has been – on the boards of Greater Winnipeg Community Welfare Council/ Winnipeg Jewish Community Council, the Asper Jewish Community Campus Planning Committee, the Chesed Shel Emes, the Bnay Abraham Synagogue, Ramah Hebrew School, Mount Carmel Clinic and Anne Ross Health Resources Centre Inc. and the Winnipeg Symphony Orchestra.
Pullan also has a lengthy record of raising funds for the Combined Jewish Appeal and many Israel-related institutions.
Sam Wilder, QC has served as president of the Jewish Child and Family Service, the YMHA and the Manitoba Bar Association. Older brother Joe Wilder, QC has held numerous leadership roles in the Jewish and general communities, both locally and nationally.
His resumé includes leadership roles with the Canada-Israel Committee, the Canadian Jewish Congress, the Jewish Foundation of Manitoba, the Royal Winnipeg Ballet, the Winnipeg Blue Bombers Football Club and the Canadian Football League.
The merger, as of January 1, was six months in the making. "After almost 60 years in practice and more than 50 years in partnership with my brother, Sam, we determined that we no longer wanted to be engaged in the management aspects of operating a law firm," Joe Wilder notes. "We knew that Pullan Frohlinger Kammerloch has been expanding in recent years and felt that our two firms would be a good fit – a place where our clients would continue to feel comfortable."
In a profile on Tom Frohlinger that this writer penned last year for this paper, the Pullan Frohliner Kammerloch managing partner noted that in recent years, the firm had been adding new offices both in Winnipeg and rural Manitoba – having acquired existing law practices in Selkirk, Carman, Morden and Winkler.
"We had outgrown our office space at our building on Kennedy Street (just south of Graham)," notes Frohlinger (who is also the honorary Hungarian Consul for Manitoba). "If we were continue to grow, we needed to move into a larger office."
Thus, last April, the firm took over a floor at 444 St. Mary Avenue (about a block away from the former office). "We wanted to stay in the same area," he says. "We appreciate the amenities of the neighbourhood and we wanted to remain near the Provincial Law Courts Building."
"Joe and Sam wanted to be able to focus more time on their clients and other personal activities," Frohlinger says. "We had a number of meetings with them and really liked the synergy that our two firms could produce together. Both of our firms have a long history, equal prestige and strong market share.
"We reached an agreement last September."
Coincidentally, he points out, Gordon Pullan was the lawyer for Sam and Joe's father (jack).
Initially, the new law practice is operating under the Pullan Frohlinger Kammerloch name but will be eventually known in future as PFK LLD.
Frohlinger adds that still another well known legal mind will soon be joining the practice in the person of Israel Ludwig, who will be coming on board as of March 1.