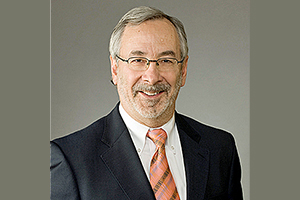 By MYRON LOVE
At a time in his life when most of his contemporaries have already retired – or are looking to transition to a more leisurely life- Joel Lazer is going against the grain and taking on more responsibility.
As of the most recent Jewish Federation of Winnipeg Annual General Meeting in mid-December, Lazer has assumed the role of our community's new president. At the same time, the co-founder in 1982 of Lazer Grant LLP continues to shoulder a full work load helping business clients to become more productive.
He stepped down on January 2 of this year as managing partner, but remains president of Lazer Grant Corporate Finance inc. – the firm's corporate finance division.
"I see it as the natural order of things," he observes. "As you get older, you better understand the importance of giving back to the community that nurtured you."
Lazer began his Federation involvement seven years ago when he was asked to join the Community Relations Committee (which has since been renamed the Public Affairs and Advocacy Committee). From there, he became a member of the Federation executive.
Of his predecessor, Laurel Malkin, he says that she did "a wonderful job". "I miss her already," he adds.
As a lifelong CA, Lazer feels that he can perhaps help the Federation find more efficiency. "There is always room for improvement," he comments.
Lazer also wants to focus on raising greater awareness of the growing anti-Semitism around the world as well as in Canada. "We have to be more diligent in promoting our values and making people more aware of the need to stand up and say that anti-Semitism is unacceptable," he asserts. "I strongly recommend Bari Weiss's new book, 'How to Fight Anti-Semitism'. It is an easy read."
Lazer is also a strong supporter of Israel, has visited many times and declares that everyone should visit Israel at least once in their lives.
Lazer takes over the presidency in the wake of a new report – the Community Forward Report, which outlines the future direction of our Jewish community. Over the past three years, the planning committee, led by Chair Carol Duboff, sought input from numerous members of the community. The report identifies priorities in a variety of areas and suggests plans of action.
"Carol and her committee did an amazing job," Lazer says. "The report gives us a great path to follow as our community goes forward. A lot of people were part of the consultation process and a lot of good work was done.
"I believe this report will result in the members of our community working together better and allow us to better reach out and engage more people as well as newer members of the community."