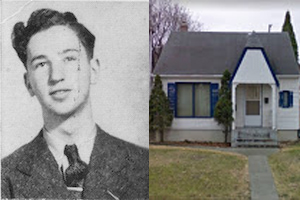 By BERNIE BELLAN
Readers of this website may recall our story posted a couple weeks ago in which we told about a $725,000 donation that was given to the Simkin Centre by something called the Myer and Corrine Geller Trust.
The donation – which was actually made out to the Sharon Home, was in the form of a $575,000 US cheque. It arrived in August of this year. The only information that the Simkin Centre had about the source of the cheque was that Myer Geller had graduated from St. John's Tech in 1943, that he went to MIT, became a physicist, and that he was granted several patents.
With that scant information – and with the help of several other individuals, including several readers of this paper, especially Ed Feuer, and someone by the name of Christian Cassidy who read my story about the Gellers on our website and who went to extraordinary lengths to piece together the Geller family history on a blog known as "West End Dumplings", we were able to amass quite a few details about Myer Geller and his family. Eventually we were led to the conclusion that Myer Geller's mother, Sarah, must have been a resident of the Sharon Home until her death in 1984.
Based on information available on a variety of websites, including the Jewish Heritage Centre of Western Canada's archives, Ancestry.ca, Truthfinder.com, Newspaper-archive.ca, and in the Winnipeg Henderson Directory of 1965, along with the St. John's yearbook of 1943 (that was loaned to us by a reader who had it in his possession, but asked us not to reveal his name), along with information provided by Christian Cassidy, here is what we found:
Myer Geller was born in 1926 (which we reported in the Oct. 28 issue). His parents were Max and Sarah. Max Geller was born in 1887 and died in 1966. Sarah Geller (whose maiden name was Feldman) was born in 1893 and died in 1984. The Gellers were married in 1916 in Winnipeg.
The following is taken from Christian Cassidy's blog, the "Western Dumpling": "The earliest mention I can find of the Geller family comes in the 1921 Census of Canada. It shows Max Geller, 30, wife Sarah, 24, and eldest child, Rose, 3, renting a room at 689 Selkirk Avenue, the home of the Peck family.
"The census taker noted that the parents were Jewish and had emigrated from Russia, Sarah in 1912 and Max in 1913. Rose was born in Manitoba ca. 1918.
"Max's profession is listed as a merchant of produce and eggs."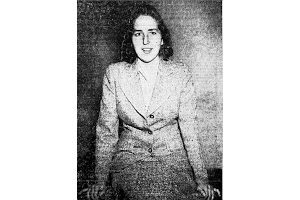 The blog also noted that Frances Geller was born in 1922.
At the time that Myer Geller would have gone to St. John's Tech the Geller family lived at 284 Bannerman Avenue.
Again, according to Christian Cassidy, "Max Geller's entry in the 1942 Henderson Directory lists him as a travelling salesman. From 1943 to 1945, he is a produce manager. No place of work is ever given.
"In 1946, Max gets into the fur industry as an employee of Elias Reich and Co. fur manufactures located on the 6th floor of the Jacob Crowley Building. He worked there and for its successor, J. H. Hecht, until 1948.
"In 1949 and 1950, Max's occupation is listed as a "tracker" – no explanation of the job title or a place of work was given."
Both Rose and Frances Geller married and lived in Toronto. Rose married someone named Louis Lieberman, while Frances married someone named Edward Jordan. We were not able to find any further references to either of the sisters once they left Winnipeg, although we did confirm that Louis Lieberman has died.
We did learn though that Myer Geller did have an illustrious career. Following his graduation from St. John's Tech, he went to the University of Manitoba, then the University of Minnesota, where he obtained a master's degree in physics. Evidently he returned to Manitoba for at least a short while because we were able to learn that he crossed into the United States in 1949, became an American citizen in 1950, then went to MIT from 1951-55, from where he obtained his PhD in physics.
Myer Geller married Corrine Taper in 1954 in New York. The Gellers lived at various times in New York, Pennsylvania, and finally California. As we also noted in our Oct. 28 story, Myer Geller's name was associated with 15 different patents.
We learned that for at least a period of his life Myer Geller worked for a branch of the US Navy known as NOSC (Naval Operations Support Centre). With the help of a genealogist friend of former Winnipeggers Carol and Chuck Faiman we also learned this about Myer Geller: "in 1960 or 1961 he moved from a job at Hughes Products to be a senior scientist at the Solid State Division of Electro-Optical Systems in Pasadena, CA."
In 1966 the Gellers moved to San Diego, which is where they lived until they both died, Myer in 2016, and Corrine in 2019. They did not have any children.
Here is the final information we were able to learn about Myer Geller's parents:
Max and Sarah Geller eventually moved to a small apartment at 206 Perth Avenue, although whether they lived somewhere else after Bannerman is not clear. The 1965 Henderson Directory lists his occupation as a parking lot attendant. Max died in 1966 in St. Boniface Hospital.
Now, at this point what I'm writing is pure speculation: Sarah Geller likely remained in Winnipeg. When she died in 1984 she was buried in Rosh Pina Cemetery alongside her husband. Her children all lived in different cities – a situation which is quite familiar to so many of us. We cannot absolutely confirm that Mrs. Geller remained in Winnipeg, but here is what we speculate:  A woman who would have been 73 when her husband died, and with no visible means of support, living in a very modest apartment, would likely have been dependent upon her children for support.
And where did individuals in that position usually end up? The evidence would seem to point to the Sharon Home, at 146 Magnus Avenue. Here we have an elderly widow with at least one of her children earning what must have been a very good income. (The Myer and Corrine Geller Trust eventually donated over $7 million Cdn, altogether, of which the donation to the Sharon Home/Simkin Centre was only 11% of the total amount donated.)
The likelihood is that Sarah Geller ended her days at the Sharon Home; hence the huge donation made to the Sharon Home.
Although we are told that the Simkin Centre did do a search in order to try to determine the basis for the donation they received from the Geller Trust, until now there would have been very scant information upon which an investigation could have proceeded.
We are not certain whether it will be possible to find records that would prove Sarah Geller was a resident there, but according to Shelly Faintuch, daughter of the late Dr. Henry Faintuch, who was executive director of the Sharon Home for many years, her father kept meticulous records of all residents in the home. If those records still exist, they should answer the question whether Sarah Geller did indeed live in the Sharon Home. In the meantime though, we are told the Simkin Centre is preoccupied with other matters, i.e., dealing with the COVID pandemic, and so it is quite understandable that any search for records that might show that Sarah Geller lived at the Sharon Home will have to be put off until the emergency situation has abated.
By no means do we want to indicate that the mystery is conclusively solved; we merely want to show that the trail of evidence which has emerged has led in a direction that could reasonably lead one to conclude why Myer Geller would have wanted to make such a large donation to the Sharon Home.