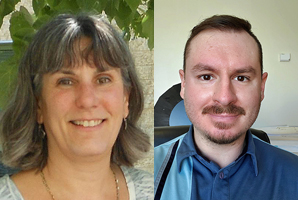 By BERNIE BELLAN The longest-serving current executive director of any of the Jewish Federation's beneficiary agencies will be stepping down as of April 1, when Nancy Hughes, the executive director of Shalom Residences, will be retiring. Into her role will be stepping Michael Goldberg, who is someone who brings with him a great deal of experience in the fields of gerontology and palliative care.
With 31 years as executive director of an organization that opened its first residential home back in 1980, Nancy has seen many changes in Shalom Residences, including presiding over a doubling of the number of homes operated by the organization during her time as executive director (from three to six).
There were 15 residents altogether when Nancy first stepped into the role of Shalom Residences executive director, she told me told me during a phone conversation I had with her and Michael Goldberg on Thursday, March 17.
The very first Shalom Residence was on Cathedral Avenue, Nancy explained. (That home was later sold and a different home on McAdam Avenue was purchased.) Other homes are on Enniskillen Avenue, Hartford Avenue, Seven Oaks Place – all in West Kildonan; on Daffodil – in Garden City; and the newest home, on Oxford Street, in River Heights.
"Most of the residents were younger when I started," Nancy observed. "Now, most are over 40." Sadly, a number of the residents who had been living in Shalom Residences when Nancy began her tenure as executive director have passed on. Three of the original residents of Shalom Residences still remain as residents, however, Nancy told me.
Although most readers are probably familiar with what Shalom Residences offer, here are some points taken from the organization's website about its goals, which are:
"To support people with intellectual disabilities in the mainstream of community life so that they may conduct their lives in a meaningful dignified way.
"To enable people with intellectual disabilities to become as self-sufficient as possible.
"To create and maintain Judaic oriented programs for people with intellectual disabilities which reflect the philosophy of Shalom Residences Inc.
"To develop community awareness of, and increase community acceptance of, people with intellectual disabilities as full and equal citizens.
"To enable the persons in Shalom Residences' programs to achieve their potential as contributing members of our community, and to become as self sufficient as possible."
Currently Shalom Residences have a total of 31 individuals receiving some sort of assistance, ranging from helping individuals still living at home with their parents who are not quite ready to take the step of living in another home (four individuals); to individuals living in apartments (eight); to individuals living with other residents in one of the six homes operated by Shalom Residences (19 currently).
(By the way, one needn't be Jewish in order to qualify for residency in a Shalom Residence.)
There are currently vacancies in three of the homes operated by Shalom Residences, Nancy noted. Although it is not unusual for Shalom Residences to have vacancies at any given time, Nancy explained, with the onset of Covid in 2020 a number of parents who might otherwise have wanted to place a child in one of the homes drew back from doing so out of fears that their loved one might contract Covid.
As a result, when I asked Nancy whether there are any plans to acquire more homes, she said that "the priority would be to fill our existing vacancies."
And, while Covid has certainly had a long lasting impact upon just about everyone, the dampening effect it has had upon individuals with intellectual disabilities had been particularly hard felt.
(I noted, in talking with Nancy and Michael, that I had actually been in attendance at the last social event in which residents of Shalom Residences were all able to mingle together in one place when I was at a Chanukah party held at 1010 Sinclair on December 18, 2019. Who would have thought that we were about to enter into a long period of social isolation soon thereafter?)
In Michael Goldberg, however, Shalom Residence has lucked out in being able to recruit an individual with outstanding credentials.
The son of Mark and Catherine Goldberg, Michael attended Ramah Hebrew School, Gray Academy, and the University of Winnipeg Collegiate, he told me.
Michael added that he attended university in South Carolina, where he obtained a bachelors degree in Psychology. (He noted that he had actually gone to university on a golf scholarship!)
Later, Michael said, he obtained his masters degree in Gerontology.
For the past seven years, he said, he had been working at Deer Lodge Palliative Care. Beginning in March he started with Shalom Residences, becoming acquainted with his new role under Nancy's tutelage.
Even before coming to Shalom Residences, Michael says that he had developed a familiarity with the program, as he "was able to facilitate courses in compassionate care for Shalom Residences staff members."
And, while Michael may not have had first hand experience dealing with budgetary matters until now, he's sure to become acquainted with the pressures that come with having to provide services under tight constraints.
Although Shalom Residences receive funding from a variety of sources, including the Jewish Federation and the Jewish Foundation, "90% of the funding comes from the provincial government" Nancy explained. (Also, a certain amount of money is raised by the Shalom Residences Foundation. Prior to Covid there was an annual in person fund raiser held by that foundation. Nancy says the plan is to have one once again this year.)
But, "funding from the government has become tighter and tighter," Nancy noted.
In fact, the trend of late has been for the government to prefer offering "respite care" for individuals within their parents' homes rather than having them placed in a Shalom Residence, Nancy said.
Aside from that trend, I asked Nancy whether there are any noticeable changes that she's seen in terms of providing care for adults with intellectual disabilities during her 31 years as Shalom Residences executive director?
"There's been a lot more emphasis placed on respecting rights and the right to make choices," she answered.
And, as far as staffing goes, I've witnessed the dedication of many different staff over the years in different Shalom Residences. Currently there are 30 full time and 40 part-time staff, Nancy said.
But, as the longest serving member of Shalom Residences staff, Nancy Hughes has definitely left her mark on an organization that has been filling a vital role within the Jewish community for 42 years now.