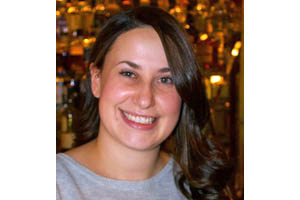 By MYRON LOVE In looking for a change in career, Tali Millo, didn't have to look far. She literally just had to move next door.
The newest member of the staff of Congregation Shaarey Zedek was, until just six weeks ago, the operations manager and general manager for 529 Wellington Steakhouse, one of Winnipeg's leading restaurants.
And, in choosing to move on from the hospitality industry, the daughter of Belle Jarnirewski and Ilan Millo was able to return to her roots. "Growing up (in River Heights), the Shaarey Zedek was always part of my life," she recalls. "My family was more observant than most of my friends' families and involvement in Shaarey Zedek was a constant. Throughout my teenage years – after my bat-mitzvah – I continued to read Torah at the Shaarey Zedek and was also a member of the choir."
She was also active in the Jewish community over the years with BB Camp, both as a camper and as a section head, the Canadian Jewish Political Affairs Committee (CJPAC), Hillel, BBYO, Jewish Child and Family Services (JCFS), and the Friendship Circle at Chabad, as well as Congregation Shaarey Zedek.
Following her first year at the University of Winnipeg in 2013, Millo moved on to Edmonton and the University of Alberta to complete her degree in Political Science. It was while in Edmonton that she began working in the hospitality industry.
"I was hired at the Keg – initially as a server – to support myself while attending university," she says. "It was a great place to work. I loved it."
She was eventually promoted to management at The Keg.
After earning her degree in 2017, she decided to return to Winnipeg. "While I enjoyed studying Political Science, I knew that it wasn't something I felt really passionate about. I found that I preferred working in the hospitality industry. It's always changing and a great way to meet a lot of new people."
Family drew her back to Winnipeg where she quickly found work with WOW Hospitality as manager of Carne Italian Chop House downtown. About 18 months ago, Millo was transferred to 529 Wellington.
"The restaurant (529 Wellington) was very, very busy," she says, "and in need of a second manager."
She observes that the hospitality industry was great training for her new role at Shaarey Zedek. As noted on the synagogue website, Millo – at 529 Wellington – "managed small-to-large scale functions from weddings to events for clients, such as the Winnipeg Jets and Habitat for Humanity. During the pandemic, she coordinated virtual dinners and wine and food delivery to hundreds of attendees on behalf of non-profit clients, including St. Boniface Hospital, The Winnipeg Symphony Orchestra, and the Young Presidents' Association."
Millo notes that the Shaarey Zedek leadership reached out to her last spring. "They were looking for a Torah reader," she says. "The practice had been for volunteers from the congregation to participate in the readings. Because of Covid restrictions, volunteers were in short supply. The administration was looking for someone to lighten the load for (regular Torah reader) Leslie (Emery) and Rabbi Mass."
(Emery, the congregation's cantorial soloist, is studying to become a cantor, Millo adds.) She says that she was getting tired of the long hours required in the hospitality trade. "I was looking for a change, but I wanted something that I would feel passionate about."
She notes that she waited until the beginning of September because summers are the busiest time in the restaurant business.
With Yom Tov so early this year, Millo found herself thrown into the deep end – so to speak with all the holiday readings in addition to Shabbat morning and evening and Monday and Thursday morning services.
"I'm not perfect at it yet," she comments, "but I am learning."
Millo's job description at the Shaarey Zedek goes beyond "Torah reader". Her official designation is "Program Director and Lay Clergy Member". According to the Shaarey Zedek webpage, "Tali will be working to create virtual and in-person events such as Shabbat dinners and celebrations like the Purim Carnival and Pesach Seder. Her work extends into our ritual department and will include coordinating special services such as Simchat Torah, General Monash Remembrance Commemoration, and Tisha B'Av. As a member of the Lay Clergy team, she will also tutor B'nai/B'not Mitzvah students, read Torah on Shabbat and weekday services, and will be one of our Minyan Daveners."
"I am really looking forward to the return of in-person Shabbat services (as of last October 2) as we slowly transition to normalcy," she says. "And later in October, we are putting on the Shabbat Project in conjunction with BB Camp, Massad, Hillel, Federation, Rady JCC, Gray Academy, Congregation Etz Chayim, Herzelia, and Jewish Federation.
"The work here that I am doing is the work that I want to do. For me, it is like-affirming.
"As time goes by, the practice of Judaism is changing. I am excited to be part of it on a daily basis."