Over 100 Winnipeggers turn out Nov. 10 in support of releasing hostages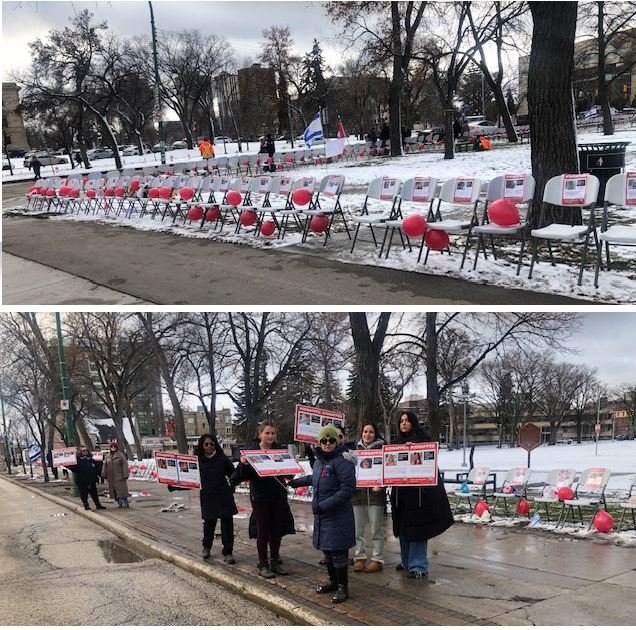 By BERNIE BELLAN (Posted Nov. 10) Organizers of an event held today in Memorial Park began arriving at 7:30 AM to begin setting up 180 chairs that ran from Broadway & Osborne east to Memorial and then north on Memorial.
Members of the Jewish community were also joined by members of Bridges for Peace.
Each chair had on it a picture of a hostage who was taken by Hamas on October 7. During the course of the day – until 4:00 pm various volunteers came out to stand on Broadway to call attention to the display to passing motorists and pedestrians. They also handed out cards giving out information about the hostages.
Here is a short video in which three of the organizers of today's event explained what its purpose was: https://www.youtube.com/watch?v=v7y_kLJvr0U
University of Winnipeg to hold discussion on Israeli "genocide and colonialism"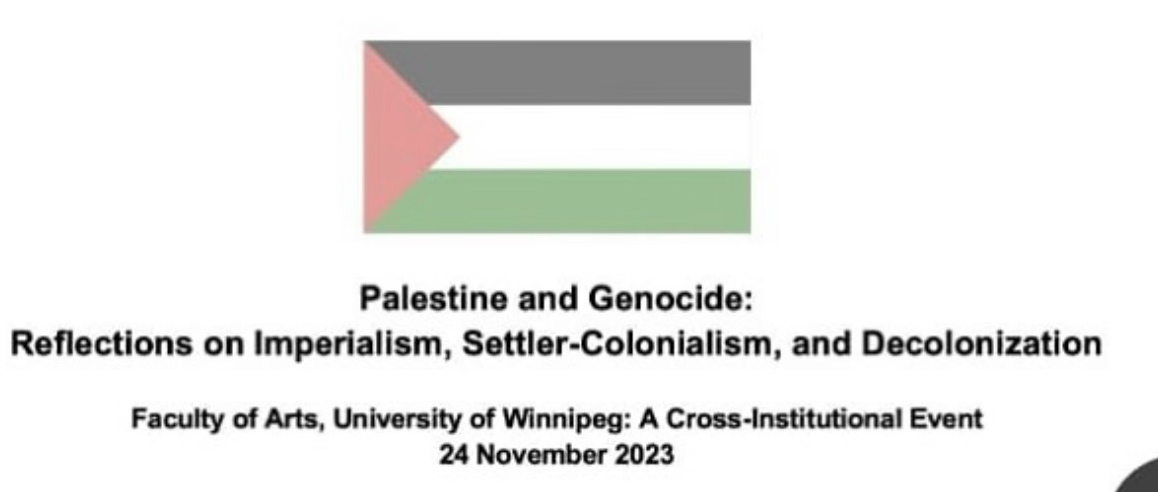 (Posted Nov. 15) On Monday, November 24 the University of Winnipeg will be playing host to a discussion titled "Palestine and Genocide: Reflections on Imperialism, Settler-Colonialism, and Decolonization."
You can read a full description of the event in the photo at the bottom of this story.
We'll attempt to contact the U of W administration to find out why on earth they would be permitting a program like this to go forward. One thing we can be sure of: If Lloyd Axworthy were still university president there is no way he would allow something like this to take place.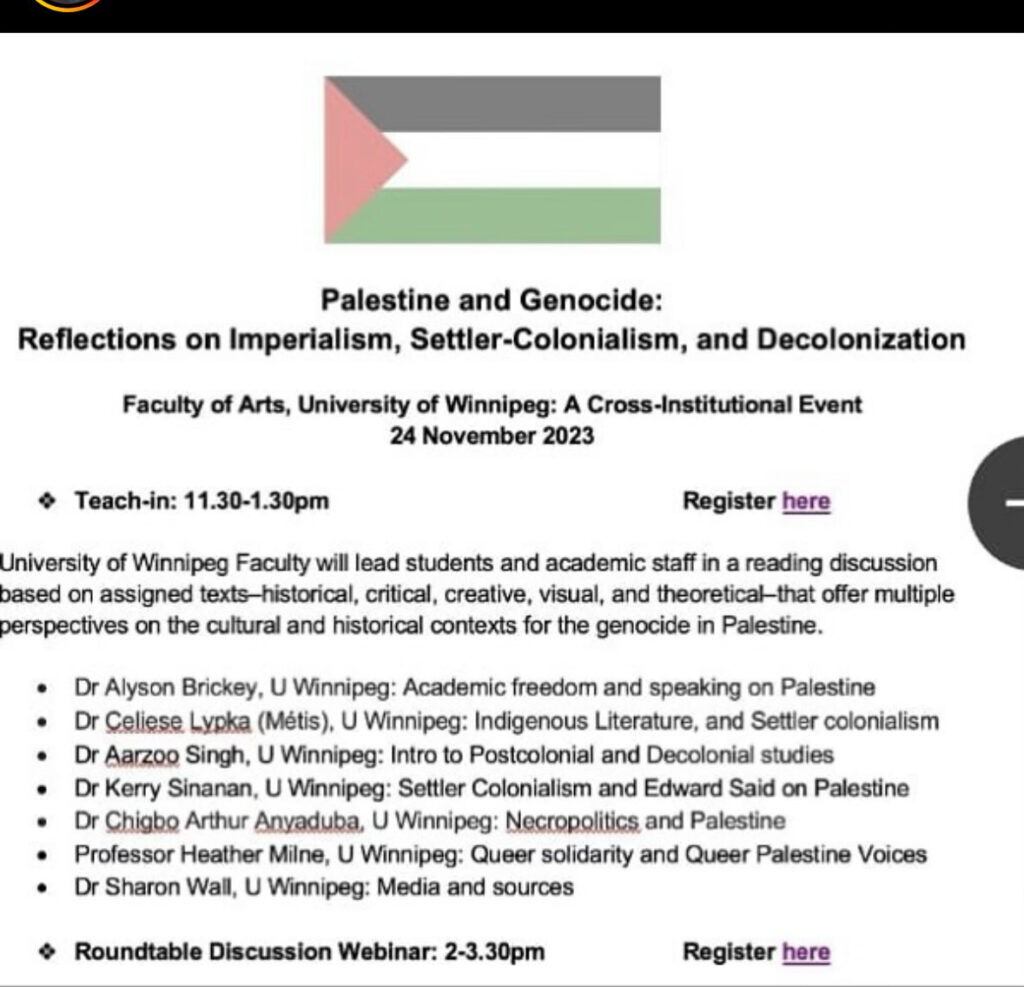 CBC report on pro-Palestinian rally held Sunday allows unsubstantiated claim about Winnipeg rabbis to go forward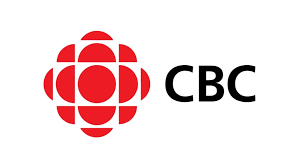 By BERNIE BELLAN (posted Nov. 13) A report posted to the CBC Manitoba website has allowed an unsubstantiated claim by pro-Palestinian rally organizer Ramsey Zeid about Winnipeg rabbis to go forward without retraction.
In its report about the rally, the article says: "The rally had been originally scheduled for Saturday, but organizers postponed it to avoid conflict with Remembrance Day ceremonies.
"They had hoped to hold a vigil that included faith leaders from the city's Jewish, Muslim, Christian communities, as well as an Indigenous elder, Ramsey Zeid, president of the Canadian Palestinian Association of Manitoba, told reporters on Sunday.
"We were able to secure everybody except for a rabbi," he said. 
"The rabbis we spoke to were a little reluctant to be included in the vigil. They expressed a little concern that they would get a lot of flack from their community, so unfortunately, we weren't able to do it but we are still going to try again." (emphasis ours)
Upon learning of the article – after being contacted by Rabbi Yosef Benarroch of Adas Yeshurun-Herzlia Congregation, we sent an email to the CBC asking that the article redact the reference to Ramsey Zeid saying he had been in contact with "rabbis," since there is no corroboration of his claim.
We subsequently received a response from the CBC in which it was noted that the article had been amended.
It now included the following: "Rabbi Kliel Rose, who leads Etz Chayim in Winnipeg, said he contacted all five members of the Winnipeg Council of Rabbis, who said they had not been contacted directly by Ramsey Zeid about a vigil.
"Rose added he also spoke with three rabbis who are not members of the council who said they had not been contacted by Zeid. Rose says he believes there are six rabbis in Winnipeg who are not members of the council.

"When later contacted by CBC, Zeid said he personally contacted three rabbis, but refused to provide names.

" 'The idea that we did not attend because of the fear of what the Jewish community would think is categorically false," Rose wrote in a statement to CBC News on Monday. 

" 'We would not attend such rallies unless those organizing it have condemned Hamas and called for the immediate release of the 250 hostages being held captive by Hamas in Gaza.' "
However, since Ramsey Zeid was refusing to give the names of the rabbis with whom he had allegedly been in contact, we asked the CBC – again, to remove any reference to Zeid's having contacted rabbis and especially Zeid's statement that "The rabbis we spoke to were a little reluctant to be included in the vigil. They expressed a little concern that they would get a lot of flack from their community, so unfortunately, we weren't able to do it but we are still going to try again."
We wrote: "Without demanding that Mr. Zeid produce the names of the 'rabbis' with whom he was supposedly in contact, your story cannot be corroborated. As a responsible news organization, if you continue to carry the story – even with the additional information you have added, you may be spreading misinformation.
"I would urge you to delete entirely the reference to Mr. Zeid having spoken to any rabbis – until such time as he produces the names of the 'three rabbis' with whom he allegedly spoke.
"Given the inflammatory nature of Mr. Zeid's allegation, I suggest you move quickly on this."
To date the CBC has not further amended their story to remove Mr. Zeid's unsubstantiated allegation about Winnipeg rabbis. I wonder if I added that I spoke to 10 CBC employees, all of whom said they hate working for the CBC but they're reluctant to come forward because of the flack they might receive from the CBC community, would the CBC have grounds to be upset?
Lainey Bokhaut, JFM's youngest board member, integral part of family CPA firm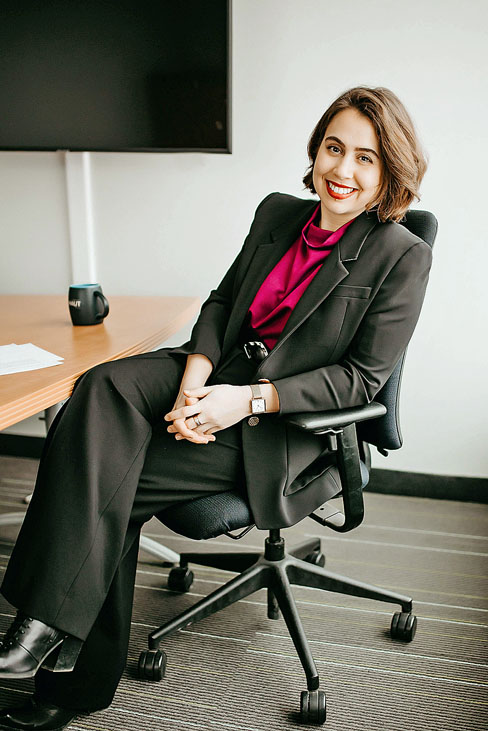 By MYRON LOVE At 27, Lainey Bokhaut is the Jewish Foundation of Manitoba's youngest board member. The partner at Bokhaut CPA LLP joined the board two years ago, after serving on the JFM's Audit Committee for the previous two years.
"The Jewish Foundation is critical to our community," Bokhaut notes. "The funds we steward help ensure the stability and success of the institutions that underpin our community and its members."
The daughter of Brad and Cheryl Bokhaut has been immersed in our Jewish community for most of her life. Growing up in River Heights, she attended Gray Academy and Brock Corydon's Hebrew Bilingual program before moving on to the Advanced Placement program at Grant Park High School.
"I had a traditional Jewish upbringing. Though my teen years were spent in public school, my family life fostered strong and persistent Jewish values. "
Working at Bokhaut CPA, the accounting firm that her father, Brad, founded in 1993, has always been a constant in her life. "As a kid, I used to come into the office and shred papers," she recalled. "Later, I would help with filing, fill in at reception and courier documents to clients. I also did my internship here."
Considering all the time she put in at her dad's office while growing up, it may seem surprising that becoming a Certified Public Accountant was not her lifelong ambition. She remembers, before university, sitting with her mother, talking about the future.
"I wasn't sure what field I wanted to enter," she says. "My mom and I talked about what I was good at. She helped me realize that running a business would be right in my wheelhouse."
Before pursuing her CPA designation, Bokhaut enrolled at the Asper School of Business, earning a B.Comm. (Hons). She then achieved the CPA designation with a focus on tax accounting. "What I like about tax accounting is the challenge," she notes. "Tax laws are constantly changing. Finding opportunities for our clients amidst these changes keeps us on our toes."
In addition to her work with Bokhaut CPA, Lainey teaches tax and financial literacy through the University of Manitoba.
Bokhaut was recruited to join the Jewish Foundation Audit Committee four years ago by a Foundation staff member whom she had met. "I feel that, as a board member, I bring not only my perspective as a CPA to the board but also the views of younger members of our community," she observes. "I joined the board because I want to be involved in the places where critical decisions are being made."
She believes her generation has a responsibility to participate in the systems that support a thriving Jewish community. While she keeps busy running her business, she remains grateful for her involvement in the Jewish community.