Rachel Corrin Nedelec's flowery flour creations unmatched anywhere else in Canada
By MYRON LOVE It started with a request four years ago from her mother to bake a cake for her zaida's (that would be Percy Goldberg) special birthday.
"I wanted to bake a cake that would be really special for him," recalls Rachel Corrin Nedelec. "I thought that decorating the cake with fresh flowers would be just the right touch. Then I learned that some flowers are edible."
The finished product – incorporating some of those edible flowers – added a nice artistic look – a touch of elegance. Thus was born Corrin Nedelec's Flour and Flower, the first and only business in Winnipeg – in all of Canada for that matter – that offers a selection of luxury baked goods that incorporate edible flowers.
And, just over a week, ago, Corrin Nedelec is happy to report, the still relatively young entrepreneur was able – for the first time – to open her own store front – at 530 Waterloo Street at Corydon – where customers are able to drop in and pick up one or more of what Flour and Flower has to offer.
Up to now, Corrin Nedelec has operated out of a commercial kitchen and her products have only been available to order either online or by phone. "I am looking forward to meeting customers in person," she comments. "It will be nice to be able to put names to faces."
Corrin Nedelec notes that her love of baking was inspired by her grandmother, the late Elaine Goldberg. "Growing up, I loved spending time with my baba in her kitchen baking," she recalls. "I still have her old mixer which will be on display in my store along with other memories of her kitchen."
While the daughter of Rick and Hennie Corrin (and granddaughter of Jack and Evelyn Corrin as well as Percy and Elaine Goldberg) always enjoyed baking, her principal passion in earlier years was the performing arts. As a youngster, she took lessons in acting, voice and dancing. One of her acting credits was a role in the 1998 Winnipeg Jewish Theatre production "Anne Frank and Me."
She adds that she also used to do Yiddish concerts at the old Sharon Home in her teen years.
Following her high school graduation – from Balmoral Hall (she attended Ramah School for Elementary) – she enrolled in the University of Winnipeg Theatre School. After a year, she relocated to Toronto where she was accepted into a performing arts program. "It was there – the day after school began – that disaster struck.
"I was practising ballet," she recalls. "I did a beautiful double turn but the landing ended badly. I broke my ankle. I needed extensive surgery."
Returning to Winnipeg with her dream of being a dancer crushed, she turned to the next best thing – teaching others dancing and voice.
"I worked for a dance school for a few years after returning to Winnipeg," she says. "But after I had my first child (the first of three aged 7, 9, and 11 now), I wanted to spend as much times as I could home with my kids."
It wasn't until after that first floral cake that Corrin Nedelec had an "aha" moment. As things progressed, other family members and friends began asking her to do similar cakes for them, too. She officially opened for business in August 2019.
Naturally, there was a learning curve. "I didn't know that most flowers are edible," she says. "I found a course online teaching about edible flowers. I spent many a late night after the kids were asleep doing the program and earned a certificate. I am continuing to broaden my knowledge."
Among Flour and Flower's offerings are cakes and minicakes, cookies and shortbread, barks and jams, the ever popular petal pops and cakesicles on a stick – all available in gift pots and bouquet boxes. There are also vegan options.
"We don't use any artificial flavours or colours," Corrin Nedelec adds.
"We source as much as we can locally. We have one supplier in the United States – but the shipping costs exceed the cost of the flowers."
Flour and Flower ship their gift bags across the country. Corrin Nedelec and her company received a big boost in publicity last winter when she scored an order for the Grammy Awards of 200 gift boxes for the nominees.
"I sent an email and got a really quick response," she notes. "Each box contained three petal pops made of white chocolate and edible flowers. We had a great response."
Another major order – for short bread cookies – came from a leading fashion designer in New York who followed up with a second large order.
"We can ship most of our products – except for cakes and cupcakes," Corrin Nedelec. "We are still trying to figure out how to do that."
The baker has hired two employees for her new store front location and is looking forward to taking on more staff as business grows.
As for hours of operation, she says that is still to be determined based in part on public demand. And customers can still order online as well.
Although fully engaged in her new career direction, Corrin Nedelec still has a passion for the arts. "I am continuing to take singing lessons every two weeks fit in between operating Flour and Flower and taking my kids to their various programs," She notes.
Congregation Etz Chayim says good bye to 123 Matheson Ave.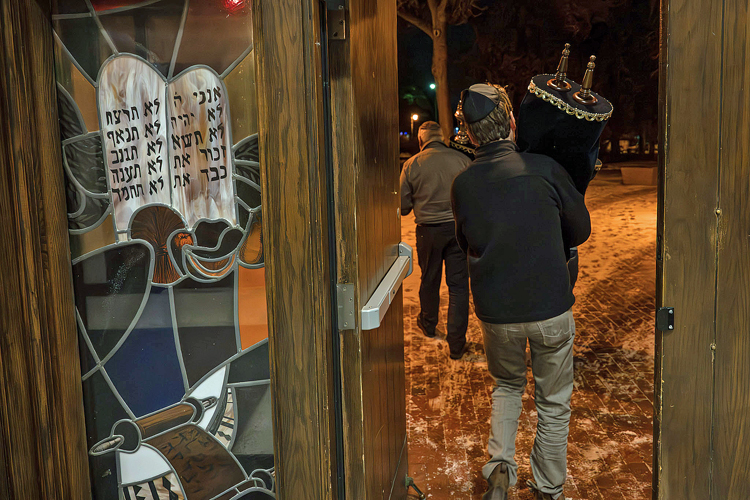 By BERNIE BELLAN After 71 years of serving as the home for first the Rosh Pina Synagogue, then for the past 21 years as the home for what was the merger of three different congregations – Rosh Pina's, along with the Bnay Abraham and Beth Israel, the Etz Chayim Congregation held its final service on Wednesday, November 29.
You can read the story by CJN writer John Longhurst elsewhere on this site (https://jewishpostandnews.ca/rss/congregation-etz-chayim-in-winnipeg-says-a-bittersweet-farewell-to-their-old-building-as-they-prepare-to-move/) along with our earlier story about the sale of the building to an Eritrean Church (https://jewishpostandnews.ca/faqs/rokmicronews-fp-1/former-congregation-etz-chayim-synagogue-building-to-become-eritrean-orthodox-church/), but here are some pictures from the final service.
(Photos courtesy of Keith Levit)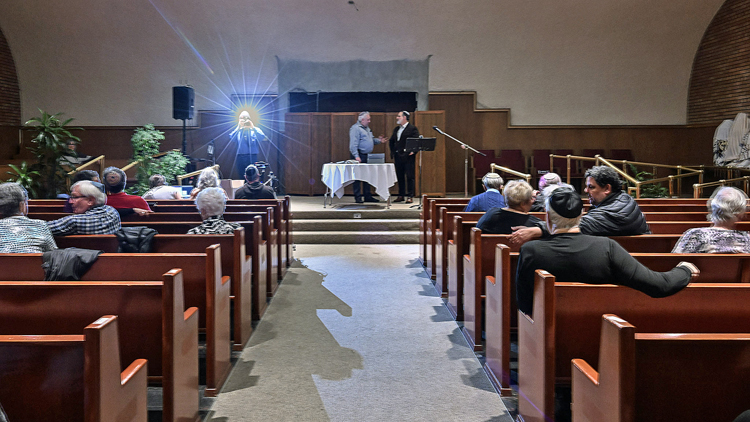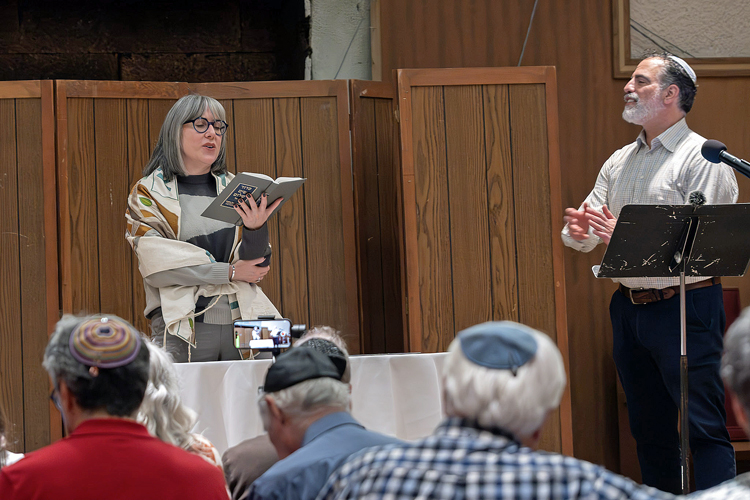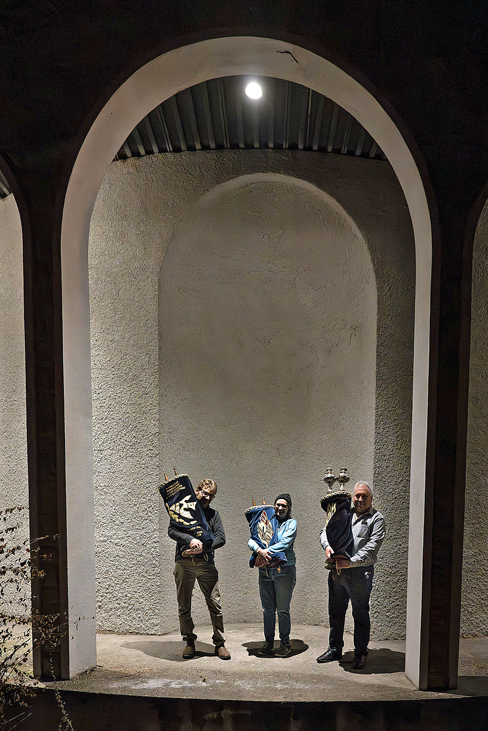 Israel report by former Winnipegger Bruce Brown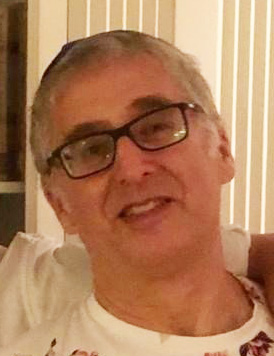 By BRUCE BROWN (posted Nov. 28/23) Was driving home from work the other day.  Pre-ceasefire.  Left the office early to reduce driving time in the evening hours.  Hamas likes their 6PM missile barrage and I'm honing my missile-avoidance routine.
 
Was listening to talk-radio… but kind of had enough of the news.  Too much war talk and its getting a bit overwhelming.  So switched to Spotify and up popped Supertramp – the Logical Song.  For sure how 'wonderful, beautiful, magical' life once felt.  Before Oct 7th.  Before Hamas. 
 
Then, as if on cue.  I gaze towards the sky.  And saw missiles flying overhead.  At first it didn't really click. And then.  Yikes!  I quickly switched back to the news.  Where, in a very calming voice, they were announcing areas under missile attack.  Which is another reason to listen to the radio while driving during war – real-time information.  Lesson learned.
 
Suddenly my smartphone's flashlight started flashing.  Which was pretty darn cool!  And there I was, on Star Trek.  Standing on the bridge.  Even recalled the vessel number – NCC-1701. There I was with Captain Kirk.  No!  I was Captain Kirk.  Dr. McCoy by my side.  Sulu and Chekov at the controls.  The Klingons were attacking.  And Mr. Spock -standing to the side- was calmy advising the attack coordinates.  No Wait!  That was the radio announcer.  Seriously.  This all took place within a split second in my over-active imagination.
 
The flashing continued.  Then I realized my cellphone was communicating with me.  Warning of danger.  I have the Home Front Command application which sounds an amazingly loud alarm during a missile attack in my area.  But changing between the radio and Spotify prevented the siren from going off.  So instead, the phone activated my flashlight.  Sending out an S.O.S.  Now how neat is that!  In a geeky sort of way.  Like for someone who imagines himself on Star Trek during a real-life missile attack.
 
Then.  Reality set in.  There were Home Front Command instructions to follow.  Momentary-panic set in.  Where was my wife.  To tell me what to do.  Like she always does…but that's another story.  This time I wanted her there, instructing me. 
 
All these thoughts racing through my mind in milliseconds.  As I calmly slowed the car and veered to the shoulder.  Like other cars around me.  I put on the blinkers.  More flashing lights but the bridge of the U.S.S. Enterprise now a distant thought.  Looking both ways I left the car and hopped over the road- barrier.  Moving away from the car.  Although probably not far enough.  Because there was a steep decline just below.  It was getting dark and, suffering from poor night vision, I didn't want to trip and hurt myself.  I heard my son laughing at me. "Nerd!" he called out.  But that was just my imagination.
 
I should have laid flat.  Prostrating myself for maximum protection.  But it rained earlier that day, the ground was wet and I didn't want to get muddy.  '"Nerd!"  This time it was my daughter in my mind's eye.  "Okay," I said to no one in particular.  "I'll squat."  Good enough…but not really.
 
The family in the car ahead were huddling together but too close to their vehicle.  I shouted for them to move further away.  But they didn't react.  Probably didn't understand me, especially given my still heavily accented Canadian Hebrew.  This time I heard both my kids.  Teasing me – thirty years and still talk like an immigrant!  "Hey, they just don't hear me."  I said to the darkness.  Otherwise it was very moving seeing the father crouching down on top of his brood, in a protective sort of way.  "Isn't that touching." I said to my wife.  "For sure." She said somewhat sarcastically in the back of my mind, "I know you'd do the same."  
 
Then it was over.  The sky went quiet.  People returned to their cars.  The nestled family broke apart and entered theirs.  We should have stayed in place several more minutes.  Ten minutes is the recommended time.  But it was dark.  Getting late.  Also a bit cold.  I just wanted to get home.  Back to the real chiding of my kids and to my wife… somehow longing for her ordering me about.
 
A few minutes later my wife called.  Making sure I was safe.  And then routine set in.  "Don't forget to pick up some milk and bread from the corner store."  She instructed me.
 
Um Israel Chai
 
Bruce Brown.  A Canadian. And an Israeli.  Bruce made Aliyah…a long time ago.  He works in Israel's hi-tech sector by day and, in spurts, is a somewhat inspired writer by night.  Bruce is the winner of the 2019 American Jewish Press Association Simon Rockower Award for excellence in writing.  And wrote the 1998 satire, An Israeli is….  Bruce's reflects on life in Israel – political, social, economic and personal.  With lots of biting, contrarian, sardonic and irreverent insight.
 
Jewish community holds solidarity rally November 25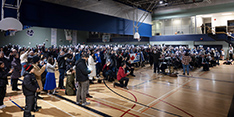 The Jewish Federation of Winnipeg held a rally in support of Israel on Saturday evening, November 25.
A number of speakers addressed the crowd of 800, including Rabbi Yosef Benarroch of Adas Yeshurun-Herzlia Congregation; Members of Parliament Ben Carr & Marty Morantz; Yolanda Papini-Pollock of Winnipeg Friends of Israel; Paula McPherson, former Brock Corydon teacher; and Gustavo Zentner, President of the Jewish Federation.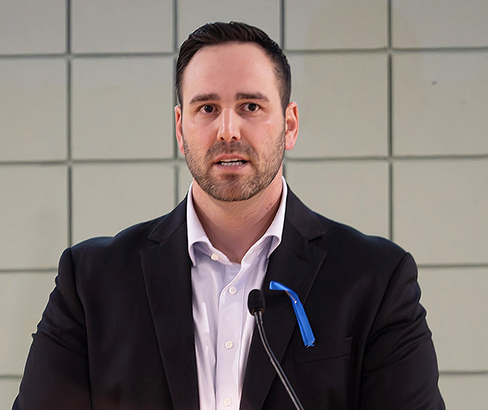 Click here to watch Ben Carr's remarks: https://www.youtube.com/watch?v=crfREGNRKfg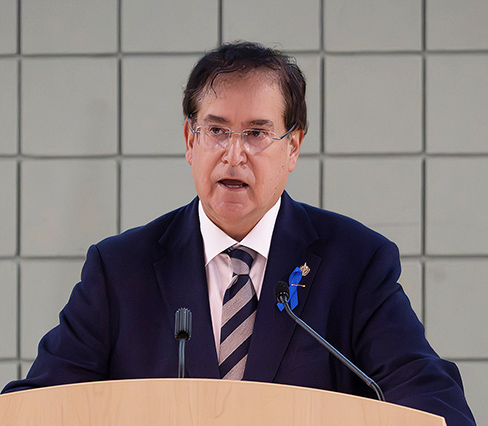 Click here to watch a video of Marty Morantz's remarks: https://studio.youtube.com/video/zHzC-iaqivg/ed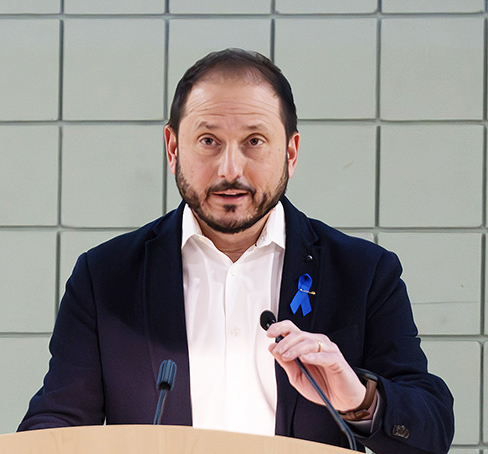 Click here to watch a video of Gustavo Zentner's remarks: https://www.youtube.com/watch?v=L3M_cCYuLgs