Winnipeg congregations report largest attendances since 2019 for high holidays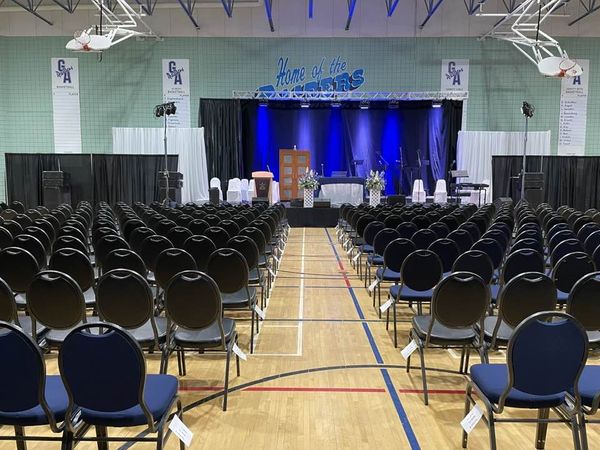 By MYRON LOVE It was a frailiche Yom Tov this year. From all reports, there seems to have been a real joy for people able to once again attend services without having to deal the Covid restrictions of past years.
The final numbers are in and they tell the story. Overall, Yom Tov attendance was almost back to where it was pre-Covid restrictions. Lets start with the Shaarey Zedek, our community's oldest and largest congregation.
Dr. Rena Secter Elbaze , the Shaarey Zedek's executive director, reports that close to 700 worshippers attended the main service, 268 more were at the family service and just over 340 followed online. In comparison, about 200 were in attendance in person last year and that number included attendance at both services.
For this year, we decided to have only one service," Secter Elbaze says. "It was wonderful having everyone together again. Some people were really emotional about being able to come together again."
As noted in my pre-High Holidays report, this was the second year that the Shaarey Zedek held Rosh Hashanah and Yom Kippur services in the gym of the Rady JCC. Regular Shabbas services have continued to be held in the Berney Theatre, with weekday services at Temple Shalom – while their long term, spiritual home is being updated and expanded. Elbaze had noted that "in an effort to show our members that we appreciate their patience and understanding during this period of construction, we offered all of our members free seating for Yom Tov for those who wanted to attend services in person, as well as congregants viewing the services on-line."
Non-members, she added, were able to[purchase their seats and be eligible for free seating if they participated in the daily minyanim or volunteered their time to help with Shabbat minyanim.
A further incentive was the return of popular Rabbi Alan Green to join Rabbi Anibal Mass in leading the main service. Rabbi Mass also led the family service – accompanied by Grant Park High School Grade 12 student Noah Trachtenberg – in the Asper Campus Multipurpose room.
The Yom Tov experience was further enhanced for Shaarey Zedek worshippers by the participation of the popular Quartet and the 20-voice Ruach Folk Choir.
"We were very pleased with how everything turned out," Elbaze says. "This was the best Yom Tov ever.
"And we are really looking forward to being back in our own building in time for next Yom Tov."
The members of Congregation Etz Chayim are also looking forward to davening in their new building. Next month, the congregation is scheduled to leave their current 70-year-old location in north Winnipeg and move into the new Etz Chayim building.
Etz Chayim Congregation Executive Director Jonathan Buchwald wrote in an email: "The general feedback from congregants was that they really enjoyed services this year. It was noted, however, that there were some bittersweet feelings, as these were the final High Holy Day Services in the Matheson Avenue building. We are looking forward to holding services next year in our new home at 1155 Wilkes Avenue, formerly the Shriners headquarters, near the IKEA store in south Winnipeg."
Buchwald reports that 500 tickets were sold in person for Rosh Hashanah and Yom Kippur, with another 70 screens watching on-line – which grew to 90 for Kol Nidre. Almost 200 people attended Ne'ilah services. He adds that about 60 people attended a special service in the junior auditorium, led by Deborah Spigelman and Nina Eilberg, which was designed for families of all ages,while 50 children of all ages attended the junior service.
"On the first day of Rosh Hashanah and on Kol Nidre," he says, "we held a unique program designed for teens in grades 9 to 12 led by Halley Ritter," Buchwald added.
"One of the highlights of our services occurred during Kol Nidre," he noted. "It involved the removal of all our Sifrei Torah which were then held by various congregants for each of the three recitals of the Kol Nidre prayer. For the first recital, the Sifrei Torah were held exclusively by teenagers and young adults."
Services were led by Rabbi Kliel Rose and Cantor Tracy Kasner – with Kelly Robinson leading the High Holy Day Choir.
The third largest gathering for the High Holidays this year was Rabbi Matthew Leibl's brand new "Services on the River: A modern High Holidays" which were held at the scenic Gates on Roblin. "I was very pleased with the attendance," says the rabbi, who has been in demand for weddings, funerals and other community events since he left the Shaarey Zedek four years ago. "I wasn't sure what to expect," added Rabbi Leibl.
He reports that 250 signed up for his Yom Tov services. "We had a good mix of ages. We had families, couples, singles, even multigeneration families."
In our earlier pre-Yom Tov report, Rabbi Leibl had observed that he had a lot of people asking him what he was going to do for Yom Tov. "I perceived that there was a need for another alternative for High Holiday services," he noted.
Services on the River: A modern High Holidays" were scheduled for the second day of Rosh Hashanah, Kol Nidre and Yom Kippur morning. "Because the shofar is not traditionally blown on Shabbat, we decided to celebrate Rosh Hashanah on the second day instead to be able to have the shofar in our service," Rabbi Leibl pointed out in explaining why he didn't offer services for the first day of Rosh Hashanah.
The three services were each 90 minutes in length. "My services were designed to offer moments of reflection and introspection, beautiful live music, and a celebration of the Jewish New Year, all against the pastoral backdrop of the Assiniboine River, which was also our site for Tashlich on Rosh Hashanah," Rabbi Leibl noted.
"With the river right outside the door, there was a strong sense of serenity accompanying Tashlich," he added.
Rabbi Leibl described "Services on the River: A modern High Holidays" as "a real team effort," which he led in collaboration with the husband and wife cantorial team of Justin Odwak and Sarah Sommer.
Most likely, readers can look forward to a reprise of "Services on the River: A modern High Holidays" next year.
Still with the South End, both Ruth Livingston and Jack Craven, presidents respectively of Reform Congregation Temple Shalom and the Orthodox Adas Yeshurun Herzlia report good turnouts for the High Holidays this year – with new families at both their services. The Lubavitch Centre's Rabbi Avroham Altein also reports some new families at the services this year.
Back in the North End, Rob Waldman, the president of the egalitarian Chevra Mishnayes congregation in Garden City, noted in an earlier interview that the board was not expecting much change from last year. Last year's attendance was 90 – exceeding expectations. This year's services, led again by Al Benarroch, also attracted about 90 people.
The venerable House of Ashkenazie, the last of our community's older-style Orthodox congregations, was the only shul to report a bit of a decline in attendance from last year – when about 50 people came for the first day of Rosh Hashanah and over 40 for Kol Nidre. – numbers which were the best in some years.
One new option this year for frum members of our community living in the North End was the reborn Chavurat Tefila – on the corner of Hartford and McGregor – which has reopened – after being closed for three years – as the North End Orthodox Minyan. The new congregation began regular Shabbat services at the end of July. Yom Tov services attracted about 40 men and women, with Rosh Hashanah services led by Avi Posen – who came in from Israel – and Yom Kippur services by Cantor Natanel "Naty" Schlossberg from Brooklyn .
Finally, there was one more option for those seeking to attend a High Holiday service. After a two year absence, Camp Massad resumed its innovative Rosh Hashanah service last year. Daniel Sprintz, the camp's executive director, was pleased to announce that Massad was again hosting its usual Rosh Hashanah program on the second day.
Congregation Etz Chayim says good bye to 123 Matheson Ave.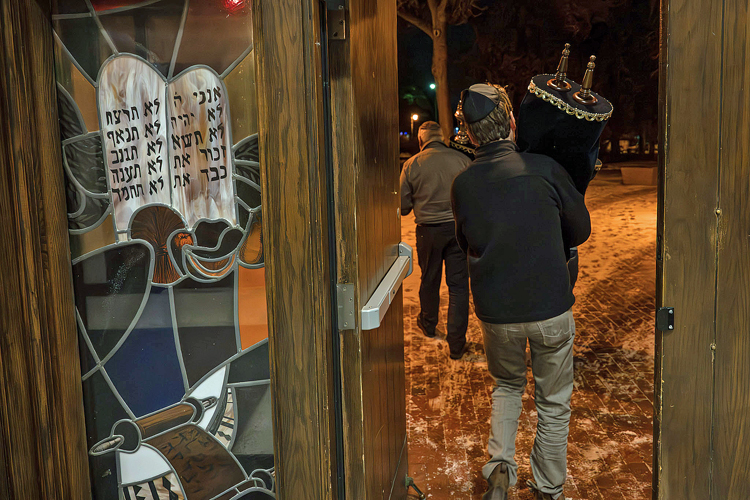 By BERNIE BELLAN After 71 years of serving as the home for first the Rosh Pina Synagogue, then for the past 21 years as the home for what was the merger of three different congregations – Rosh Pina's, along with the Bnay Abraham and Beth Israel, the Etz Chayim Congregation held its final service on Wednesday, November 29.
You can read the story by CJN writer John Longhurst elsewhere on this site (https://jewishpostandnews.ca/rss/congregation-etz-chayim-in-winnipeg-says-a-bittersweet-farewell-to-their-old-building-as-they-prepare-to-move/) along with our earlier story about the sale of the building to an Eritrean Church (https://jewishpostandnews.ca/faqs/rokmicronews-fp-1/former-congregation-etz-chayim-synagogue-building-to-become-eritrean-orthodox-church/), but here are some pictures from the final service.
(Photos courtesy of Keith Levit)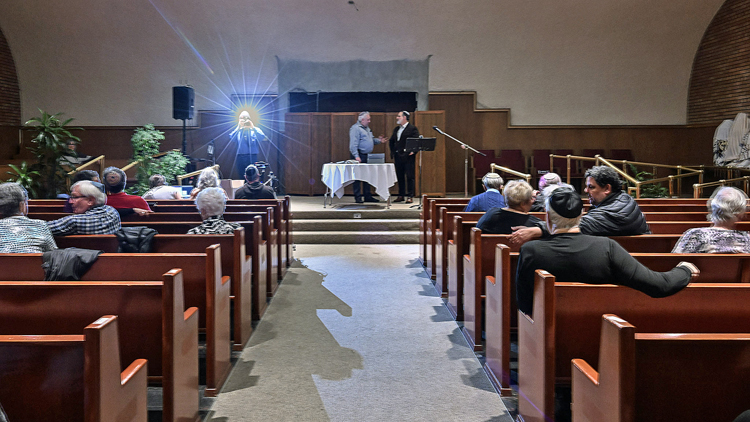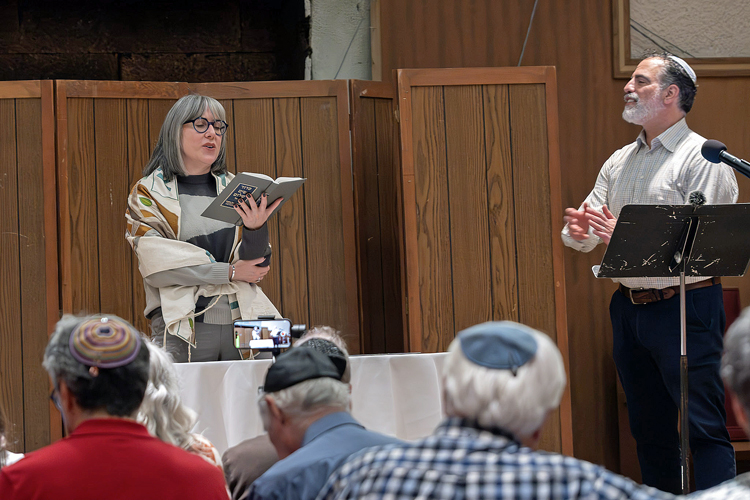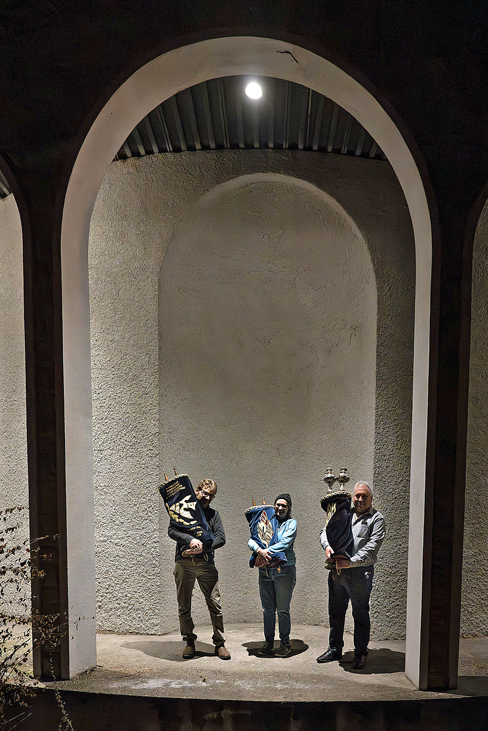 Israel report by former Winnipegger Bruce Brown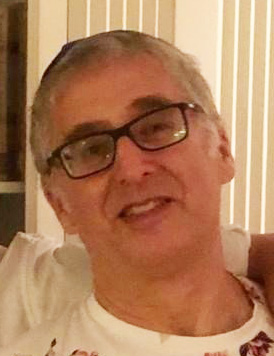 By BRUCE BROWN (posted Nov. 28/23) Was driving home from work the other day.  Pre-ceasefire.  Left the office early to reduce driving time in the evening hours.  Hamas likes their 6PM missile barrage and I'm honing my missile-avoidance routine.
 
Was listening to talk-radio… but kind of had enough of the news.  Too much war talk and its getting a bit overwhelming.  So switched to Spotify and up popped Supertramp – the Logical Song.  For sure how 'wonderful, beautiful, magical' life once felt.  Before Oct 7th.  Before Hamas. 
 
Then, as if on cue.  I gaze towards the sky.  And saw missiles flying overhead.  At first it didn't really click. And then.  Yikes!  I quickly switched back to the news.  Where, in a very calming voice, they were announcing areas under missile attack.  Which is another reason to listen to the radio while driving during war – real-time information.  Lesson learned.
 
Suddenly my smartphone's flashlight started flashing.  Which was pretty darn cool!  And there I was, on Star Trek.  Standing on the bridge.  Even recalled the vessel number – NCC-1701. There I was with Captain Kirk.  No!  I was Captain Kirk.  Dr. McCoy by my side.  Sulu and Chekov at the controls.  The Klingons were attacking.  And Mr. Spock -standing to the side- was calmy advising the attack coordinates.  No Wait!  That was the radio announcer.  Seriously.  This all took place within a split second in my over-active imagination.
 
The flashing continued.  Then I realized my cellphone was communicating with me.  Warning of danger.  I have the Home Front Command application which sounds an amazingly loud alarm during a missile attack in my area.  But changing between the radio and Spotify prevented the siren from going off.  So instead, the phone activated my flashlight.  Sending out an S.O.S.  Now how neat is that!  In a geeky sort of way.  Like for someone who imagines himself on Star Trek during a real-life missile attack.
 
Then.  Reality set in.  There were Home Front Command instructions to follow.  Momentary-panic set in.  Where was my wife.  To tell me what to do.  Like she always does…but that's another story.  This time I wanted her there, instructing me. 
 
All these thoughts racing through my mind in milliseconds.  As I calmly slowed the car and veered to the shoulder.  Like other cars around me.  I put on the blinkers.  More flashing lights but the bridge of the U.S.S. Enterprise now a distant thought.  Looking both ways I left the car and hopped over the road- barrier.  Moving away from the car.  Although probably not far enough.  Because there was a steep decline just below.  It was getting dark and, suffering from poor night vision, I didn't want to trip and hurt myself.  I heard my son laughing at me. "Nerd!" he called out.  But that was just my imagination.
 
I should have laid flat.  Prostrating myself for maximum protection.  But it rained earlier that day, the ground was wet and I didn't want to get muddy.  '"Nerd!"  This time it was my daughter in my mind's eye.  "Okay," I said to no one in particular.  "I'll squat."  Good enough…but not really.
 
The family in the car ahead were huddling together but too close to their vehicle.  I shouted for them to move further away.  But they didn't react.  Probably didn't understand me, especially given my still heavily accented Canadian Hebrew.  This time I heard both my kids.  Teasing me – thirty years and still talk like an immigrant!  "Hey, they just don't hear me."  I said to the darkness.  Otherwise it was very moving seeing the father crouching down on top of his brood, in a protective sort of way.  "Isn't that touching." I said to my wife.  "For sure." She said somewhat sarcastically in the back of my mind, "I know you'd do the same."  
 
Then it was over.  The sky went quiet.  People returned to their cars.  The nestled family broke apart and entered theirs.  We should have stayed in place several more minutes.  Ten minutes is the recommended time.  But it was dark.  Getting late.  Also a bit cold.  I just wanted to get home.  Back to the real chiding of my kids and to my wife… somehow longing for her ordering me about.
 
A few minutes later my wife called.  Making sure I was safe.  And then routine set in.  "Don't forget to pick up some milk and bread from the corner store."  She instructed me.
 
Um Israel Chai
 
Bruce Brown.  A Canadian. And an Israeli.  Bruce made Aliyah…a long time ago.  He works in Israel's hi-tech sector by day and, in spurts, is a somewhat inspired writer by night.  Bruce is the winner of the 2019 American Jewish Press Association Simon Rockower Award for excellence in writing.  And wrote the 1998 satire, An Israeli is….  Bruce's reflects on life in Israel – political, social, economic and personal.  With lots of biting, contrarian, sardonic and irreverent insight.
 
Jewish community holds solidarity rally November 25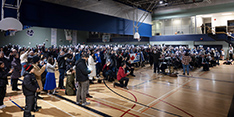 The Jewish Federation of Winnipeg held a rally in support of Israel on Saturday evening, November 25.
A number of speakers addressed the crowd of 800, including Rabbi Yosef Benarroch of Adas Yeshurun-Herzlia Congregation; Members of Parliament Ben Carr & Marty Morantz; Yolanda Papini-Pollock of Winnipeg Friends of Israel; Paula McPherson, former Brock Corydon teacher; and Gustavo Zentner, President of the Jewish Federation.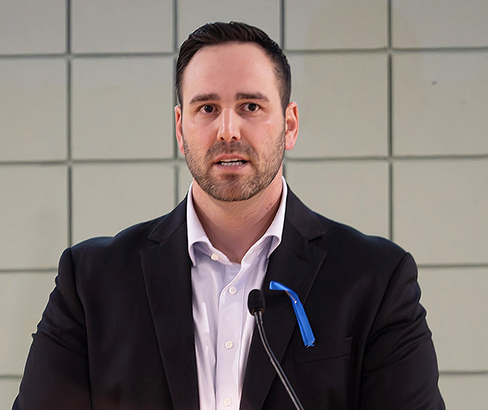 Click here to watch Ben Carr's remarks: https://www.youtube.com/watch?v=crfREGNRKfg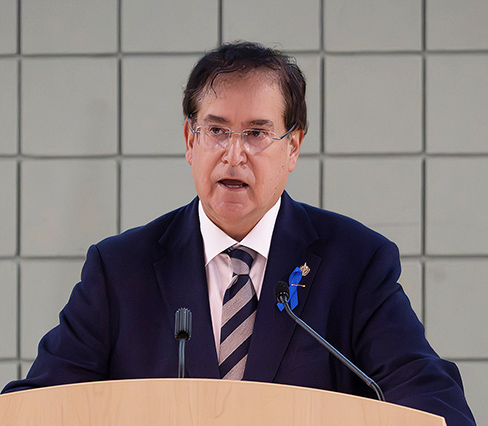 Click here to watch a video of Marty Morantz's remarks: https://studio.youtube.com/video/zHzC-iaqivg/ed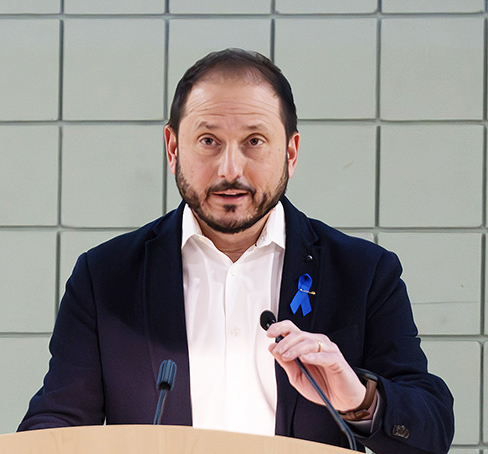 Click here to watch a video of Gustavo Zentner's remarks: https://www.youtube.com/watch?v=L3M_cCYuLgs