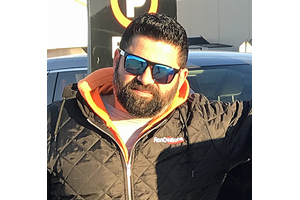 By REBECA KUROPATWA
The other half of the Ben-Zhion couple is also talented in his own right.
Born in Russia, Ron Ben-Zhion (37) moved to Israel with his family when he was eight-years-old.
After completing his army service, Ben-Zhion went into sales and eventually opened his own human resources and real estate company in Israel.
But, after he and his wife Dora had their first child, in 2012 the couple opted to move to Canada in hopes for a safer life for them and their family.
To speed up the immigration process, Ben-Zhion began by working as a truck driver for a speciality towing company, towing on icy roads.
"I did that for about two-and-a-half years," Ron said. "Then, the owner of that business decided to sell it. I would say, if he wasn't selling that business, I would still be working there. I liked the work, I liked the money, and I liked the people I worked with. So, it was a good place to be. But, once he sold it to somebody else, he actually did me a big, big favour…because it motivated me to move up and open up something on my own."
Getting his own company off the ground was something that happened pretty naturally. Ron and his family had experienced some hail damage on their house and had a friend come to help fix the roof. After finding that it was fairly straightforward to fix it, Ben-Zhion decided to start up a roofing company in 2016.
"I saw that it was not that hard to do that job, the logic behind it wasn't too complicated," he said. "My business plan was to establish what I know best to do – the roofing – because I know how to do roofing very well.
"After I saw that I could do it and I had a good crew working with me, I found that I could leave them alone and I didn't need to be there every second. Then, I started to do other stuff. Again, I had a lot of experience with managing, so I knew I could manage a job site and subcontractors. So, I started to work with a lot of subcontractors in different areas of repair."
With his managerial and general people skills, Ben-Zhion quickly became a general contractor and spent the bulk of his days in his truck, driving from jobsite to jobsite making sure his workers have all they need to complete their work.
Looking ahead, Ron is looking to go into commercial property management. "I'm negotiating right now for a couple areas within Canada, not only in Winnipeg. I want to get into the property management business – maintenance, cleaning services – in big buildings with offices and so on, that require maintenance. That's my main goal, to get there."
Ron is always thinking ahead to feel intellectually challenged, working with many different people and situations.
"You feel the difference when you speak with people who have bigger scopes of work," he said. "I don't like to always be in a comfort zone. In my opinion, if you want to grow up, you have to put yourself out of the comfort zone. So, that is what I try to do for myself most of the time. I try to get out of the comfort zone and go bigger, go harder, go a little more challenging."
As far as how Covid-19 has affected his business, Ron has found that his workload has increased dramatically as the year progressed, as he kept offering new services – going from working on just roofs two years ago, to now managing 24/7.
"With Covid-19, more people were in their houses, weren't traveling – so, people were spending the majority of their money on their houses, on renovations, on improvements," Ron observed. "I had customers, even though their house was perfect, was good, they'd ask me what I could offer to do for them. They had some money to invest in their house, so they asked."
Still, Ron stressed, "I want to wish that everybody will get out from this Covid-19 as soon as possible and get back to normal life. We miss it, I miss it myself. I have my personal life that I miss, and I want to go visit back home in Israel. I would like to wish that everybody recovers from this."
For more information, visit ronovations.ca.