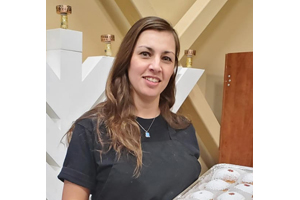 By REBECA KUROPATWA
For many who have had the opportunity to taste Grandma Alla's baking and cooking, you may already know how good it is.
But, what may be news is that Grandma Alla (Golinkin), retired last July. Fortunately, her assistant, Dora Ben-Zhion, has gradually stepped into filling in for all of Grandma Alla's baking fans' needs – baking up a storm, especially over the holidays.
Born in Russia, at the age of 10 Dora moved to Petah Tikva with her family. Instead of doing army service, she did national service (Sherut Leumi).
In 2013, Dora moved with her family to Winnipeg and began working at the Winnipeg Convention Centre kitchen, before joining Chabad four years ago.
"I started to work just two times a week as a helper," said Ben-Zhion. "Eventually, I was working all week, doing more baking than anything else. And, once Alla left, I was promoted to kitchen manager. I do the baking and we have a chef who does all the other dishes we offer."
Their all-Kosher menu is extensive, with many Jewish and beyond favourites, but it also includes a lot of Israeli dishes that Chef Dov Korkh has been adding to the menu. Items are either Kosher-parve or Kosher-meat. There are no menu items containing dairy. The kitchen also offers gluten-free and nut-free options, with their main focus being on customer satisfaction and meeting/exceeding their expectations.
"We did some Chanukah specialties like sufganiot, latkes, and Chanukah cookies," Dora noted. "We also do hamentashen, rugalach, honey cakes, and cookies…different kinds, depending on the holiday or the customer request. My favourites are sweet things – I love sweet."
Dora described her home kitchen as being a place of a bit of happy mayhem, with her love for baking and sweets, and her husband's obsessive insistence on not eating any baked goods and sweets. "He only eats steak and protein," she said.
According to her husband, Ron, "Her [Dora's] baked goods are out of this world, and if I wasn't on a Keto-style diet, I would definitely be her biggest customer!"
With Corona-19 and gathering restrictions, all events that Chabad's kitchen ordinarily caters have been cancelled. So, instead, their focus has shifted to takeout only.
But, Ben-Zhion is not complaining, as she gets plenty of return clientele along with new customers daily. "We're still busy, but not like last year, because we don't have events to cater," she said. "But the extra time has given us an opportunity to rethink what we offer and tweak the menu."
For more information and/to see the kitchen's menu, visit
https://www.chabadwinnipeg.org/media/.