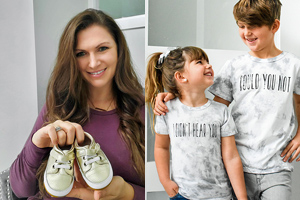 By REBECA KUROPATWA
With so many sad instances of people getting into dire straits since Covid-19 emerged in our community, it's nice to know that some individuals are finding creative ways to not only stay afloat, but even succeed.
Growing up in the Winnipeg Jewish community, Stacey Hochman Corden (35) attended the Hebrew-bilingual program at Centennial School from kindergarten to Grade 6.When she moved with her dad, Larry, to the town of Birds Hill, when she was in Grade 9, Stacey continued her learning at a nearby public school. Living in a smaller community and away from her Winnipeg friends, Stacey honed her creative side.
Later, she studied Business at Red River College, but from a young age, Stacey says, "I always knew I wanted to be home with kids one day. But, I also had a love for business and have always felt it it's important to have education anyways."
After finishing college, Stacey worked for the government for several years. She met her husband in 2009, and they were married in 2012. For their wedding, Stacey created all of their wedding décor.
"I've always been super crafty," she says. "After I had my second son in 2014, my family was encouraging me to sell the things I was making…just different things…And I remember thinking, 'Who would buy anything I make? That's crazy.'
"But, I thought, I'll try. I didn't know a lot about the handmade community, locally, at the time, or even what it was like online. So, I started on Etsy.com (a website platform for small businesses), and then I discovered the community locally.
"There's a Facebook page, Handmade Winnipeg. And, I would post in there, things I would make. It just kind of evolved and, from there, I got regular customers, word of mouth. I was meeting tons of people and going to craft fairs."
At that time Stacey was busy making wood signs, mugs, digital invitations, and vinyl work. Next up, she decided she wanted to start creating bows.
As her business grew, she reached the point where she has to make a decision. "I could no longer do everything, as the bows just skyrocketed," Stacey explains. "As I had gotten into the handmade community across Canada with the bows, I decided to just focus on hair bows – and scrunchies, too.
"I wanted to add more products. I was having a really hard time finding fun, trendy shoes from a small shop in Canada. So, I started designing shoes and getting them manufactured, and bringing them in this spring. So,
we expanded to that.
"I've also fallen in love with sewing again. So, I added beanies too. And, in January, I will also be adding cotton bamboo cardigans, because I'm obsessed with that fabric."
Things have been going so well that Stacey and her family converted their dining room into a sewing room.
"I told my husband, 'We're not entertaining right now, so why not?' Cotton bamboo is this really sought-after fabric right now, especially in the handmade online community. It's eco-friendly and super soft, one of the softest things.
"My daughter wears a lot of cotton bamboo clothing, because she just loves the feel of it on her skin. It's antibacterial, eco-friendly, hypoallergenic, and a natural UV protector. It also repels moisture from the skin, keeping you cool in the summer and warm in the winter. It's just a wonderful fabric that I'm clearly obsessed with!
"What's important to me is that my daughter wants to wear it. I will be making cardigans for moms too, because moms are already obsessed with matching their kids."
Stacey sews most of the items herself, or with the help of her mother-in-law, who sews the scrunchies, while her husband also helps with the back office work.
Beanies were launched just a month a half ago, and the cardigans will be launching in the new year.
For now, all of Stacey's products are housed in her basement.
"I'm such a homebody…My daughter will be going into kindergarten next year, and I had my boys home with me," she said. "I've been doing this for years with the three kids at home.
"I'm hoping we will not outgrow our house, but, if we had to, I'd get a retail space. If that was the next step, I'd absolutely do that."
Hochman does all her business these days online, on her website and via Facebook.
For more information, visit Little Lovies Closet at littleloviescloset.com.