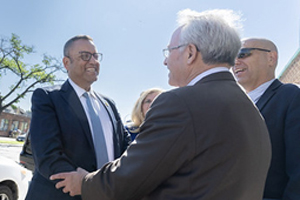 By BERNIE BELLAN On Wednesday, June 15 I was expecting to have a chance to meet the mayor of Jerusalem, whose name I found out is Moshe Lion. What follows is an email I sent to Keith Levit, who was taking pictures of the mayor and his entourage that day, and who asked me whether I was going to use any of the pictures he took.
Hi Keith,
Wednesday was a crazy day. I didn't know what was expected of me as far as those visitors from Israel was concerned. I kept getting different information from different people. It started with a phone call from Joe Wilder last week, who told me the mayor of Jerusalem was going to be in Winnipeg and asked whether I would meet with him? I said "sure, just tell me when." Joe said he would get back to me.
Then I received an email from someone from Israel who asked me whether I would be willing to meet with someone by the name of Shai Doron, who is the executive director of the Jerusalem Foundation. When I wrote back saying that I would, she responded that I should meet him in "Tuxedo Mall" on Wednesday. (I assumed that Doron must be traveling with the mayor.) When I told her that seemed really strange because that's a vast outlet mall, she said she would get back to me. (She never told me why I was being asked to meet with him.)
Subsequently, the person in Israel phoned me to discuss what was going to be happening. I asked her whether, in addition to meeting Doron, I might have a chance to talk to the mayor. She said the mayor didn't like to do interviews. (That's so typical of politicians who hold office these day.)
So, I contacted Elaine Goldstine (CEO of the Jewish Federation), to ask whether I'd have a chance to meet the mayor of Jerusalem when he was here. Elaine said she'd let me know. On Wednesday morning she sent me an email telling me to come down to the campus at 1:15. Well, you saw what happened. You were outside taking pictures of a very large entourage (and I had no idea who most of those people were). It turned out they were getting ready to go to the Human Rights Museum. Joe Wilder introduced me quickly to the mayor. I shook his hand and when he asked who I was, someone told him I was with the Jewish newspaper. That was it – off he and the entourage went. (Someone asked me if I wanted to come along, but I figured "What for?" They were going to be touring the museum and I knew I wasn't going to get a chance to talk to the mayor.)
But, before they left Shai Doron introduced himself to me and asked me whether I could meet him at Polo Park at 3:00. I asked where and he told me wherever there was a place to get something to eat.
So, off I went on my bike to Polo Park shortly before 3. Doron had given me his WhatsApp number to call, but it turns out someone already has to be a contact who's accepted you as a contact before you can phone them, so I wasn't able to phone him to tell him I was there.
I kept looking around the food court for him and was ready to leave when I got a phone call from him. (I don't know how he got my number.) He said he was in Polo Park and when I said I was in the food court, he said, "Just wait there, I'm coming up the escalator."
When I finally saw him he said he'd like a coffee. It turns out that none of the food kiosks in Polo Park serve coffee. Strange, huh?
We finally sat down and I asked him where the mayor was? He said he was shopping before they had to go to the airport to catch a flight to Vancouver. I thought that was neat: the mayor of Jerusalem shopping in Polo Park. I wonder whether he had a bodyguard with him. (I doubt it. Doron said that he and the mayor and another woman came together in one car.)
Anyway, when Doron told me what he wanted to talk about, he told me that I couldn't write about what he just told me – at least not yet. I said: "Don't worry. I'm not going to divulge your scoop." (It is an interesting story, but not of earth-shaking importance, and anyway it will have to wait until I get official word that it's okay to publish something – if I decide that it's even newsworthy.)
I said to Doron that I had to leave to go watch the Jewish Foundation AGM. I said good bye and returned home in time to watch a very short AGM. (Boy, it's great having these AGMs on Zoom. They're done in no time at all.)
But really, why did I have to meet Doron at Polo Park anyway? We could just as well have talked over the phone or someone could have sent me an email telling me there was going to be an interesting story coming soon, but I couldn't write about it yet. (I love hearing that someone has a great story for me – but I can't write about it yet.)
So, I have nothing to write about why the mayor was visiting Winnipeg here, other than meeting with various individuals. You sent lots of pictures – and they're all very nice, but if he had anything interesting to say, well, I wasn't there to hear it. It all seems kind of strange to me. I know that probably because of security concerns and because he was here for such a brief visit that other media weren't alerted to his coming here, but I would have liked to have heard what he had to say. I'll use at least one of the pictures you sent, and I'm going to use this email as the story to go with them – instead of what could have been a more substantial report about the mayor of Jerusalem's whirlwind visit to Winnipeg.
One more thing: I wonder what he was shopping for in Polo Park?
Regards,
Bernie
Follow-up: Keith Levit did respond to my email. He also wondered how things got so fouled up as far as my meeting the mayor went. (I should note that Joe Wilder observed that there were simply too many cooks in the kitchen.) Keith also explained that it was the mayor's wife who was the woman in the car with the mayor and Shai Doron and it was she who wanted to do some shopping at Polo Park for her grandchildren.