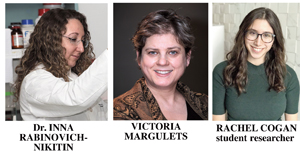 By MYRON LOVE Three members of Dr. Lorrie Kirshenbaum's Institute of Cardiovascular Sciences (ICS) research team – based at the St. Boniface Hospital campus' Albrechchtsen Research Centre – were recently recognized for their efforts with prestigious awards.
The Winnipeg Foundation's Martha Donavan Leadership Development Award for Women's Health Research, which, this year, was given to Dr. Inna Rabinovich-Nikitin, is intended to provide leadership development opportunities for women in the Rady Faculty of Health Sciences at the University of Manitoba. Eligible applicants include women who are full-time or part-time academic faculty members or students of the Rady Faculty of Health Sciences or students, as well as post-doctoral trainees (including residents), presently enrolled in a program of study within the Rady Faculty of Health Sciences.
Rabinovich-Nikitin also holds the prestigious Canadian Institutes of Health Research (CIHR) Post-Doctoral fellowship award, which is given to top leading Canadian post-doctoral fellows.
"Inna is a terrific young scientist and among the brightest who have worked in my lab over the years," says Lorrie Kirshenbaum of the Israeli-trained scientist.
And she, in turn, praises Kirshenbaum as a great mentor. "I have learned a lot from working with Lorrie," she says. "He has been a real inspiration for me."
Rabinovich-Nikitin came here five years ago with her husband, Sergey, and their two children (a third child was born here) to further her scientific knowledge though working in Kirshenbaum's lab. The world-renowned Kirshenbaum's lab studies heart disease and heart function with the goal of researching means to repair damaged heart cells and prevent heart failure – a major problem worldwide.
Rabinovich-Nikitin was born in Kishinev in Moldova but raised on a kibbutz and, later, Ashdod. She is a graduate of Tel Aviv University with a Ph.D in biotechnology.
"I was always interested in science – how things work," she notes. "I have a particular interest in women's cardiac health."
She says that she hopes eventually to be able to open her own lab in Canada.
Also having recently received recognition for their research have been Rabinovich-Nikitin's colleague at the Kirshenbaum lab, Victoria Margulets, and Rabinovich-Nikitin's student researcher, Rachel Cogan. Both were recognized for their work at the 22nd Annual Naranjan Dhalla Cardiovascular Awards, which were held virtually on December 17th. Rachel Cogan, a third year science student at the University of Winnipeg, was the recipient of the T. Edward Cuddy Student Research Award. Margulets was recognized with the Kalwant Dhalla Research Technician Award.
The annual event is a joint effort of the Institute of Cardiovascular Sciences at St. Boniface Hospital Research and the University of Manitoba as a way to celebrate excellence in cardiovascular research. The Cuddy award is one of several awards which recognize outstanding recipients for their contributions and success in research, medicine and support services.
"I feel proud and honoured to have been chosen for the Kalwant Dhalla Award," says Margulets, who has been involved in research at the Kirshenbaum Cardiac Gene Biology Lab since she came from Israel in 2009.
This award recognizes the high quality of dedicated service over time by a technician in any program within St-Boniface Hospital Research. The individual must have been in this technical role for not less than five years.
"Upon joining my laboratory, I was immediately impressed by Vicky's work ethic," wrote Lorrie Kirshenbaum in support of Margulets' nomination. "She is a dedicated, hardworking and committed and has proven that I can always rely on her to complete any given task. Her commitment to my laboratory and constant willingness to help others in the research centre is truly exemplary of who Vicky truly is. I have never met an individual with such high level of loyalty and personal interest for helping others as Vicky Margulets."
In the laboratory, Kirshenbaum continued, "Vicky is responsible for managing our cell culture facility. Vicky is a superb experimentalist. She is responsible for designing and conducting her own experiments in the laboratory with great care, precision and meticulous attention to detail. She also runs our live-cell imaging facility and is responsible for developing new techniques within the laboratory."
Margulets is originally from Kiev. She moved to Israel in the early1990s, earning a Master of Science degree (1999) from the Technion Institute's Faculty of Medicine in Haifa. Prior to coming to Winnipeg, she assisted in stem cell research at the Technion. There she was responsible for managing and maintaining all the cell culture and stem cell activities for the entire research facility.
While at the Technion, she was part of a joint research team which partnered the Technion with Johns Hopkins University in Baltimore under the auspices of the National Institutes of Health. She worked as one of the leader instructors of "Human embryonic stem cells: culture techniques" course.
"I had spoken with Lorrie Kirshenbaum about joining his lab before coming to Canada," she notes. "We arrived in Winnipeg (with her husband, Shlomo, and their three children) at the end of June (in 2009) and started work at the lab on July 1."
Kirshenbaum adds that in a very short time, she became an indispensable member of the staff and has taught many summer and graduate students, postdoctoral fellows, and trainees in the lab.
He adds that over the past five years, Margulets' technical experimental work and results have been written up in many top medical journals.
Margulets adds that she and her family are glad to be part of the growing Jewish community in Winnipeg. "Jewish identity and traditions are very important to my family," she says. "Two of my children have already graduated from Gray Academy of Jewish Education and are currently enrolled in the Faculties of Architecture and Engineering at the University of Manitoba. The youngest is still at Gray Academy. "
Rachel Cogan, the recipient of the Cuddy Award, is in her third year of study in Neuroscience at the University of Winnipeg. "It was a real honour to receive the Cuddy Award," says the daughter of Jessica and Joel Cogan.
The Cuddy Award is based primarily on excellence in research and the track record of the candidate. Cogan notes that she has earned several scholarships and has maintained a consistently high GPA.
A graduate of Oak Park High School (she was a student at Gray Academy to the end of Grade 9), Cogan applied last year – after second year – to the ICS to do her field work as part of her studies.
"I have known of Dr. Kirshenbaum and his work for quite some time," she says. "I was really excited to be accepted into the program. I am really grateful for the support that I have received from the amazing people I am working with at the lab and the hospital," she says.
Her career goal, she notes, is to be working in clinical medicine and/or research.