Congregation Shir Tikvah officially dissolves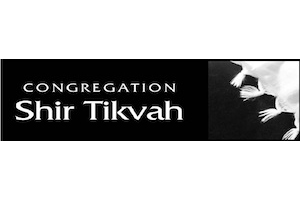 By BERNIE BELLAN In our July 24, 2019 issue we broke the news that Congregation Shir Tikvah was ceasing operations. In that issue we reported that "A Winnipeg congregation that had been holding High Holy Day services for the past 16 years is ceasing operations. In that article we wrote that, in a letter sent to congregation members dated July 12, Congregation Shir Tikvah President Sharon Bronstone stated:
Dear Members of Congregation Shir Tikvah,
On behalf of the Board of Directors and myself, it is with great sadness that we inform you of our decision not to hold High Holy Days Services this coming year.
After sixteen years in operation we can only see the writing on the wall that our numbers have been declining and at this time we don't see a viable option to move forward.
When we started out no one thought our "little congregation" would ever amount to anything nor did anyone think Shir Tikvah would become a household name to hold Rosh Hashanah and Yom Kippur services for sixteen years.
While closing our doors is not what we had in mind, we do want you to know how important your presence, contributions and commitment has been to all of us. To be a part of an amazing group of people devoted to helping us thrive over the years has been incredibly heartwarming to everyone who has served on the Congregation Shir Tikvah Board as well as those behind the scenes. We applaud you for sticking by us!
As a follow-up to that story we were recently contacted by Sharon Bronstone to inform us that Congregation Shir Tikvah is now officially dissolved.
Among the several artifacts that the congregation had accumulated over the years were two Torah scrolls which had been donated to the congregation by Leonard Kahane in 2015. In a story I wrote that year I gave the explanation as to how those two Torah scrolls had ended up with Shir Tikvah. That story also told how the congregation had first come about:
It's not often that a Jewish congregation in Winnipeg is able to commemorate something as momentous as the acquisition of a new Torah scroll. If memory serves correct, the last time any congregation here was able to mark such an occasion was in May 2012, when Temple Shalom celebrated the completion of the "Penn Torah scroll", which was the crowning achievement of scribe Irma Penn shortly before her passing that same year.
Now, a congregation about whom we don't hear very much is also about to unveil two new recently-acquired Torah scrolls. Congregation Shir Tikvah, which is in its 13th year, will be unveiling the two Torahs at its Rosh Hashanah service on Monday, September 15.
The Torah scrolls are the gifts of Dr. Leonard Kahane, in memory of his late wife, Hope Renee, who passed away in 2006.
Recently I sat down with three individuals who were instrumental in creating Shir Tikvah congregation and who have played vital roles in keeping that congregation alive every high holiday since 2003: Sid Ritter (the former executive director of Bnay Abraham Synagogue prior to the merger of that synagogue with the Beth Israel and Rosh Pina synagogues in 2002), his wife Hinda , and Sharon Bronstone (a past president of the Beth Israel congregation).
As much as I was interested in hearing the story of the Torah scrolls, I was even more interested in knowing what has led the various individuals who have gathered together each year at the Viscount Gort Hotel (save for two years at the old Blue and Gold room in the former Winnipeg Stadium) for high holiday services to stay together.
The story, for those not familiar with it, is that at the time that three north-end Winnipeg congregations – the Beth Israel, Bnay Abraham, and Rosh Pina, decided to merge into one in 2002, not all members of those congregations were enthused with the idea of the merger. According to Bronstone, "Some of us were not happy the way it (the merger) turned out…and Sid, David (Bloomfield, also one of the original movers behind the creation of Shir Tikvah and a past president of the Beth Israel), and I started getting phone calls from others, asking 'What are you going to do?' "
"Nobody really wanted to start anything," says Bronstone, "but the phone calls kept coming in and we did start something – it was a one-shot deal, in 2003" (high holidays services in the basement of the Viscount Gort Hotel on Portage Avenue).
"The first year we had 83 people – which surprised us," she notes. "It came around that we met a second year, also at the Viscount Gort." Since then the number of people attending Shir Tikvah's services has continued to grow, to the point where there are anywhere from 150-180 individuals now attending annually (although one year there were over 200 people in attendance, Bronstone notes.)
(Ed. note: In my conversation with Sharon Bronstone on March 10, 2021 Sharon offered the following observations about the original formation of Congregation Shir Tikvah:
"Some of us were younger people who weren't comfortable going to a larger synagogue.
Rabbi Green (who was the rabbi at Congregation Beth Israel at one time) had suggested, when Shir Tikvah was first formed that (to paraphrase) "You're doing something for people who do not want to belong to a synagogue, but wanted somewhere to go for High Holiday services.")
Arky Berkal has served as cantor from day one, while Sharon's son Adam has served as "lay rabbi", also from the very beginning. (Every year Adam Bronstone has come back to Winnipeg for two weeks during the high holidays, no matter where he may have been living anywhere in the world.) In recent years, Jared Trotman has also been contributing as "Ba'al Shacharit", this year to be joined on the bimah by Avrom Charach.
As far as Torah scrolls have gone though, the congregation had been in the practice of borrowing two scrolls belonging to the Gray Academy each year. Later, when those Torahs were sent for refurbishing, Shir Tikvah was able to borrow two more Torah scrolls from the Talmud Torah-Beth Jacob congregation on Main Street. Most recently it had been borrowing two Torahs from the Shaarey Zedek Synagogue.
Bronstone notes that, even though there "were 48 Torahs" in the Etz Chayim as a result of the merger of the three congregations and that the Simkin Centre also had a surplus of Torahs, "no one wanted to give any to us."
But, last year, explains Bronstone, while they "were breaking fast, Dr. (Leonard) Kahane said to me 'Is there anything I can do for you?' I didn't understand what he meant, so I said 'I don't think so.'"
"No, no, what I meant is 'What are you short?' ", Dr. Kahane continued, according to Bronstone. "Well, after Yom Tov, I called him," she continues, and mentioned that they were short Torahs of their own, so "he made us a fantastic offer of two Torahs".
At that point Hinda Ritter explains how Sid and Leonard Kahane went down to Florida to visit a store known as "Tradition", whose owner specialized in the sale of Torahs "that have been reclaimed from the Holocaust".
"The Torahs go to Israel," Hinda adds, "where they're vetted and fixed, and he (the owner of Tradition) gets them." (The Torahs are kept near the Kotel, where authorized scribes are allowed to work on them, Sid Ritter explains later in the conversation.)
Sid Ritter adds: "There are two locations in the world where Holocaust Torahs are kept. One is in Jerusalem and the other location is London, England. My opinion is we ought to be getting Torahs from Jerusalem. Those Torahs are checked by an authorized scribe to make sure they are all kosher."
(At this point I interjected, asking whether it was permissible to repair a Torah that had been severely damaged. According to Sid Ritter, it depends on the degree of damage.)
"I asked our contact in Florida whether it would be possible to obtain one Torah that came from Poland and one from Romania," Sid continues, "because our donor's family came from Romania."
"After some back and forth, eventually two Torahs were found – one from Poland, and one from Romania – and that's what we ended up with," he says.
There was an added element to the purchase of the Torahs that entered into the equation, Sid adds: The weight of the Torahs. Theirs is an "egalitarian congregation", he explains, and they didn't want to acquire Torahs that would be too heavy for women to carry.
So, what are the components that go into adding to the weight of a particular Torah? Sid wondered. One obvious factor would be the weight of the scroller, or the "Etz Chayim," as it is referred to. "It depends on whether it's made of hardwood or softwood," Sid explains. But, another added element is the type of ink used in creating a particular Torah. "The heavier the ink, the more massive the Torah – not so much the parchments – they're largely the same," he adds.
But, how do you know a Torah comes from Poland, for instance, while another comes from Romania? "It turns out that there are actually distinct styles," Sid says, that can indicate where a Torah comes from.
I ask: "How much does a Torah go for anyway?"
Both Sharon and Sid chime in: "Lots!"
In addition to the actual scrolls, Dr. Kahane also paid for the Torah covers, which were made in Israel.
Since Congregation Shir Tikvah meets only for high holiday services, I ask where the Torahs will be kept during the rest of the year. It turns out that Sid Ritter will keep them in his own home – under conditions "that are reasonably temperature controlled", he notes.
The ark and the podium used by Shir Tikvah were designed and built by Zvi Gitter, Sharon Bronstone says, and they're meant to be easily disassembled. As a matter of fact, she notes, " we have given them out when people have bar or bat mitzvahs in hotels."
"We are, in my estimation, a real synagogue," she adds, "because the only things we were lacking were our own Torahs".
According to Sharon Bronstone, now that Shir Tikvah Congregation is officially dissolved, the two Torah scrolls that the congregation acquired in 2015 are to be given to the Chevra Mishnayes Congregation (about which we have a story on page 34.)
As well, Sharon adds, the ark and the podium mentioned in that 2015 story will be donated to Congregation Temple Shalom, along with the white gowns worked by the lay rabbi and cantor.
As far as the High Holiday books that had been accumulated by Shir Tikvah over the years, Sharon says, of the 160 books in the congregation's possession, 60 have been able to find new homes in other congregations, but there are still 100 remaining to be donated. If anyone is interested in acquiring these books they are asked to contact Sharon at 204-338-5064.
Winnipeg Jewish Theatre to open season with world premiere of "Pals"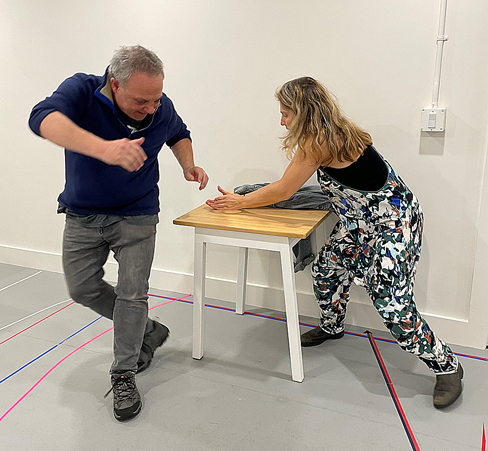 By BERNIE BELLAN The opening show of Winnipeg Jewish Theatre's 2023-24 season promises to be a clever and poignant take on relationships between men and women, when "Pals" makes its world premiere on November 9 in the Berney Theatre, running until November 19.
"Pals" is the third two-person show created by the team of Diane Flacks and Richard Greenblatt. Interestingly, when I spoke with Flacks and Greenblatt while they took a break from rehearsing the play in Toronto, they told me that their previous two two-person plays also had one word titles – with four letters in both: "Sibs" and "Care."
"Pals" is the story of two friends, told over a 25-year time period. Their friendship survives many tribulations, including both characters entering and exiting many other relationships. The play uncovers the underlying tensions that permeate all friendships.
"Pals" opens with the two characters meeting for the first time. I asked Diane and Richard whether the notion of their having sex ever enters into the plot, but Richard was quick to exclaim, "We don't have sex."
Diane also noted that, in the case of her character, she is married to another woman. (Diane is a lesbian in real life.)
The fact that the characters maintain a friendship though becomes a source of friction within their respective relationships. It raises the question: Can you have an intimate, albeit platonic, relationship, with a member of the opposite sex all the while you're in a physical relationship with someone else?
I asked whether the characters in "Pals" are Jewish (which both Diane and Richard are), and the answer was "yes."
Both Diane and Richard have had past associations with the Winnipeg Jewish Theatre. Richard's goes back a very long time – when he directed the critically acclaimed "League of Nathans" in 1995.
Diane Flacks appeared in a one-night performance of a show in 2021 called "25 Questions for a Jewish Mother," which was a part of that year's Tarbut festival. There were no in-person events that year, due to Covid, but "Jewish Mother" was available on Zoom and had a huge audience.
In addition to writing for the stage, Diane Flacks has written for TV, including Working the Engels, Baroness Von Sketch Show, Young Drunk Punk, PR, and The Broad Side.
Richard Greenblatt has performed in theatres across Canada and abroad, as well as in feature films, television and radio. He co-wrote 2 Pianos 4 Hands, which played on five continents and in over 150 cities since it opened in 1996.
Pals is directed by the internationally acclaimed director Jillian Keiley. More information, tickets and 5-show subscriptions can be found at: www.wjt.ca. You can also reach WJT by phone at (204) 477-7478.
To watch a preview video from Pals, click here: https://www.youtube.com/watch?v=z2W0VmHHFbA
Simkin Centre introduces Friday afternoon Shabbat services – open to all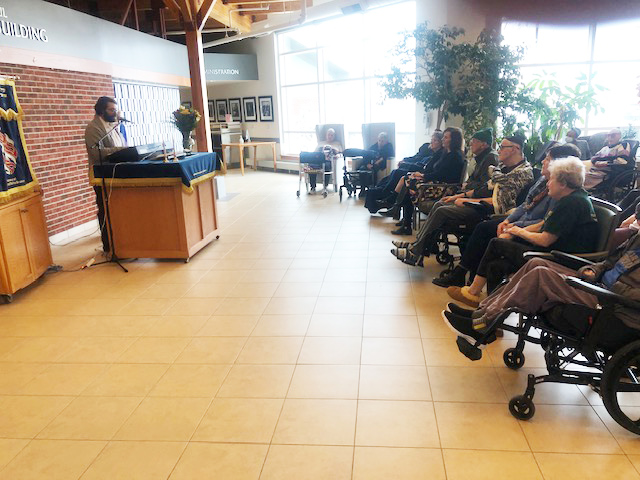 By BERNIE BELLAN (Posted Oct. 31) The Simkin Centre held its first ever Friday afternoon Erev Shabbat service this past Friday (Oct. 27), led by Rabbi Matthew Leibl.
There were more than 30 residents in attendance, along with various other outside guests. The service was approximately 45 minutes long and was filled with stories and songs associated with Friday evening Shabbats – some from Rabbi Leibl's own childhood and some from more recent years.
The Friday afternoon Erev Shabbat services are now to become a regular features at the Simkin Centre and are open to anyone to attend.
To watch a short clip of Rabbi Leibl introducing his first Friday afternoon service click https://youtu.be/hLSrV18K58o
The complete text of MP Marty Morantz's speech at the community vigil for Israel on October 10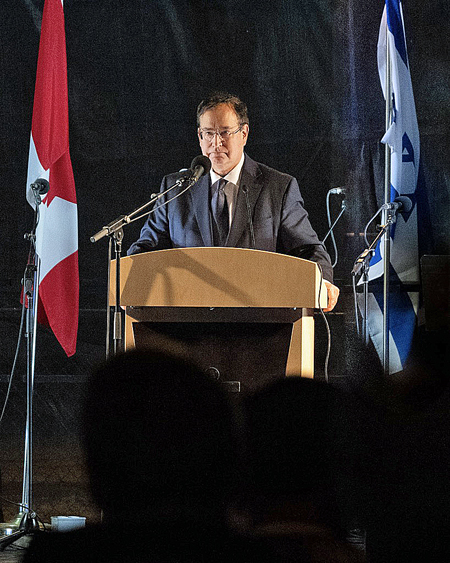 Tonight we are all Israelis!
Conservatives stand with Israel.
Pierre Poilievre stands with Israel.
On Saturday we woke up to unspeakable images.
We must stand shoulder to shoulder with Israel as it defends itself from these criminal and barbarous acts.
On Shabbat, Hamas brutally invaded Israel, invaded homes, killing hundreds, taking hostage hundreds.
More Jews were killed in Saturday's attack than in any single day since the Holocaust.
Some 1500 human beings killed in a single day would be like 6000 Canadians being murdered in a single attack.
They were children, babies, men, women.
They were young people just out listening to music at a dance party.
This was an unprecedented brutal attack.
As we speak Hamas is threatening to execute innocent hostages.
This outrage cannot, must not stand.
Don't let anyone tell you Hamas is the legitimate voice of the Palestinian people. It is not a government.
They are a genocidal murderous and evil death cult and they must be defeated.
But friends, we have seen evil before.
Jews have been persecuted for millennia, but we have survived.
Conservatives unequivocally condemn the invasion of Israel by Hamas terrorists and the sadistic violence that Hamas has carried out against innocent civilians.
Now is the time for moral clarity. There is no moral equivalency between democratic Israel and the butchers of Hamas.
There is no response, no matter how strong, that would be disproportionate to the crimes Hamas has committed.
Israel has the right to defend itself against these attacks and respond against the attackers – as any other country would.
Theodore Herzl, the father of modern Zionism, said, "If you will it, it is no dream."
In 1948 that dream became a reality – a homeland in Israel, the promised land.
Working together Israelis turned a desert into an oasis.
An island of democracy surrounded by a sea of autocracy.
A Jewish state where Jews could live in peace free from fear and persecution.
Let there be no doubt. Israel is the ancient and indigenous homeland of the Jewish people.
We will not let the butchers of Hamas take that dream, long realized, away from us.
Many politicians will stand with Israel when it is easy.
But listen to what they say when it is hard.
They will talk about "both sides."
I'm here to tell you that there is only one side.
The side of morality.
The side of democracy.
The side of Israel.
We see too often politicians at the United Nations unfairly singling out Israel for criticism.
I will always stand against the unfair singling out of the Middle East's only democracy.
Already there are calls for Israel to deescalate.
I ask you.
Would any country deescalate after having its people slaughtered in cold blood?
I wish the people of Israel and its brave soldiers Godspeed on their mission to defend the promised land from pure evil.
As Prime Minister Stephen Harper said:
Through fire and water Canada will stand with you.
Am Yisrael Chai!