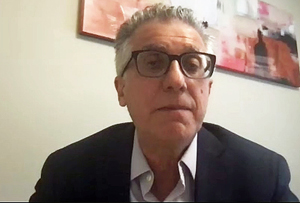 By BERNIE BELLAN While there were a great many interesting speakers at this year's Limmud, the one speaker to whom I was looking most forward to hearing was Michael Benarroch, the new president of the University of Manitoba.
Since returning to Winnipeg last summer after having served as the provost and vice-president of Ryerson University in Toronto since the fall of 2017, Benarroch was thrust headlong into having to take over his position in the midst of a pandemic.
Naturally, there haven't been many opportunities to see and hear Benarroch, nor to interview him since he returned to Winnipeg, so his appearing at Limmud allowed Limmud participants the chance to hear directly from a man whose career has seen him move steadily up the academic administration ladder in the past 30 years.
At times wistful – in speaking of his family's having come here from Morocco, at other times contemplative, in discussing how important it is to include Indigenous students and faculty in reshaping the U of M, Benarroch told a story – of how he's arrived at his present situation in life and what his goals are looking forward.
"My parents never had the opportunity to go to university," Benarroch explained at the outset of his presentation.
"My family came to Winnipeg (from Morocco) because my mother's brother was in Winnipeg. My father was a teacher, but when he came to Winnipeg he found a job as a shochet," Benarroch said.
It was while he was an undergrad at the University of Winnipeg that Benarroch said he developed a "passion for economics". He later went on to acquire a PhD in Economics from Carleton University – in 1992.
Upon completing his PhD Benarroch returned to the University of Winnipeg. At the time, he explained during his presentation, Lloyd Axworthy was President of the University of Winnipeg and Axworthy asked Benarroch whether the university should have a business school?
"I designed a vision," Benarroch said, and eventually he became dean of the new Faculty of Business and Economics.
After 19 years at the U of W, Benarroch said he "interviewed for Dean at the Asper School of Business" at the University of Manitoba, which he became in 2011.
"The University of Manitoba is one of 50 research intensive universities in Canada," Benarroch noted – something that was to prove a factor in his wanting to return here this past year.
In 2017, Benarroch became Provost and Vice-President Academic at Ryerson University.
For Benarroch, Ryerson was a good fit, he explained, because "it had a real focus on community engagement and entrepreneurship."
As for moving to Toronto, Benarroch admitted that he and his wife, Kim (Bailey), "missed Winnipeg a lot – especially Kim." Still, by the time they left Toronto this past summer, both their sons (Keenan and Aden) had also moved to Toronto, so returning to Winnipeg was a bit of a mixed blessing for Michael and Kim.
The story how Benarroch came to be president of the University of Manitoba is an interesting one.
When he applied for the position – in 2019, "I didn't even tell my family I was applying," he said. And, when he came to Winnipeg to interview for the position, he didn't even tell his brothers he was here. (Al Benarroch is Executive Director of Jewish Child and Family Service, while Yosef Benarroch is Rabbi of the Adas Yeshurun Herzlia Congregation, although he also lives part of the year in Israel – during normal times. A fourth brother, Yamin, who is also a rabbi, lives in Vancouver).
Ultimately, Benarroch "was offered the position of president (of the U of M) in 2019," he said, "then Covid hit and turned everything topsy turvy."
At that point, the host of this particular Limmud session, Faye Rosenberg Cohen, asked Benarroch: "Did you plan out the career part?"
Benarroch responded: "I knew the presidency at the University of Manitoba was coming up. I kept my eye on it, but I thought that (moving to Toronto) was going to be my last move.
"There had to be a good reason for me to move from one institution to another.
"During my time at the Asper School I thought though that I really meshed well with the atmosphere at the University of Manitoba."
As for Ryerson, Benarroch noted that the school began as a polytechnic institute and it still carries a very large imprint as a technical training school even though it is now a university.
"Ninety-five percent of the students have an experiential background – serving in apprenticeships" and work programs, while attending classes, Benarroch explained.
Part of Benarroch's mandate while he was at Ryerson, he noted, was to "rebuild the faculty."
"We went from 700 to over 900 in the three years I was there," Benarroch stated.
"We hired quite a few younger academics who brought a lot of energy with them," he added.
Another major change that Benarroch said he helped to foster was a concerted effort to hire more Indigenous instructors.
"When I arrived there were only six Indigenous professors at Ryerson," he observed.
"Working with students and elders we launched a reconciliation process. We made Ryerson a place where Indigenous people would feel welcome," including by "hiring 20 new Indigenous staff," Benarroch said.
"We also brought in a fair bit of scholarship money for Indigenous students," he added.
Yet, when the opportunity to take over as president of the University of Manitoba presented itself, Benarroch noted, that despite his having fit in well at Ryerson, he said that "you never want to leave a job, but if I hadn't taken that opportunity I don't think it would have come up again."
Rosenberg Cohen asked Benarroch "How has being a religious Jew worked for you, first as a professor, then as an administrator?"
Benarroch replied: "As a prof, it was great. As an observant Jew I was always able to schedule my time so as to be able to observe Shabbat."
Benarroch mentioned that one of the two sabbatical years he took as a professor was at the University of Haifa, which was of particular significance for him – being able to spend the year in Israel.
However, upon becoming an administrator, Benarroch suggested, "my schedule was not mine as much as it was in the past…At Ryerson, the president was an observant Muslim, so I always I had to make sure I was on campus on Fridays while he was attending prayers."
Further, Benarroch noted, while the advent of Zoom during the pandemic has certainly enabled teaching and meetings to carry on, Zoom has, in fact, "made it harder to remain Shabbat observant."
Prior to the pandemic, he explained, if he had a meeting or conference to attend – even on a Shabbat, "I would be staying in a hotel and I could attend a meeting – without taking any notes."
Now, it's impossible to participate in a Zoom session during Shabbat, he said – and since the workday seems to have expanded to include almost any hour of the day, Benarroch admitted that, as much as technology has allowed meetings to be held relatively easily, it has presented problems for him having to decide between his obligations as a university president and his religious observance.
As for some of the other more noticeable effects that the pandemic has had on his role as president at the U of M, Benarroch said: "I have four staff members in my office; I've seen one of them in person."
Benarroch told the Limmud audience that, prior to assuming his new role, he read a book offering advice on "how to be a university president".
(Rosenberg Cohen asked the question that was probably on everyone else's minds at that point: Are there enough people in the world who would be in the position that they were interested in becoming a university president that it would be worth it to write a book about that subject?)
In any event, Benarroch said that this particular book did offer two really good pieces of advice:
1. Don't make a major decision during your first six months in the new position;
and 2. Go out and meet as many people as you can off the bat.
(Obviously, the second piece of advice was thrown out the window when Benarroch returned to Winnipeg during the pandemic.)
In terms of how the pandemic will change the way university courses are taught even following the pandemic, Benarroch suggested that what is likely to occur is that professors will teach classes where some students attend in person while other students will take those same classes online.
"We're also looking to have classes for Indigenous students up north" offered online, following on the success of Zoom teaching during the pandemic, he suggested.
While "there has been a lot of resistance to teaching online among academics," Benarroch admitted, "students have been adapting."
With reference to how many students are actually enrolled at the university this academic year, Benarroch observed that, while there are "fewer first year students at the University of Manitoba, there have been more students return for second, third, and fourth year" than in previous years.
"Enrolment is definitely up," Benarroch said, "and we expect to see the majority of students return again in the fall."
Rosenberg Cohen asked: "If I were a parent, thinking of spending money to send my child to a university somewhere, why would I spend all that money when they can take their classes online?"
Benarroch's response was that, while virtual classes will certainly be a major part of whatever format universities eventually evolve into becoming, there is going to be a greater emphasis on "more participation, more research, more experiential. There are going to be more opportunities outside the classroom", but they are going to be in person, not online.
As an example, Benarroch said he's planning on creating a "student start-up zone", in which students will start their own businesses."
"It's better to fail at a business when you're 23 than when you're 55," Benarroch observed.
Rosenberg Cohen asked: "What are your hopes and dreams?"
Benarroch said, "Here at the University of Manitoba we have a tremendous testing capacity. Winnipeg could become a testing centre for vaccines," for instance he suggested.
Continuing on the thread of what his hopes and dreams are, Benarroch said: "I'd like to see the University of Manitoba become a global leader in certain areas.
"I'd like to see the university become a racist-free zone." (He noted that the previous president of the U of M, David Barnard, "had launched a task force on Equality, Diversity, and Integration.)
"We know we can't stamp out racism, on campus," Benarroch observed. "The question is how to deal with it."
Someone in the Zoom audience wondered how one can maintain a balance between stamping out racism while still allowing free speech?
"We're still a university. We are going to have debate and disagreement," Benarroch said in response.
Someone else wondered "How does the university compensate for lab work that can't get done?
Benarroch answered that "We allow 20 percent capacity in some spaces…We've also developed a way to hold some of the labs virtually."
As well, Benarroch said that, for ten days in January, students in the Faculties of Nursing, Science, Architecture, Engineering, and Agriculture, were allowed back on to campus" to conduct lab work – under strict Covid protocols.
I asked a question along these lines (although the names of questioners were not given): Professors are having to spend more time than ever before finding funding for their programs. With the emphasis on practical, results-oriented programs, where will that leave programs that don't necessarily have practical applications? (My question was not worded precisely that way, but it was along those general lines.)
Benarroch's response was that "the university brings in just under $200 million a year in research money – the vast majority of which comes from the federal government."
He added that he has two goals as far as where the money for research goes: to allow students who were doing research prior to Covid to continue doing that work; and to obtain additional money to keep university labs running.
Benarroch also noted that there is now a "massive reinvestment in science in the US. We have to remain competitive in how we pay faculty and how we keep up our labs."
It seems quite evident, therefore, that Michael Benarroch is going to be preoccupied with finding ever new sources of funding for the university, while trying to retain whatever sources have been in place until now.
It seemed fitting, therefore, that one of his final observations was that "one of my mandates as president is to speak to government".
Still, lost in all the discussion about funding and research was any reference to the less practical aspects of a university education. Of course, that's a subject that's been debated for a very long time. I just wonder where faculties such as Arts are going to end up with the even greater emphasis on "research" oriented programs.