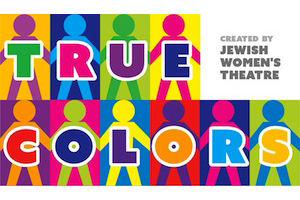 (March 9, 2021; Winnipeg, Manitoba) — Winnipeg Jewish Theatre (WJT) is now streaming True Colors, a show that was originally created by Jewish Women's Theatre. True Colors will stream in three parts from March 8 to 28. The show is available for free on WJT's YouTube channel, as part of Safe at Home Manitoba's Stay Home Initiative.
WJT's season sponsor is The Asper Foundation and the Production Sponsor is Gail Asper Family Foundation. For tickets and info on streaming, visit wjt.ca.
Originally created by Jewish Women's Theatre as part of its Salon Theatre season in May 2019, True Colors is a collection of humorous, revealing, and inspiring stories by Jewish people of Colour exploring identity and community. Material Adapted, Curated, and Produced by Ronda Spinak, Originally produced by Eric Greene, directed by Susan Morgenstern, and dramaturged by Lisa Rosenbaum & Susan Baskin. 
Stories featured in the first instalment streaming March 8-14 include: A young woman's Cuban Jewish mother forbids her from dating a non-Jewish Puerto Rican boy. A mixed-race Jewish woman recalls her parents meeting and long-lasting love. A young man recalls his struggle with faith and what to believe.   
Stories featured in the second instalment streaming March 15 – 21 include: A Latina Jewish woman learns she doesn't have to choose between culture or religion. A Jamaican woman who experiences a spiritual awakening. A man of a Jewish and Chinese descent who has to make a painful decision. 
Stories featured in the third instalment streaming March 22-28 include: A Black Jewish woman's visit to her synagogue taught her the love and acceptance of Hanukkah, Bakersfield style. A daughter of a Korean Buddhist mother and a White Jewish father who was challenged by classmates for wearing a Jewish star. An African-American man finding community amongst other Jewish people of Colour. 
"True Colors is a prescient mosaic of stories that calls on us to open our hearts and minds during this historic time for social change," says Ari Weinberg, WJT Artistic and Managing Director. "While WJT's mandate is committed to the continued cultivation and sharing of Jewish culture, I wholeheartedly believe we must also remain dedicated to investigating the similarities and differences between cultures to keep our artistic practice relevant and necessary on stage." 
True Colors stars Winnipeg actors Cherissa Richards, Montana Lehmann, Cuinn Joseph, Tracey Nepinak, Candace Smith, Andrea del Campo, Chelsey Mark, Beverly Ndukwu, Kimmy Choi and Ray Strachan. The Streaming Director is Ari Weinberg with Cherissa Richards as Cultural Consultant and Katie Hoppa acting as Covid Officer and Set Supervisor. Katherine Johnston is the Manager of Production alongside James Moore, who is also Lighting Director, Props and Camera Operator. Additional Camerawork by Connor McBride and Mike Pascucci. Tommy Inthirath is Director of Photography and Post-Production Editor. Jerry Augustin is WJT's House Technician. 
WJT's season sponsor is The Asper Foundation. True Colors is funded through Safe At Home Manitoba. WJT thanks The Azrieli Foundation, The Winnipeg Foundation, Canada Council for the Arts, Manitoba Arts Council, Winnipeg Arts Council and the Jewish Foundation of Manitoba for their ongoing support. 
Viewing True Colors is complimentary and information on the stream can be found at www.wjt.ca/season/true-colors.