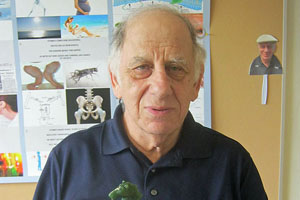 By MYRON LOVE As he nears his 80th birthday, Michael Eskin is still going strong. The much-honoured professor in the faculty of Food and Human Nutritional Sciences at the University of Manitoba Department – and a beloved chazan in our community – continues to teach two online classes with over 200 students and has written two more books – his 16th and 17th – over the past year.
The first one, he reports, he co-wrote with McGill University Professor Selim Kermasha and is titled "ENZYMES: Novel Biotechnological Approaches for the Food Industry." It was released in December.
The second book on Minerals and Human Nutrition will also be published by Elsevier/Academic Press in the prestigious series Advances in Food and Nutrition Science and will be released just in time for the author's 80th birthday.
This publication, Eskin notes, contains material relevant to Covid prevention. "The current pandemic has shown how a deficiency in both vitamins and minerals can affect our ability to combat viral diseases such as COVID-19," he points out. "This book discusses six macro- and five micro-elements that are indispensable for our survival. The pandemic has revealed that not only are some minerals deficient in a large segment of the world's population but a comprehensive review of their recommended levels is needed."
Chapters cover minerals such as calcium – essential for bone and muscle health (and how it affects extra-musculoskeletal activity including the cardiovascular system, obesity and cancer), phosphorus, potassium (necessary for cellular functions such as fluid balance), sulphur, copper, iodine, magnesium (and its effectiveness as a therapeutic agent for many diseases), Iron and the role of zinc in neurodeverlopmental and neurodegenerative disorders, diabetes, and infertility as well as its effectiveness against COVID-19 – and selenium including its ability to combat viral diseases such as COVID-19.
"I am particularly grateful for the important contributions to this volume by outstanding nutritional scientists from around the world," Eskin says. "This volume provides up-to-date and useful information on minerals to scientists, both researchers and clinicians, to better understand the unique contributions made by minerals to human health."
Now in his 54th year of teaching, Michael Eskin (who is originally from Birmingham in England) is the longest member where he has served as department chair and associate dean. In 2017, he was selected by the students in his faculty as Professor of the Year.
The centerpiece of Eskin's career has been his work on the development of edible oils. He played a key role in the successful development of canola oil. Eskin has published – in addition to his books – over 250 research articles, book chapters, monographs, abstracts and several patents. Last spring, he became just the fifth Canadian scientist to receive the Supelco AOCS (American Oil Chemists Society) Research. This award has been presented to scientists in many different disciplines, including organic chemistry, AOCS physical chemistry, biochemistry and nutrition. Eskin has been an active member of the Society for many years, having served as chair of the AOCS Lipid Oxidation and Quality Division and was the first chair of the AOCS Division Council. In addition to serving as an associate editor of JAOCS, he was co-editor of Lipid Technology for seven years and is associate editor of education for the AOCS Lipid Library.
"My mother-in-law, Rose Kessler, always used to say that you should never retire and she was right," he observes. "If I had retired at 65, I am not sure if I would have accomplished all that I have."