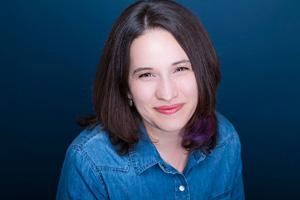 By MYRON LOVE You could rightly say that Sidura Ludwig is "over the moon" about being named the winner of the 2021 Vine Award for fiction for "You Are Not What We Expected", her first collection of short stories.
"This is a huge honour," says the former Winnipegger. "I am thrilled, overwhelmed, speechless. It was a real surprise. I didn't even realize that my book still qualified as it was released 18 months ago."
She was notified in October that she had been shortlisted for the award – which was presented in November at an online-only ceremony. "I was given a week's notice that I won so that I had time to prepare and pre-record my acceptance speech," she reports.
As per the Koffler Centre of the Arts – the Vine Awards for Canadian Jewish Literature sponsoring organization – the annual national awards program "honours both the best Canadian Jewish writers and non-Jewish Canadian authors who deal with Jewish subjects in Fiction, History, Non-Fiction, Young Adult/Children's literature, and Poetry". Each winning author receives a prize of $10,000. The 2021 three-person Jury reviewed 42 entries to the Fiction, History, Non-Fiction and Young Adult/Children's categories.
The Lillian and Norman Glowinsky Foundation is the lead funder for the Vine Awards.
As was reported in The Jewish Post & News in January of last year (2020) prior to Ludwig's in-person presentation at Limmud that year, "You Are Not What We Expected" is the former Winnipegger's second book. Her first novel, "Holding My Breath", was published in 2007.
The daughter of Israel and Maylene Ludwig has been writing seriously since she was a teenager. She left Winnipeg originally in 1994 to study at York University. After graduation, she was back here for a year working as a teacher's assistant, then went back east to study Journalism at Carleton. In between, she married and she and her husband eventually settled in Thornhill in 2004.
She also worked for a time as a journalist and in communications, largely on a freelance basis before starting a family. "I found as a young mother than I didn't have a lot of time to read novels," she recalled in that earlier interview. "I gravitated to short stories – which was always my first love. I really appreciate the ability of writers to tell larger stories in a few pages."
She says that she worked on her newest publication over a period of five years. "It started as a novel," she notes, "but it just wasn't working for me. I began to focus on the individual characters and develop each as a short story."
During that time, she also enrolled in some writing courses through the Sarah Selecky Writing School and Humber College. She set herself a goal of trying to send out five submissions a week and, after a year, had nine short stories published in different media. That gave her the confidence that there enough interest in the stories to approach.
"You Are Not What We Expected" (which was published by House of Anansi) recount s the lives of the multi-generational Levine family and their neighbours over a period of 15 years, capturing their celebration, transitions and drama in their lives.
The author notes that "You Are Not What We Expected" is widely available in bookstores and that the book has been very well received. "I have received a lot of invitations to do book club zooms session," she reports. "Next week, for example, I have been invited to participate in a zoom session by a book club in Modiin in Israel."
In July, Ludwig graduated from a Masters Degree program in Fine Arts specializing in writing books for children and young adults at the Vermont College of Fine Arts. She is working on a some picture books for younger children and a novel intended for middle grade students.