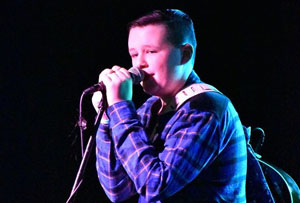 By BERNIE BELLAN
At the beginning of May I posted to Facebook that anyone who had an interesting story about how someone was coping during this period of self-isolation could contact me and I would consider writing a story about that person.
That led to the following response from Rishona Hyman, who herself is well-known as the owner of Aqua Essence Swim Academy: "My 12 year old son is releasing his debut album next week called Basement. It will be available on all streaming platforms May 12th and presale starts May 5. On the album Gregory plays all the instruments and mixes all the music on his own. He does this all with no help from his non musical parents – who can't even carry a tune."
I contacted Rishona and asked her to have Gregory call me so that I could talk with him about his interesting solo project.
 
On Friday, May 1st, I talked with Gregory about what led to his interest in music – and how he went about acquiring the skills needed to produce his own digital recording.
Gregory told me that he is a student at St. Johns Ravenscourt. It turns out he discovered early on that he has a precocious ability to learn different musical instruments.
Gregory has not only taught himself how to play an assortment of different instruments, he also writes his own songs, and sings them as well, he proceeded to explain to me during the course of our conversation.
And, as Rishona noted in her email to me, Gregory was just about to release his first digital album – on May 12.
Gregory explained that "I've always been into music, but it really started when I started playing guitar (at age five). I started off by taking classical guitar lessons."
Because of his classical guitar training, Gregory said, "I was able to teach myself acoustic guitar and electric guitar."
"I started to get into rock and metal music," he added, when his father (Hartley) began to introduce him to heavy metal bands, "such as Black Sabbath and Guns 'n Roses".
"I really wanted to be in a band – and be a musician," Gregory noted, "and singing, at the time, came naturally for me because I would just sing along to music. I started taking voice lessons last year – which has also helped me as a musician."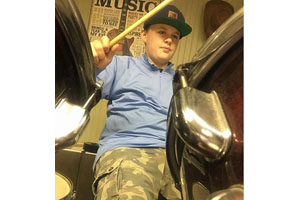 Because of his classical music training, Gregory observed, he was able to learn other instruments by going on Youtube and watching teach-yourself videos how to play those other instruments.
"One day," he related, "we were out of town, at a friend of my father's house, and the dad had a set of electric drums. I just went over and started playing them. He gave me a basic lesson how to play them – I fell in love with drums.
"Then, a few years ago," Gregory explained, he got a drum set of his own and he's been able to add drums to the musical instruments he had already learned to play.
I asked Gregory whether he's learned any other instruments, in addition to three different types of guitar and drums. He answered that he's been also able to teach himself "a little bit of piano – some basic chords."
He added that "I don't really play bass, but with the guitar training I've had I am able to play some things on the bass as well." (Later during our conversation Gregory noted that "I also play tuba for band class." I asked him, tongue in cheek, whether he plays tuba on the album that he was working on – and which has been released by now. His answer was "no".)
We talked about his album (which will be available by the time this is read) "on all the major streaming platforms" (including "iTunes, Apple Music, Spotify, Google Play, Tik Tok", Gregory added later during our conversation).
He explained that "during this time of self-isolation I decided I would record this entire album because I've been writing my own songs, I have all the equipment to record – I have a mixer, I have all the instruments…I've watched a lot of videos, so I learned how to put out my own album."
"So, what I did is I spent the last four weeks tracking different instruments, finishing writing some songs (that he hadn't quite completed when I spoke with him but which, he said, will be done by May 12).
"I was able to record 11 songs," Gregory said. "I was able to record the entire album by myself – in my basement.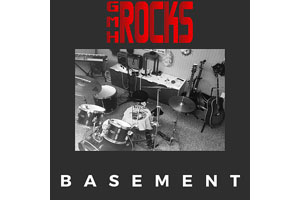 "The album is called 'Basement' " (for self-evident reasons). "The album is under the name 'GMH Rocks' because that's my stage name that I chose years ago."
Gregory noted though that, even though he is currently a "one-man band, I am looking for a bassist and a drummer to help me in the future."
I asked him how he would describe the type of music on his album.
"I don't know whether I would classify it as a certain style of music," Gregory answered. "To me it's a mixture of rock, indie music, and a little bit of punk, but it's really just a chance for me to show what I can do."
If you would like to see samples of Gregory's music, go to
https://linktr.ee/gmhrocks