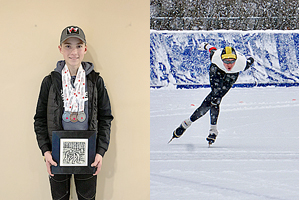 By SCOTT TAYLOR
For those speed skaters who have to compete against Adam Buchwald, it's probably worth warning them that the 14-year-old Winnipegger has come by his speed and skill quite naturally.
After all, his sisters, Rachael and Serena, were both skaters. Serena is now on a Diving Scholarship at the University of Pittsburgh while Rachael, a science student at the University of Manitoba travelled the world with competitive dance. Meanwhile, his mom, Tracy Leipsic, was a national speed skating champion who medaled in the Canada Winter Games.
So, while most Manitobans don't know of the next one, Adam, in the long line of Buchwald athletes, it won't be long before they do.
That's because, this Grade 9 student at St. Paul's High School, just produced a tremendous performance at the 2020 Canadian Youth Long Track Championships in Red Deer, Alta.
Buchwald was second overall in the 13-year-old boys' category, finished second in the seven-lap mass start, was third in the 500-metre Olympic style race, was second in the 1,500-metre pack-style race and won his age group class in the Dave Thompson Memorial 12 lap mass start.
The CYLTC, formerly known as Canadian Age Class Championships, was held Feb. 9-10 in Alberta. Skaters aged 11-15 had the opportunity to compete against the top athletes in their age category from across Canada. Athletes competed in six events, which included a variety of different competition styles. There were pack skating events, mass start events, Olympic style events, and team pursuit events. Team Manitoba had 13 athletes in total at the competition and accumulated 13 medals, two championship titles, and won three of the Dave Thompson Memorial races. Buchwald was one of those winners.
Pretty good for a kid who was also a good young hockey player but followed in his family's blades and committed full-time to speed skating.
"I started skating when I was 4 because Serena and my other sister Rachel were skating, but mostly because of my mom," said Adam. "My mom skated a lot when she was younger and I just wanted to do what my sisters were doing.
"Like Serena, I did a little bit of diving, but it wasn't for me. I'm not a huge fan of swimming."
His mom, is a minor legend in Manitoba speed skating circles. Tracy Leipsic, is a coach at the Winnipeg Central Speed Skating Club, a competition meet starter and the VP of Finance for the Manitoba Speed Skating Association. In the 1980s, she was as good as any female skater in Canada. She's a national and North American champion who medaled at the Canada Games. In 2018, she was named to the board of the Manitoba Human Rights Commission.
"Many of my friends are speed skaters from back in the day and now Adam is skating with their kids," Leipsic said with a laugh. "It's awesome to watch him be so passionate about it. He's having success now and it's great to watch. He's gained a lot of experience and is now gaining a lot of confidence to go with it."
It's not always easy to be a long track speed skater in Manitoba. Training in January at the Susan Auch Oval can be cold. Really, really cold. But it doesn't even concern Buchwald. He loves what he does and it shows. He's successful, but he's also becoming a star in two separate disciplines. Not only is he No. 2 in his age group in Canada in long track, he's also a successful short-track skater. In fact, he'll tell you he likes short track better than long track.
"I started with short track and moved on to long track and that's probably why I still lean toward short track," he said. "Most competitive skaters in Manitoba do both.
"Why I love speed skating so much is actually kind of interesting," Adam continued. "There is a team aspect to it, but it's more of an individual sport within the team. You still feel you are part of a team even though you're racing by yourself. I also like the competition, the strategy and the speed. That's a big part of it."
To be fair to both Buchwald and the skaters he competes against, the ability to go fast on both 17 -inch short track blades or 18-inch long track blades isn't something he was born with. The fact he comes from a skating family certainly guided him toward the oval and the rink, but the reason for his success is a lot more than genetic.
He loves the sport so much that he dug deep for a favourite skater. In fact, his all-time fave is not a multiple world-champion Dutch skater or even a Canadian. It's Vladislav Bykanov, the 30-year-old Israeli short tracker who competed at the 2018 Winter Olympics in Pyeongchang, Korea and won the gold medal in the 3,000-metres at the 2015 and 2018 European Championships. Tracy and his dad Richard Buchwald even purchased Bykanov's Olympic skin suit as a gift for Adam's bar mitzvah.
Still, despite his passion for the sport and his knowledge of the greats, he credits his coaches, above all else, for his success.
"I've become successful mostly because of my coaches and the support I get from my parents, family and teammates," he said. "But mostly the coaches. They've been training us super hard for all of these different competitions this year. Will Dutton and Tyler Derraugh are very good coaches.
"And the reason we've been successful as a team this year is the super hard training that Will and Tyler have put us through. It's paid off. I had a number of personal bests in this last meet in February and that's really what I strive for first whenever I skate in competition."
Not surprisingly, in his biography page in the 2019 Canada Winter Games Handbook, he says that "Tyler Williamson Derraugh is my role model."
"You hope, for all the work your child puts in, he'll be successful, but he is very fortunate to have the coaching he gets in Winnipeg," said his mom. "I mean, to have two coaches like Will Dutton and Tyler Derraugh here in a small province is really amazing. They're among the best coaches in the country and because of their work and the hard work of the team members, Manitoba's High Performance Program is among the most successful in the country."
There is very little doubt that Adam is committed to the sport. According to his mom, now that he's 14, he becomes a junior next season. Junior means he'll skate against the best young athletes in Canada between the ages of 14-19. Adam's goal is to be the only 14-year-old to qualify for national trials.
In the meantime, he'll skate next at the Western Canadian Short Track Championships in Selkirk in the middle of March.
"He's been successful and it's nice to see," said his mom. "Last year, he went to the Canada Games and had to be approved by Speed Skating Canada because he was too young. He has the speed and he's also very coachable.
"Now, it's just nice to see him have so much success considering all the hard work he's put in."