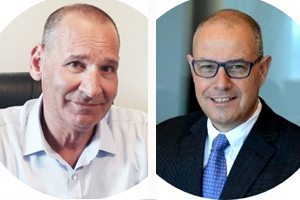 By BERNIE BELLAN
In January of this year I was contacted by an old friend who has specialized in bringing small companies to market. I was asked whether I was aware how many small Israeli companies have been launching Initial Public Offerings on various Canadian stock exchanges, especially the Venture Exchange of the Toronto Stock Exchange (TSX-V) in recent years?
I responded that I had heard from time to time of Israeli companies coming to Canada seeking investors and that I was always interested in learning more.
I was then told that one such company, known as Water Ways, would be sending representatives to meet with potential investors at a Winnipeg law office (Pullan Frohlinger Kammerloch) on January 28.
Subsequently, I was asked whether I'd be interested in interviewing two of the principals of Water Ways: Ronnie Jaegermann, who is a director of the company and who has an extensive background as an investment banker; and Ohad Haber, who is the CEO and founder of Water Ways.
(In case you're wondering why I've listed Jaegermann ahead of Haber, it's because that Haber admitted at the outset of an interview I conducted with the two of them on February 17 over the phone that his English is not nearly as good as Jaegermann's; thus, he deferred to Jaegermann during most of the interview.)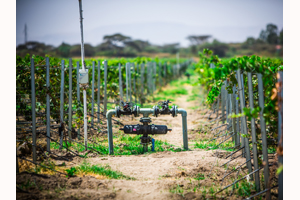 As background material that I read prior to writing this article, a piece written by my friend Paul Lungen for the Canadian Jewish News in January 2019 proved to be quite useful. Paul's article appeared shortly before Water Ways launched its IPO on the TSX-V.
Paul wrote: "A short drive southeast of Haifa, not far from Kiryat Tivon, one will find Kibbutz Ramat-David, where the high-tech irrigation company Irri-Al-Tal has its headquarters.
"There, in Israel's Jezreel Valley, Irri-Al-Tal develops sophisticated irrigation water systems. Pipes, pumps, driplines and command-and-control systems that operate in the cloud and improve the efficient use of water are all part of Irri-Al-Tal's product line, which can be found watering crops as far afield as China, Ecuador, Peru and Ethiopia…
Paul's article noted that Irri-Al-Tal was going to be listed on the TSX-V as "Water Ways" (WWT is how you can find it on the exchange.)
Pauls's article continued: "Worldwide, irrigation is a $17 billion business, of which Israel's share is $2 billion and Irri-Al-Tal's piece of that is less than one per cent.
"In 2017, Irri-Al-Tal reported revenue of nearly $14 million and net income of $967,571. Two year before that, revenue was $8.5 million and net income was $64,216."
Another interesting element of Pauls' article – and something that was explored in some detail during the course of my interview with Jaegermann and Haber, was Water Ways' keen interest in tapping into Canada's booming cannabis market.
Paul wrote: ' "Canada is the biggest public market for cannabis companies in the world," Jaegermann said, noting that the Canadian company Cronos already has a cannabis venture in Israel and that Irri-Al-Tal "is the primary contractor for their irrigation system."
' "Israel is known for its precision irrigation technology," Jaegermann continued. Drip irrigation was developed in Israel, where water conservation is a priority. With drip irrigation, 95 per cent of the water is absorbed by the plants and only five per cent is run off.'
When I talked with Haber and Jaegermann, I learned that Irri-Al-Tal was started by Haber in 2004. From information available on the Water Ways website I learned that Haber has an extensive background in the irrigation business, both on the sales and operational sides of the business.
The website also notes that, at Water Ways, "We design, supply, install & maintain irrigation systems for application in various agricultural and aquaculture operations. Our goal is to allow our clients to focus on efficiently growing their crops, their project & their business, by offering our experienced and professional logistic services.
The website continues: "Our mission is to make Israeli agriculture technology accessible to a much wider market around the globe. We focus on purchasing, assembling and exporting technologically advanced irrigation products & systems, manufactured by the leading Israeli companies and distribute them to our global clients." (During the interview Jaegermann listed China, Mexico, Ethiopia, Georgia, Laos, and Peru as countries where Water Ways has either sold irrigation components or complete irrigation systems.)
Finally, the website notes that ,"With the growth of precise irrigation technologies in the global market, Water Ways Technologies has started to investigate the development of its own solution. The main objective of our research & development efforts is to bring to market a technological solution what will enable agricultural operators to make more intelligent, data-driven decisions, as well as automating time-consuming and labor-intensive processes."
When I spoke with Jaegermann and Haber over the phone, Jaegermann elaborated on the various components in Water Ways' business: "Water Ways is engaged in different components. The first is selling Israeli water irrigation technology worldwide – like drip irrigation parts, valves, filters – all manufactured in Israel.
"The other part of the business is designing complete irrigation projects. It's about a $13 million business. We went public in March 2019, raising about $3.5 million."
I noted that other smaller Israeli companies looking for new sources of investment have found Canada to be an attractive place to raise capital. I asked Jaegermann why that is?
"Unless your company is at least $100 million in size you can't go public in Israel on the Tel Aviv Stock Exchange," Jaegermann explained He added that the NASDAQ (which also has many high-tech companies trading on it) presents the same problem for companies which wish to go public and want to expand beyond the initial small cap phase.
As a result, many Israeli companies have gone either to Australia or Canada to raise capital, Jaegermann noted. Both countries have venture stock exchanges which specialize in bringing small cap companies to market.
Another interesting aspect of trading on a Canadian stock exchange for Water Ways is that Canada is now the world's most advanced market for cannabis related companies and Water Ways is actively involved in selling irrigation equipment to companies in that particular field.
"After the IPO we acquired the assets of a Canadian irrigation distributor (now known as HG Water Ways)." Jaegermann noted that Water Ways has been pinpointing the cannabis market as one that can profit from drip irrigation technology to a very large extent – and that by grabbing a foothold in the cannabis business now, Water Ways is set to grow as new markets for legally grown cannabis open up.
I asked Jaegermann about the meeting which was recently held in the Winnipeg law office to which I referred at the beginning of this article – during which representatives of Water Ways met with potential investors.
Jaegermann said tthat he thought "the meeting went very well. We had about 12 or 14 people in the room and they were very receptive to our story. At the end of the day we provide farmers with the most sophisticated form of water irrigation in the world. It's the greenest way to grow crops – all developed in Israel."
I asked though whether the drip irrigation market isn't already fairly crowded with other companies?
Ohad Haber responded with a short, but to the point answer: "Not so much in Canada".
Jaegermann added that the drip irrigation market worldwide is worth approximately $2-2.5 billion, Israeli companies occupy about 80% of the market and, he said. Jaegermann added that while, "of all the companies involved, we're the smallest company right now – our target is to be a $100 million company in a few years."
Haber also emphasized the potential that the North American market presents as a huge opportunity for drip irrigation companies, since until quite recently it was only other areas of the world, such as South Africa, Asia, and South America where Israeli companies saw potential for developing new customers. By being one of the first Israeli companies to see the tremendous opportunities presented by tapping into the North American market, Water Ways anticipates very large growth in the coming years.
If you would like to find out more about Water Ways, go to their website: water-ways-technologies.com