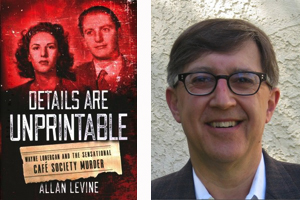 By BERNIE BELLAN
Winnipeg's own Allan Levine has established himself as an award-winning author of non-fiction history – with probably the book best-known to Winnipeg audiences being Coming of Age: A History of the Jewish People of Manitoba, which was published in 2009.
In addition to his well-received works of history, Levine has occasionally delved into the mystery oeuvre, most often with his Sam Klein mystery novels, the most recent of which was The Bootlegger's Confession.
The Sam Klein novels are set in Winnipeg in the first half of the 20th century – an era for which Levine apparently has a great deal of affection. With an endless series of colourful rogues populating those books, Levine has certainly demonstrated an ability to bring alive a period with which most of us now can only imagine through the accounts of others.
Now, with his latest book, Details are Unprintable: Wayne Lonergan and the Sensational Café Society Murder, Levine enters into a different sort of writing that combines his demonstrated ability to research his subject matter with a novelist's fine ear for authentic dialogue.
Although the particular subject of this book – that being the sensational murder of a young, wealthy New York heiress by the name of Patricia Burton, presumably at the hands of her estranged husband, Wayne Longeran, may have commanded the headlines of newspapers throughout the United States and Canada (and Europe too, on occasion), by now the story has faded from memory.
As Levine notes, "The story of the murder of Patricia Burton Longeran and Wayne Longeran's alibi, confession, and conviction is two tales in one. The first tells of the tragic death of a young mother…" the second aspect of the story relates to doubts cast on the Longeran's guilt "mainly because the trial took place in an era before DNA was utilized in legal proceedings".
And, although there have been other accounts of the murder and its aftermath published previously (to which Levine refers with full acknowledgment of those other works), the painstaking manner in which Levine pieces together the chronology of what likely happened in 1943 brings alive a story that for the vast majority of readers is likely totally unfamiliar.
There is a Jewish aspect to the story in that Patricia Burton was Jewish, but coming from a highly assimilated family that more than anything wanted to be accepted as one of New York's upper echelon families, her Jewishness was totally irrelevant to her.
She was also an unmitigated spoiled brat and Levine offers up a vivid description of what her life of carousing and partying was like until her murder when she was only 22.
Now, if the story of the murder of a rich heiress at the hands of her estranged husband seems to have been lifted straight from some Hollywood movie, Levine informs us that this particular story itself actually inspired more than one movie.
The book is written in chronological form, with an often dizzying array of characters introduced throughout. Levine describes the origins of the Burton family fortune, beginning with a successful brewer by the name of Max Bernheimer. As the family became more assimilated – similar to many other German Jews at the time, the name was changed to the more Waspish sounding "Burton".
Patricia's father, William O. Burton, plays an important role in the book even though he died three years before Patricia's murder, as it turns out that William was a homosexual – and that led to his meeting and having a relationship with William Longeran.
Longeran himself was quite the fascinating character – and a Canadian to boot! Levine explains how Longeran was very much a rogue, beginning from almost his earliest days when he plunged into a life of petty crime. He was also quite good looking and very much the ladies' man – even though if not totally homosexual he was at lthe very least, bisexual,
Longeran's homosexuality becomes a principal aspect of what eventually follows, as when he is eventually charged with Patricia's murder, the New York City tabloids have a field day focusing on his "perverted" lifestyle. Levine quotes liberally from newspaper accounts of the day that use the most purple prose to denigrate Longeran in ways that would be largely unthinkable today. But Levine is able to set the scene so vividly the reader is able to imagine full well what it must have been like reading daily newspaper accounts, first of the murder of Patricia Burton, followed by the arrest of William Longeran in Toronto (where he had returned following her murder), culminating in his trial.
Levine points out that there was something else going on in the world at the time – a minor story known as World War II, but for the tabloids – and even other more self-respecting newspapers of the day, the Patricia Burton murder and subsequent arrest and trial of Wayne Longeran took centre stage for much of the time that other far more pressing events were certainly deserving to be in the spotlight.
While Patricia's murder was not really that much of a mystery, given the overwhelming evidence that led directly to Longeran, what did become a pivotal part of what followed was his confession.
As mentioned, Levine has a fine ear for recreating imagined dialogue and, given that there were no tape recordings at the time, he does his best to lay out what likely happened when Longeran gave his confession to New York police. That confession proved to be the damning nail in the coffin for Longeran. Yet, by today's standards of jurisprudence, there is a very good chance his actual arrest in Toronto by Toronto police and his confession to New York police would both be ruled as having occurred in violation of his legal rights.
And that proves to another fascinating aspect of this book, as Levine describes the many appeals filed on behalf of Longeran through the years while he served out his prison sentence. The standards of what constituted acceptable behaviour by police evolved over time and what happened to Longeran played a part in the evolution of those standards, as Levine explains.
At times the book does slow down its original fast pace when Levine begins to describe the very lengthy research he conducted in the New York District Attorney's office when he read firsthand all the files relating to the Burton murder case.
Although Levine writes that he is almost totally certain that Wayne Longeran did indeed murder Patricia Burton, the circus atmosphere surrounding his trial and the overt homosexual bashing in the papers of the day undoubtedly played a large role in what eventually happened to Longeran. Readers may well be aware how recent it is that gay rights have been recognized within Western societies, but reading firsthand how vitriolic – and commonplace within media, the attitudes were toward homosexuals not that long ago helps to bring a real perspective to how far we have come.
By focusing on this one particular story, rather than doing an exhaustive study how the ostracizing of homosexuals was not only considered acceptable within larger society, it was demanded by the majority of the public, Levine not only treats readers to a terrific story, he offers a salutary lesson in how intolerant society was for so long.
In addition to being available at McNally Robinson, Details are Unprintable: Wayne Lonergan and the Sensational Café Society Murder is available at Indigo Chapters, Amazon (both Canada and the US), and Barnes and Noble in the US.