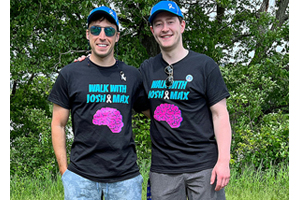 By MYRON LOVE Not only are Max Erenberg and Josh Lieberman close friends, they also share a terrifying experience. Each has undergone successful surgery for removal of a non-malignant brain tumour.
And they are both dedicated to raising money for the Brain Tumour Foundation of Canada, a 40-year-old organization that provides support, education and information for patients and family members relating to brain tumours and research funding to find better ways to treat the illness.
For Lieberman, 27, the son of Jeff and Robyn Lieberman, his ordeal began in 2016. It was the third week in April, he recalls. "I had just written my last exam and finished my undergraduate degree. I was sitting at home in the evening and started to shake. Next thing I knew, I was having a seizure and, soon after, was on my way to the hospital by ambulance."
Lieberman was initially assured that it was probably nothing serious. Tests, including a CT scan and MRI, detected a brain tomour.
"It was the scariest news that I had ever received," he says. "I was afraid that I was going to die."
He was diagnosed with a pilocytic astrocytoma and his surgery was scheduled for May 10.
"I was told that this is a rare condition and unusual for someone my age,"" notes Lieberman who was 21 at the time. "It normally occurs at a younger age."
The surgery was a success. He says that, after just a month, he felt great and was completely back to normal after three or four months.
Erenberg's recovery took longer – it was about six months before he felt that he was back to his old self.
In April of last year, the 29-year-old son of David and Rhonda Erenberg woke up one morning with a splitting headache. "I thought it was a migraine," he recalls. "I determined just to power through it."
As the week went on however, the pain got worse – with some vomiting as well. His family doctor told him that migraines can linger for some time. Nonetheless, he arranged for a CT scan.
"I was told that there was something there," Erenberg reports. "The doctors couldn't tell exactly what it was. They told me they were going to monitor it and sent me home."
Shortly after, he was admitted to hospital for more tests to rule out anything that may have been life-threatening. After five days in a neurosurgery ward, he was sent home again – the plan being to monitor the condition.
Over the next few weeks, the hockey analyst for the Winnipeg Jets was beginning to feel better. "It was June 2, the morning of the first playoff game between Winnipeg and Montreal," he recounts. "I was looking forward to going golfing with a friend. When I opened my eyes, the room seemed to be spinning. I shot out of bed. When I got up, the room stopped spinning but I was feeling nauseous."
He called his doctor and described the symptoms. His doctor told him to get to a hospital right away. Tests showed that the tumour had doubled in size. Surgery was scheduled for the next morning.
"When I opened my eyes in the recovery room, I was overcome with pain," he recalls. "The surgery was a success. The doctors removed the tumour.
"But the surgery was devastating. Just a walk around the block was enough to tire me out. I have been feeling back to normal only in the last six months."
There was also the anxiety. It wasn't until six to eight weeks after the surgery that he got the biopsy results that confirmed that the tumour wasn't malignant.
Erenberg credits his long time partner – and now fiancée – Mikaela, along with his family and friends for helping him get through his ordeal. Josh Lieberman was among those who stepped up.
Lieberman notes that while the two Gray Academy grads had known each other growing up, their common experience with pilocytic astrocytoma has brought them closer together.
It was Lieberman who suggested to Erenberg that he should consider raising funds in support of the Brain Tumour Foundation of Canada.
"I realized as a result of what I went through that life is short and that I should make the most of it," says the lawyer with Pitblado Law who was called to the Bar last year. "One way in which I felt that I could give back was by becoming involved with the Foundation. It was a no-brainer (no pun intended). The Foundation doesn't just focus on one area. The Foundation provides support for those afflicted with brain tumours, education, information and funds for research."
Lieberman reports that he has raised about $25,000 over the past five years for the Foundation largely through posts on social media where he has told his story.
"I encouraged Max to also raise money for the Foundation. This is a cause that naturally is close to our hearts. I am happy to see how well he is doing."
Erenberg's efforts in this regard have been nothing less than phenomenal. In just the last seven weeks, he has raised close to $30,000. "I set an initial goal of $1,000, than $1,500, then $2,000," he says. "After that, I stopped setting goals. I raised 90% of the money in just the first three weeks."
Erenberg has raised more money for the Foundation in a shorter period of time than anyone else in Canada and, he says, he couldn't be happier.
You can read Max and Josh's stories about their battles with brain tumours respectively athttps://btfc.akaraisin.com/ui/BTW2022/p/maxsbraintumourjourney and  https://btfc.akaraisin.com/ui/BTW2022/p/joshlieberman.
Both young men still to have regular check-ups but, hopefully, they will enjoy good health for years to come.