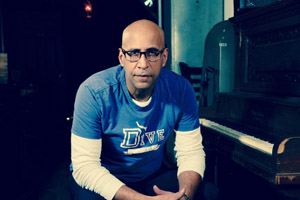 By GERRY POSNER Is it nature or nurture or both – a question that has been asked thousands of times relating to all sorts of different people. Well, I suggest in Daniel Greaves, the answer is easy. He had the nature and he had the nurture and the result was and is very impressive. Music oozes out of this guy and it always did.
Many readers will recognize his name as the lead singer of the Watchmen, a band that made its name famous across Canada in the 1990s and even after. One might ask from whence did that voice, that talent and love of performing come from? The answer is simple.
Just look at mother Faigie (Dozar) Greaves and dad Bill Greaves. They each were very strong in a musical way (although just not in the kind of songs which son Daniel sings). And, according to Daniel, they set the table in the house in terms of the environment they provided him as he grew up. Music was a significant part of the fabric of his everyday life with the Caribbean music of his dad or the popular, Jewish, and indeed classical music of his mother present all the time. Thus, it was no surprise that Greaves soon realized he had some ability and he just took that ability to another level…not just another level, but a much higher one than either parent could have imagined.
Greaves took his early schooling at Ramah Hebrew School, then spent time at Grant Park High School and the University of Winnipeg Collegiate, from where he graduated. He even did a couple years at the University of Winnipeg, but he made a big decision around 1988 when he gave up school and decided to try for a career in the musical milieu. And he did! The Watchmen, consisting then of Joey Serlin, Sammy Kohn (a first cousin to Greaves), and Pete Loewen, was born and continued as a successful alternative rock band, with a replacement for Loewen later in Ken Tizzard. Greaves not only was the lead singer, he also played the harmonica and keyboards. Versatility was his middle name and that quality has stood him in good stead in everything he has done.
The Watchmen were around as a full operating band from 1988 to 2004, during which time they performed all over North America and Europe. They had (and still have) a very large following, particularly in Canada and Australia. And consider this: Every one of their albums achieved either Gold or Platinum status. How many Winnipeggers can make that statement? They officially ended the group in 2004 and since that time Greaves has either worked solo or in partnership with his bandmate Ken Tizzard in a duo called "Music High and Wide". Greaves also teamed up with another alumnus of the Watchmen, Joey Serlin, and they recently released an album, "Sad Songs For Sale". On top of all of that, Greaves has worked in the film industry as a music supervisor and composer and has done work for MTV. More recently, Greaves signed on as a substitute guest host on the CBC Music radio network and even has filled in on the Saturday morning show as host for Weekend Mornings.
When I was investigating the Daniel Greaves path, I came across an entry on the internet which gives a slant to Greaves both in print and in audio that is illuminating. In is, he discusses the impact of growing up as a Black Jewish youngster in Winnipeg. If you Google the name Daniel Greaves, an entry will appear that is titled "How Growing Up as a Black Jew Shaped My Identity." And it also has an audio clip which I promise is riveting with Daniel's terrific radio voice.
And yet, with all of this, Greaves, father to children now ages 20 and 17 branched out in 2010 when he and his wife Lisa became the owners of a well known bar in Toronto called the Motel Bar in an area of the city known as Parkdale. Even as I chatted with him on the phone for this column, he was busy conducting bar business with a beer delivery at his place – versatility once again.
Another significant part of Daniel's life over the last number of years has been the return of the Watchmen to the musical world. The group has once again started doing tours, though on a much more limited basis – about 10-15 dates a year. And what is so rewarding for Daniel is that The Watchmen have a legion of fans wherever they perform. Daniel would tell you his favourite place to perform is back in Winnipeg where his musical career began and with his family (including brother David Greaves, well known to many readers of the Jewish Post & News) all on hand. You can take Daniel Greaves out of Winnipeg, but not his music.