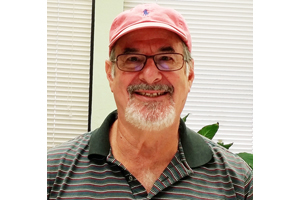 By MYRON LOVE It was French filmmaker Francois Truffaut's 1973 film, "Day for Night", that inspired former Winnipegger Chuck Lazer to pursue a career in show business.
"The movie was about a film producer making a movie," the older brother of current Jewish Federation of Winnipeg President Joel Lazer recalls. "After watching that film, I determined that was what I wanted to do."
Over a career in television production spanning 40 years, Chuck Lazer has written scripts for two dozen Canadian series – the best known of which may be "Danger Bay", "Max Glick", "North of 60", "Avonlea", "When Calls the Heart". As well he has served as producer for a number of series including "Flash Forward", "Thrill of a Lifetime", "The Odyssey", "BeastMaster", "The Lost World" "Nothing Too good for a Cowboy" –which was based on a made-for-television movie he also produced – and, most recently, "When Calls the Heart".
Among the actors he has had the pleasure of working with are Yannick Bisson (star of the long-running "Murdoch Mysteries", (Winnipeg-born) Ted Atherton, Sarah Chalke (whose subsequent credits include starring roles in "Scrubs" and "Roseanne", also Ryan Reynolds and Ryan Gosling, both of whom went on to major movie careers in the United States.
"Because of limited budgets for Canadian productions, we get many younger actors at the beginning of their careers before they became household names," he notes.
"Working on a television production, the hours are insane," Lazer observes. "You put in 20-hours days. But it's more like play than work. And you are collaborating with a lot of wonderfully talented people who share your passion for telling stories. It doesn't get any better than that."
Writing for television however is not where Chuck Lazer saw his life's journey going when the Peretz School and West Kildonan Collegiate graduate left Winnipeg after high school in 1962 to attend Princeton University.
"Being accepted to Princeton was an opportunity that I couldn't pass up," he recalls.
Once he began studying Mathematics and Physics at Princeton, he quickly realized that Science was not for him. He switched to Sociology, eventually earning a Ph.D. in the field from the University of Michigan, following which he taught for some years at the University of Victoria.
While he enjoyed teaching Sociology, he notes, he aspired to a much larger audience. After viewing "Day For Night", he and his wife at the time moved to Toronto where he began his first job in television production in "craft services", the department in film, television and video production which provides cast and crew with snacks, drinks and other assistance.
"It was a way for me to get my foot in the door, spend time with actors and directors and observe them at work," he explains.
From there, he went to work for a long-running CTV series called "Thrill of a Lifetime" in which regular Canadians were given a chance to live out their fantasiesl. He served as co-producer and occasional writer for the series.
After that, he recalls, the pickings were slim for many years.
"I kept busy writing," he says.
It was finally in 1990 that his career as producer and writer took off – including writing for the CBC series "Max Glick" and serving as executive story editor for several episodes. "Max Glick" was based on a novel by Morley Torgov about a barmitzvah-aged boy living in a community in northwestern Ontario. After that came "Danger Bay", "Avonlea", "The Odyssey" and the TV movie "Nothing Too good for a Cowboy". His most recent production, "When Calls the Heart", was broadcast in 2017.
Lazer says that he decided to become a producer because he wanted more control over his stories. Twenty-five years ago, he formed a partnership with David Barlow who, In the mid-1990s, acquired the rights to "Nothing Too Good for a Cowboy" based on the memoirs of long-ago Western rancher Rich Hobson. The partners turned the book first into a movie – which debuted as a TV movie in 1998 – and followed up with a TV series for CBC, which ran for 26 episodes.
Asked what is involved in being a producer, Lazer responds that it is relatively straightforward. "Everything," he responds. "David and I were in charge of all the creative aspects – developing the story, hiring staff, casting the roles, making sure production was running smoothly. We partnered with producers and studios on the financial side."
In 2003, he notes, his achievements in the television industry were recognized with the presentation of the Margaret Colliers Award – a lifetime achievement award presented by the Academy of Canadian Cinema and Television to a Canadian writer for an outstanding body of work in film or television.
(His collaborator, David Barlow, was presented with the award a couple of years earlier.)
Since his one-year stint as "When Calls the Heart" supervising producer came to an end in 2017, Lazer says that "his phone has stopped ringing" when it comes to filmmaking. Ten years ago, he and his wife, Dacia Moss, moved back to Victoria – where they met – and he took up playing the bass. He also spends his time playing golf.
While he says that he is still available if something in filmmaking comes up, he is, in the meantime, enjoying semi-retirement.