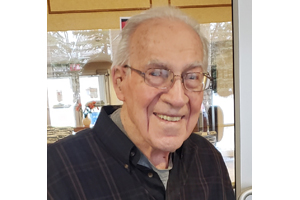 By KINZEY POSEN I phoned my dad Abe Posen, who lives at the Portsmouth Retirement Residence, and asked him how his day was. "Not bad," he answered. A phrase my father often uses when things are ok. "I worked out in the gym with the weights and went for a walk." Not unusual of course, except my dad was days away from his 100th birthday.
He's about to join an exclusive club. As of last year, out of a world population of 7.9 billion people, only 550,000 or so are members of the centenarian club. That's the equivalent of finding naturally growing palm trees in Canada. Maybe in the lower mainland of B.C., but it's rare. The good news is, each year there seem to be more and more people reaching this milestone age and I am proud and very happy to say, my dad is one of them.
Abe was born in Winnipeg on September 3rd, 1921 to Gita and Mayer Posen, their first child. It was Mayer's second marriage as his first wife died in the Spanish flu pandemic in 1918. My father married Ruth Dvorchick in 1948.
So, what's a regular day for Abe the centenarian? A healthy breakfast with flax, reading the paper cover to cover, working on a stack of crossword puzzles with a pen no less and watching one of his favourite shows, Dr. Pimple Popper. It might also include a workout in the gym and a walk as previously mentioned.
He's known to family and friends as a man with a joke for every occasion, including classics such as "Roses are red, Violet's are blue, I know, because I saw them hanging on the line." Or "It was raining cats and dogs and I stepped in a poodle." He's always on the lookout for new jokes.
Besides the love of humour, my dad has given my brother and me an appreciation of travelling, railways, and a deep sense of play. He took our family for wonderful road trips to Chicago, Detroit and elsewhere back in the 1950s and 60s. Those experiences helped foster in us a deep curiosity about the world around us.
Much like his father, my dad is a quiet man, who would be the first to admit he's nervous when having to speak in public. Despite that, he became the president of Brandeis Lodge and was a member of the Board of Directors and Governors of the YMHA. As a chartered accountant, he started at the firm Sandell & Peltz, moved on to the federal government, and in his last position, was the Chief Auditor for the Province of Manitoba.
His last job required him to travel to various places throughout Manitoba to check on the government's assets and investments. One time, he invited me to accompany him by seaplane to Berens River, located on the east side of Lake Winnipeg. It's a very small town located next to the reserve of the same name and there was no road in. As soon as we landed, a car drove up to the dock very quickly, came to a skidding halt and all four doors opened in a huge cloud of dust. One man asked, "Are you Mr. Posen?" and within seconds my dad was whisked away, not to be seen for seven hours. Another time, he was returning to the city from Pine Falls and fell asleep at the wheel. The car left the highway and rolled over several times. Thankfully, he survived the crash, but the vehicle was completely totalled. On the side, he was a beloved accountant for dozens of Jewish immigrants and their small businesses. He always treated everyone fairly and gave good advice. Of course he has a joke about accounting, "How do you become a successful accountant? Don't show anyone the books!"
Speaking of advice, I asked my dad for his suggestions about how to live to a hundred. On making it this far, he says…………It just happened! He went on to say, "It's a matter of luck, try to avoid incurable diseases if you can, take care of yourself and stay out of trouble." On how to treat other people, he says………….."Polite manners never hurt anyone." About growing up Jewish, he says, "I was too young to argue." About clothing he says…………."It doesn't hurt to look nice." And he does look nice, he always did. A man with style.
What's truly amazing is that he looks forward to every day, whatever it will bring, however it unfolds. None of this not buying green bananas business for him. He's truly living in the here and now and it's an honour to have him with us, still making jokes, being independent and enjoying every day. We look forward to celebrating his 120th. Happy Birthday, Pop!