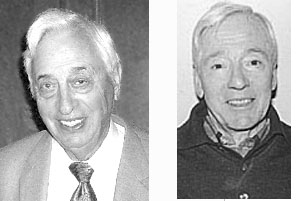 Ed. note: It's been quite some time since we had run a piece by Harry Warren in the print edition of the JP&N. Harry's often whimsical musings were regular features in the paper for many years. So, when I happened to call Harry not too long ago, I was more than  a little concerned that I might find out there was something seriously wrong that had prevented him from sending us any more contributions.
But, when I asked Harry why it was that he had stopped writing for us, his answer, quite simply, was that he just couldn't think of anything else to write about. In response, I asked him if it would be all right with him then if I looked back at his many pieces and chose one to reprint for our Rosh Hashanah issue. I should also mention that, in his meticulous manner, Harry numbered every one of his articles.The last one we received, for instance, was #110. I chose the following piece, #102 as it happens, because it's both humourous and poignant, as in it Harry looks back on a lifelong friendship with his dear friend, Harold.
It all began in 1946, when I met Harold at The University of Manitoba Ski Club. Harold was enrolled in Electrical Engineering faculty and I in the faculty of Civil Engineering. This was the beginning of a friendship that lasted over 65 years.
When Harold was invited to become the editor of the annual publication "The Slide Rule" he accepted on the condition that Iwould be his co-editor. That's how we both became members of the Engineering Council.
This was usually a fairly technical publication where students usually reported on their summer work experiences.
We decided to jazz it up a bit by adding humorous articles and lots of photos of the students. One of the articles that Harold wrote about was on German inventions. It was our understanding that the copyrights on these inventions ended when Germany capitulated to the Allies at the end of World War II. We discussed possibly going into partnership after we graduated, but it never came to pass.
Harold headed for Montreal after graduation in 1947, and I stayed in Winnipeg with a job at the Dominion Bridge Co. as a Concrete Design Engineer. Harold corresponded with me and ultimately convinced meto move to Montreal because there were more opportunities for engineers in that city. I was able to get a job with the Dominion Structural Steel Co. in Montreal and found a room for rent on Esplanade Ave., near Mount Royal. This was a rooming house shared by another friend of mine, Al Yentin, an architect from Winnipeg.
Harold and I took a week-end trip to Ste Agathe, a resort, north of Montreal. We had intended to take a swim in the beautiful lake, but had trouble finding a public beach, as the resort hotels were able to build on private lots that stretched to the water's edge. When we finally did find a public beach it was littered with trash and empty beer cans.
It was a very warm day and we decided to go for a swim. There was a fixed raft about 100 yards from the lakeshore. When we arrived we lay down on it, and thought we would take in some sun. Presently we heard someone shouting at us from the lakeshore. At first, we ignored it, until we realized he was trying to get our attention, but we couldn't make out what he was saying, until he swam up to us climbed aboard and said:
"C'est privée monsieur!"
Imagine a diving platform out in the lake that was private property and owned by one of the resort hotels! Unheard of in the province of Manitoba! We passed one of the hotels that had a sign on its front lawn: "Restricted Clientelle".
Just for fun we went to the main desk to inquire and were told that they did not allow Jews or Coloured guests on their property – blatant bigotry and anti-Semitism – something we had not experienced in Manitoba. We were gaining an education in the province of Quebec. If you were not registered in one of the hotels there was simply no place to go! We finally found a bit of shade by sitting on the grass beside the road with our backs up against a retaining wall. Presently we heard someone calling us from the top of the retaining wall:
"C'est privée monsieurs"
Even the grass beside the roadway was private!
I persuaded Harold to take a drawing course. We proceeded to buy our supplies, some drawing paper and charcoal sticks and showed up at the studio. There were a number of students already in front of their easels. We looked around and thought that perhaps we would start by drawing some still life, like apples or oranges in a dish.
As we waited a door opened into the studio and an attractive young woman proceeded to the centre of the floor, dressed in a robe. Presently she dropped her robe, and she was absolutely stark naked! The other students started drawing immediately while Harold and I simply stood there with our mouths open, and took it all in. The teacher came up to us, and with a stern look on her face and exclaimed: "You better put something on paper, fast, or out you go!"
So much for our venture in to the art world of Montreal.
On another occasion Harold received an invitation to visit some friends at their cottage in Ste. Agathe. He asked our host if I could join them on this trip, and it was agreed. We acted like a couple of twins, joined at the hip. It was a beautiful cottage and appetizers were being served. Harold introduced me to our host, a Jewish businessman from Montreal, in the shmata business (clothing manufacture) – also his daughter. He took me aside into the solarium and said.
"Harold tells me you're an engineer."
I said that was correct.
"I like you, and my daughter likes you. I am getting ready to retire and am looking for someone to take over my business."
Holy mackerel! I was being propositioned! On our very first meeting! I withdrew with some lame duck excuse. And I was furious! Harold had set me up! Obviously he had been propositioned first, and obviously he wasn't interested. Neither was I! Everything moves much faster in Montreal than it does in Winnipeg! I was gaining an education!
My boarding housemate, Al Yentin, took me aside one evening and said:
"Harry, do you like to play tennis?"
"Sure", was my reply, "What's up?"
"I have a tennis date, on the mountain, tonight, and my girl friend has a girl friend who would like to play doubles.
"I don't like blind dates." was my response.
"Come on, be a sport, it wouldn't hurt you to try it once."
Reluctantly I agreed to join them.
When we reached the tennis courts on Mount Royal, I was introduced to my tennis partner, Nora Bain. I can't remember who won the match. It didn't seem to matter! We talked a great deal that evening. I discovered that she came from a small Jewish community in Quebec city, and was working as a Burroughs Bookkeeping machine operator. She was interested in sports. And so was I. She was also interested in downhill skiing. Wow! So was I! We had a lot in common and I was definitely interested in dating her again.
Harold noticed that we weren't seeing each other much, and his curiosity was aroused. Try as he might he wasn't going to extract this information. I was in love with Nora and I was going to ask her to marry me! Soon, I proposed and she accepted.
I was prepared to introduce Nora to Harold. One weekend we went to Quebec City to see Nora's family, including her younger sister Ray, and her younger brother, Ossie.
Our wedding date was set for January 15th. 1949, in Montreal and Harold was invited to attend. The best man at my wedding was my older brother, William (Val), and it was held on his birthday. William and I had shared the same bedroom for 18 years, and he was my mentor. If he had refused, Harold would have been my second choice. On our 60th wedding anniversary, Harold was asked to verify this fact.
A year after we were married I persuaded Nora that Winnipeg would be a better place to raise a family. We left for Winnipeg. In May of 1950, in time for the worst flood Winnipeg had experienced in 50 years! Harold returned to Winnipeg at a later date.
Subsequently, Harold met the love of his life, Laura Newhouse, in Winnipeg and they were married on September 8th. 1953. We attended their wedding, our wives got along very well, and we double dated. Harold had acquired a manufacturing business in Winnipeg called JR Wire and he proceeded to build a very successful future for his family of Laura and their daughters Joy, Sally and Rebecca. Rebecca graduated in Mechanical Engineering and joined her dad in the manufacturing business for a short period of years. Joy pursued a career in Dentistry, ultimately receiving her Phd in Dentistry. She was engaged in research and gained an international reputation as a speaker in the area of dental research. Sally graduated from the Ryerson Institute in Toronto and pursued a career in clothing design.
Our family consisted of Paul and Martin. Paul graduated in Commerce and Law and ultimately moved to Calgary, where he became successful in the sale of pre-owned cars. His younger brother, Martin, graduated in Dentistry from The University of Manitoba and followed Paul to Calgary, where he established a dental practice. Subsequently, he purchased several dental practices in Edmonton. Our children became friendly with Harold and Laura's children.
In December of 1993 Nora and I purchased a winter home built in Sun City West, Arizona, a small retirement city about 45 miles north and west of Phoenix. We were really enthusiastic about our new winter home and communicated our excitement to Harold and Laura. As a result they also bought a home in Sun City West a year later. This was a city of active retirees, age 55 and older, with over 100 different clubs! Harold and I shared many common interests. We enjoyed participating in photography, writing and the Rio Institute of Senior Education. Harold also became interested in the Metals Club, and produced some very fine metal furniture for their winter home.
In November of 2006 we lost our son Paul in Calgary as a result of complications from Type One Diabetes. In March of 2008 I had an operation in Winnipeg for colon cancer and miraculously survived, thanks to my surgeon, Dr. Clifford Yaffe.
In October, 2010 Laura informed Nora that Harold had been diagnosed with leukemia and was being treated with blood transfusions. Cancercare Manitoba did everything they could do to save him, but tragically he passed away on Thursday, October, 21st. 2010.
We will all miss him. He was the consummate engineer. When he faced a problem his philosophy was:
"The difficult we can do right away, the impossible will take a little longer."
Harold and I attended courses in anthropology at the University of Manitoba, together, as well asat the Manitoba Naturalist Society and the Rio Institute of Senior Education. He was generous to many worthy causes and always ready to help out when he was needed.
Editor's post script: In the original version of this story, Harry never did disclose Harold's name – for reasons I never quite understood, but I don't suppose that Harry would be upset if I mentioned that the Harold in the story was Harold Richman, z"l.