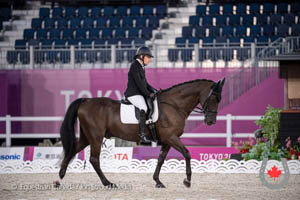 By GERRY POSNER There are not a lot of Jewish equestrians in Canada, female or male, at least not at a competitive level. Some have estimated there might be under ten. Now, if you add in the element of para-equestrian, it is likely there is but one Jewish female who has reached the status of Paralympian. She is Jody Schloss, formerly of Edmonton and now of Toronto. Her story is one of drive, determination and desire.
Jody, whose parents are Barry Schloss and Gail Schloss, was born and grew up in Edmonton, Alberta and had the good fortune to be exposed to the world of horseback riding at age eight when she was able to take lessons on a weekly basis. At 13, after she moved with her mother to Toronto following her parents' divorce, she bought her first horse and engaged in some dressage, cross country, and jumping routines. Thus began the love of horses. That love was a significant factor in a truly remarkable story.
During her days at the University of British Columbia, Jody continued to ride – sometimes four times a week. It was after graduation in 1996 when she was returing from a holiday in Central America that Jody was in California with a friend. Owing to exceptionally high winds, the car Jody was in flipped and catapulted down the highway. Her friend was instantly killed and Jody was seriously injured. After three weeks in ICU in San Bernadino, California, she was flown to Toronto and lay in a coma for four months. She also suffered from post-traumatic amnesia for six months.
Jody was sent to a rehabilitation hospital in Erie, Pennsylvania for over two and a half years. The question was: What would and could Jody do? When Jody said what she wanted most to do was ride a horse, the medical team laughed at her. After all, she could not even sit up on her own. But after returning to Toronto, she progressed to a point where she went to the Community Association for Riders With Disabilities ( CARD), a therapeutic riding facility, to ride once a week, with a hydraulic lift to get her up on the horse and with two side walkers to prevent her from falling off.
Jody had a long road to recovery, although she will never recover completely and uses a wheelchair. In addition, she suffered a severe head injury, mainly in the brain stem. The end result is that she has what is known as Ataxia and Ataxic Dysarthria, causing major difficulties speaking and in coordination. Yet, in spite of these handicaps, she was able, with the assistance of her parents and with her own determination, to continue with her involvement with horse riding.
In 2010, she participated in her first ever international show in Kentucky. She later went to Florida to train in the winter and, at that time, she brought her "wonderful horse", Inspector Rebus, which gave her career an added impetus.
Her next stop was Ottawa, in order to work with an experienced coach. In Ottawa, Jody then did something out of the box by taking up residence in a retirement home as the facility allowed her to have a free wheelchair accessible room and to keep her cats there when she spent the winter in Florida. Suddenly, Jody had an influx of grandparents looking out for her every step and jump. They must have helped more than a little as in June 2012, Jody was selected to the Canadian Par-alympic Equestrian team on her horse, Inspector Rebus. And that was not all that the seniors at the retirement home did for Jody. They were instrumental in the establishment of the Jody Schloss Trust at an Ottawa Hospital to help, in a monetary way, individuals who suffer speech problems, as Jody does, to purchase speech assistance devices.
Jody says competing in the London games in 2012 was a huge thrill for her and she was happy with her results, but not satisfied, and her drive kept her on the path to the 2016 Paralympican games in Brazil. She had the great joy to be a torchbearer for the opening of the Pan American Games in Toronto in 2015, and even was in a play about her life chronicling her struggles to reach the level of international competition from her previous situation where she could not even sit up after the accident.
That Jody has achieved so much speaks volumes about her desire to recover. She says, "What helped me was my strong will… not letting anyone tell me what I could not do. This helped with everything. It makes me more determined to prove everyone wrong. At the beginning, I wanted to prove to them that my life would be wonderful no matter what they did to try to destroy it."
But, life can and does play some cruel twists – as Jody well knows. After all her training and preparation, she was in fact qualified to represent Canada in the 2016 Paralympic games in Rio de Janeiro in Equestrian Dressage. But unfortunately, her horse, Inspector Rebus, developed Cushing's Disease, and the medication needed to treat this problem was banned in competition. The result was that Jody could not go to the 2016 games after all that preparation. Although Jody was ready, her horse was not. In the equestrian world, it takes two to tango or in this case, two to trot. Still, given that for most Jews, the relationship to a horse is to bet on one in a race, or possibly own one or perhaps ride one recreationally, Jody Schloss added another and most significant dimension to the Jewish connection to horses.
Now, with all of that said, most people would abandon their Olympic dream, but not Jody Schloss. Five years later – including another delay of a year because of the pandemic, there she was, prepared to compete. The picture on this page shows Jody, age 48, on her new horse, Lieutenant Lobin, and that is the way she looked as she competed recenty in Tokyo at the Paralympic Games. To get there, Jody spent the last five years creating a strong bond with her new horse at the stables at Millgrove, Ontario, about an hour away from Toronto where Jody resides.
This determination to succeed against huge obstacles is really a remarkable story. It is true her grandfather Al Schloss, who grew up in Winnipeg, had to overcome great odds as a youngster when, at age 12, his mother died, he was sent off to live with an aunt, and had to fend for himself at an early age. Maybe his spirit is a part of Jory's unyielding will to overcome real handicaps. Her father, Barry Schloss of Edmonton, quotes Jody's coach, Karis Van Essen, who stated unreservedly that Jody "is the most determined person she has ever met and she has made immense progress in her development, both in terms of her continued physical recovery from her accident and as a rider."
By the time this article appears, the games will have ended. However Jody Schloss will have done in her dressage events, I say that she has won gold, silver and bronze.