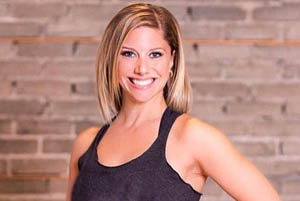 By MYRON LOVE It was one of the lowest points in Mara Seipp-Katz's life.
The date was March 12, 2020. The personal trainer had just returned with her family from a visit to Israel only to learn that the gym she was contracting out of in Calgary was closed until further notice due to the Covid outbreak.
"We went straight into isolation as soon as we got back," recalls the daughter of retired Winnipeg high school teacher Al Katz and Jacqueline Seipp, founder of One More Candle. "This was the first time in my life that I felt such anxiety. I didn't know what I was going to do or how I was going to be able to work if I couldn't work with my clients on a face-to-face basis."
It took her a few days to pull herself together. "I realized that a lot of people still needed me," she says. "Then one of my clients suggested that we try Zoom. I knew nothing about it, but I figured I would give it a try."
"It worked out just fine. It is amazing how many new doors it opened for me. I have clients not only across western Canada but also in the United States now."
The irony for Seipp-Katz – who was nominated in late 2019 as one of Calgary's top five personal trainers – out of a field of more than 1,000 – is that, until roughly 17 years ago, she was a self-described couch potato. "I hated gym class," says the Kelvin High School graduate who grew up in River Heights.
Nor was she interested in group sports.
What led to her change in attitude, she says, is that she loves challenging herself and found a way to make weight training and gym workouts fun. "I learned about a fitness facility that provided personal training," she recounts. "It was hard work – but I found my calling."
According to her Push Performance website, she trained for three years with an elite level personal trainer in Winnipeg, as well as training with CFL and NHL professional athletes. She developed a comprehensive knowledge base of personal training techniques for all skill levels. The main focus of this training was for sport specific strength and conditioning.
Later, while living first in Kelowna, then Victoria, she focused on gaining expertise in core strength, injury prevention, dynamic fitness, cardiovascular endurance, Olympic lifts, power movements, and muscular strength.
She notes that she has completed the Fitness Theory and Weight Training course with BCRPA, the Personal Training course with BCRPA, and the internationally recognized National Academy of Sports Medicine Certified Personal Trainer program.
Covid and Zoom led her to expand her own business – Push Performance – and – last spring – to move back to Winnipeg from Calgary where she had been living for the past seven years, contracting out of one of the city's top boutique fitness facilities.. (She had previously been living and working as a personal trainer in Victoria for ten years.)
"It was a seamless move coming back here," she notes. "I think it was beshert. During Covid, I wanted to be back with my family.
"After 17 years away, I am seeing Winnipeg with new eyes."
She notes that she works with people of all ages. "Among my specialties is helping clients get started and weight loss," she observes. "For my senior clients, the goal is to keep them moving so that they can continue to function in relatively good health."
Seipp-Katz reports that her Zoom sessions with clients generally range from 45 to 60 minutes. She points out that her clients don't need a lot of gym equipment around the house – although a pair of dumbbells would be a good start.
"For fitness and weight training, I can work with stairs and whatever people have around the house," she says.
Her role is to demonstrate the exercises and explain how they are done. "I also work at providing motivation for my clients to keep at it,' she adds.
Every client receives a personalized regimen. "I work with every client based on his or her needs and abilities," she points out. "Wherever possible, I try to make the exercises fun."
"I find what I do – helping people keep fit – to be very rewarding. I have built special relationships with many of my clients. They inspire me."
Mara is in no hurry to go back to the gym.
Interested readers can contact Seipp-Katz at www.pushperformance.net.
.