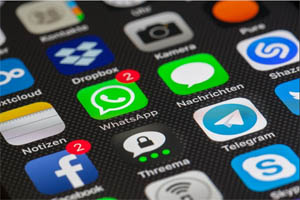 A common question that the vast majority of people ask themselves at one time or another is: "What are the most popular apps in my area?"
Of course, this is a common question for a reason. By knowing what the most popular apps are wherever you may be situated, you will be able to keep up with trends, as well as minimize the risk that you may be missing out.
Click on "read more" and read what the three most popular apps are in Israel right now, as well as a brief description of them all to help you figure out whether you want to give them a shot.
Waze is an app that focuses on practical news and advice, mainly surrounding subjects such as weather, road diversions, or any hazards that may occur. 
Sure, Waze might not sound as fun as playing roulette online on Jackpot City Casino or any other fun app that manages to capture the excitement of gambling, but when it comes to functionality, Waze is second to none. 
A vast number of people in Israel have taken up Waze to help them make day-to-day life just that little bit easier, allowing them to avoid certain travel
routes as well as staying informed on any vital information they may need to know about in areas close to them.
FiddMe
FiddMe is an app that allows users to share their restaurant experiences with other people. 
Essentially, FiddMe is a social media for food, which sounds absolutely amazing. Not only does FiddMe allow users to talk about and share their dining experiences online but it also allows people to find the closest restaurants around them or even discover new places that they would have otherwise never have visited. 
The Israeli people have had no problem taking advantage of this amazing idea, and FiddMe has quickly become one of the most popular apps used throughout Israel. 
Babller
Babller is an app that has yet to gain widespread notoriety in the rest of the world, but in Israel, people cannot seem to get another of it.
Babller acts as a universal translation service that aims at eventually reducing language barriers across the whole world. This app is capable of translating any message through social media or phone, as well as being able to translate real-world conversations to allow people who speak different languages to communicate with each other which the likes of has never been seen before. 
The three apps we mentioned throughout this article are all great apps. Not only that, but they also offer real day to day functionality and help you optimise certain aspects of your life. 
There are a plethora of other apps that are popular in Israel right now that could have easily made their way onto this list. Although, the three which we listed are in our opinion, the most practical and useful (as well as being the most popular).