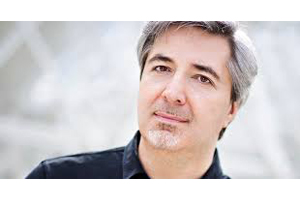 By BERNIE BELLAN Daniel Raiskin has been the music director of the Winnipeg Symphony Orchestra since 2018. This paper has been remiss not to have interviewed Raiskin until now, although to be fair to ourselves, he is an extremely busy fellow,
 so finding a time when he could sit down and talk about his career, what life was like growing up in a Jewish family in Soviet Russia, and how he feels about spending a good part of his time in Winnipeg, was not easily arranged.
But then Covid-19 suddenly took over everyone's lives – no matter who they are or where they live and, without much planning required, we were able to arrange to speak with Raiskin from his Amsterdam home.
At the outset of our conversation, which was conducted via WhatsAapp on Friday, April 3, Raiskin explained he's "lived in Amsterdam for 30 years." While he travels the world serving as guest conductor for many different orchestras, he "shares his time between Winnipeg and Amsterdam. My home is both in Amsterdam and Winnipeg," he said.
I asked him, since he's lived in The Netherlands for so many years whether he holds Dutch citizenship? Raiskin answered that he's been a Dutch citizen for 26 years, although he still "has a Russian passport, too."
At the present time Raiskin is also resigned, like the rest of us, to remaining in his Amsterdam home with his wife and two children (a son, 21, and a daughter, 16) for the foreseeable future..
"I was actually caught here between two projects – both of which were in Winnipeg," Raiskin explained. "I was supposed to return to Winnipeg to spend 10 days there, but then things began to get really cloudy and we decided it doesn't make any sense for me to fly into Winnipeg and get stuck there without my family, so I decided to stay here."
We discussed how The Netherlands had taken a relatively hands-off approach to the Coronavirus to begin with, but as the danger has become more apparent, the liberal attitudes that most Dutch have in being uncomfortable with seeing their liberties restricted have begun to dissipate.
"People here are used to going to parks and to the seaside, but I'm afraid that on Monday (April 6) the lockdown is going to be announced," Raiskin observed (on April 3).
Before we began to talk about Raiskin's musical career, I said to him that I wanted "to take him back to his childhood in St. Petersburg." I remarked to him that when I was a student in Israel (a very long time ago – 1974-75 to be exact). I became friends with a girl from St. Petersburg, who bragged to me that people from St. Petersburg were so much more sophisticated than Israelis, also that St. Petersburg had "the best ice cream in the world."
I asked Raiskin whether the part about the ice cream was true.
"Yes, that 's very true," he responded – "at least judging from my kids' reaction any time we go to St. Petersburg, they say 'this is really the best tasting ice cream.' "
I wondered whether Raiskin was a musical prodigy as a child.
"I was not a prodigy at all," he said. "I took up the violin when I was six – and I didn't 'take it up'. I was given it. It's an old joke that with the wave of Russian Jewish immigration to Israel every second Russian landing in Israel at Ben Gurion Airport had a violin in his or her hands. Those that did not were piano players."
"I was born into a Jewish family where music played a very important role," Raiskin explained.
"My father is one of the foremost Russian musicologists (who is also a now retired physicist, Raiskin noted). One of the first sounds I heard when I was born was my brother (who tragically died at a the age of 34) practising his cello. By the time I was six – I like to joke my mother was so tired of carrying my brother's cello around, she opted for something smaller for me: a violin."
By the way, both Rasikin's parents are alive and still living in St. Petersburg, he told me. His father's first love was always music, Raiskin noted, but as part of the generation that grew up in the Soviet Union following World War II, it was unrealistic for anyone to make a career of music, he explained.
"He was teaching physics at a university in St. Petersburg when he was 35, but he graduated from a music conservatory when he was 40. That goes to show how important music was to him," Raiskin observed.
"My mother stopped working a year ago (when she was 82)," Raiskin said. "She was a mathematician and a software programmer."
I asked Raiskin whether his "parents ever endured any discrimination because they were Jewish that you can speak of? " I added that "I didn't want to seem naive by asking the question (since anyone who was following the fight of "refuseniks" in Russia attempting to leave Russia at the time that Raiskin was growing up would have known that anti-Semitism was rampant in that country.
" We lived in a country with a great rate of anti-Semitism,' Raiskin answered. "My parents and my brother and me and friends all around us were all subject to state-sponsored anti-Semitism. At some point my family had also made the decision to leave (Russia), but it was too late. The Afghanistan war had broken out and everything was hermetically sealed. We got stuck."
At that point I said to Raiskin that I wanted to talk about what it was like growing up as a young Jewish boy in Russia at that time – and how much love of music was inculcated into his and his peers' lives.
"It was like – any given picture of Chagall has a violin in it," Raiskin observed. "It's part of the Jewish heritage and DNA; this whole '3,000 years of endurance'. Music was one of the things that kept us from getting alienated."
At the same time though, Raiskin said that "music was not something that I particularly wanted to do. I wanted to play football and ice hockey with my mates outside. As a kid you don't want to spend hours practising and doing scales for hours, looking out the window of your seventh-floor apartment while other kids are playing outside. I wanted to be more like them."
"It's very often a mistake to think that it's the child who makes the decision at age six or seven to become a musician. Some kids are so incredibly gifted they show a unique talent at such a young age, there's nothing else they want to do. I definitely don't want to give the impression that I was one of those kids. I was pretty much normal and not very well behaved; I was pretty naughty.
"It was only later that I developed a real taste for music – and worked hard to become something."
To that point we hadn't discussed Raiskin's particular musical interests. I noted that I had read in various articles and interviews that his favourite composer was Gustav Mahler (who was also Jewish, by the way). I wondered when Raiskin first became interested in Mahler's music?
"You know, in fact, Mahler was not a composer whose music was very often played in my years in the Soviet Union," Raiskin explained. "The performances of Mahler were always a great event," but it was only one or two of his symphonies that were ever played, he noted.
"It was only with the collapse of the Soviet Union and the first Western orchestras that started to come on European tours that we really started to hear Mahler played. I'll never forget the first time I heard Mahler's Seventh Symphony played by the Pittsburgh Symphony…I think this was when it really hit me hard. This is the moment that I said to myself: 'I'm going to conduct this once'…and I did, on many occasions…I try to conduct his music as often as I can."
We skipped ahead to Raiskin's first time coming to Winnipeg which, he said, was in 2015, as guest conductor of the Winnipeg Symphony Orchestra. There were two more appearances as guest conductor of the WSO in 2017 before Raiskin was appointed as music director in 2018.
"It was a lengthy process," he said, "but I am, in fact, already looking back on five years of being associated with Winnipeg. It's not like it started in 2018."
Raiskin also observed that "no matter how successful a relationship a music director has with an orchestra – it's never a relationship for life. It's just the nature of the profession. It's a marriage for a time…It's not the conductors who play the music; it's the orchestras. It's about 67 musicians who play. It's very important – the mandate we get from the musicians …and at a certain point it's time for the conductor to go."
However, Raiskin wanted to make clear that this is not something he is thinking about now. With his second season cut short due to the COVID-19 pandemic, he said that, |"more than ever our relationship and interdependency is being tested and I am confident we'll get out if the crisis, whenever this might be, stronger than ever."
Raiskin explained that, while he is contractually obligated to conduct the WSO for 12 weeks during the year, it is hugely important for any conductor to get out on the road as much as possible. He used the following analogy to illustrate his point: "A hockey player cannot perform at the highest level of his ability if he just plays home games. It's also important how you perform outside."
I noted at the outset of this article that, although Daniel Raiskin has been music director of the WSO for two years now, we still hadn't interviewed him which, given that we're a Jewish newspaper and he's Jewish, is something that we should have done much earlier. But, since he's now had time to get to know Winnipeg – and its Jewish community, much better, I asked him what his impression of our community was?
"I'm sure you've met Gail Asper," I said (tongue in cheek; how could the music director of the WSO not have met one of the foremost supporters of the WSO – and arts in general in this city?)
"Yes, of course," came Raiskin's reply, "and many other people, like Laurel Malkin, and Michel Kay and Glenna Kay. You know, Winnipeg became a place where being Jewish for me suddenly started to matter in a very personal and positive way. Growing up in the Soviet Union was definitely not. I was once expelled from a music conservatory for visiting a synagogue – for the first time, just out of curiosity.
"And when you're in a very cosmopolitan city like Amsterdam, with a very tragic history of Dutch Jews – one needs to acknowledge that there were 150,000 Dutch Jews before the Second World War, and only 15,000 survived – so, for me, connecting to the Jewish community here…like the first Rosh Hashanah dinner I ever attended was…in Winnipeg! Because some friends just took me and my wife and said: 'Come'. I really feel that it matters in a very positive way that I'm Jewish and I can connect to many people in Winnipeg and many in our audiences are Jewish."
"I feel more Jewish than ever since coming to Winnipeg," Raiskin suggested. "Jewish music is so important to me. One of the first things I recorded as a musician – as an instrumentalist, was a complete edition of music for viola and piano by Ernst Bloch, the foremost Jewish composer."
At the end of our interview we discussed the devastating effect that the current crisis is having on people's lives – in so many ways. Raiskin said that he was still fully involved in planning for the coming season of the WSO – and for the season after that as well.
In terms of assessing people's hunger for music, he had this to say: "I think there will be a sense of growing hunger…our souls and our spirits are being so hollowed, there will be a growing need to fill in this gap – and this is where we can step in."
Raiskin closed our interview with this observation: "I feel: today, more than ever, people feel how important arts and culture are to them. We suddenly realize that we use art to communicate with each other!"