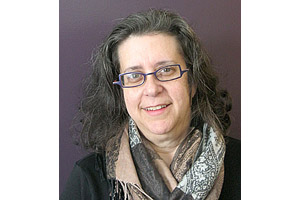 By BERNIE BELLAN Faye Rosenberg-Cohen is one of the longest serving staff members at the Jewish Federation of Winnipeg. She actually got her start at the forerunner of the Federation, the Winnipeg Jewish Community Council. (During the course of our interview, she was able to find the date of her first day of employment at the WJCC: May 18, 1994.)
For the past many years Faye has been serving as the Chief Planning and Allocations Officer for the Federation, a role that carries with it a great many different responsibilities.
Recently though Faye has announced that she will be retiring from the Federation as of this coming December and entering into a totally new phase of her life.
I contacted Faye and asked her whether she'd consider being interviewed – about how she came to be doing what she has been doing for the Federation, the changes she's seen in the Jewish community over her time as a senior administrator, and what life holds for her as she moves into retirement.
I should note that I had the opportunity to sit with Faye at a recent session of the Remis Lecture Series, which is held now at the Gwen Secter Centre on Thursdays at noon. Faye was the guest speaker one Thursday in July and, although she didn't reveal back then that she would be retiring soon – and I wasn't taking notes (which I would have had I known that Faye was summing up her career for perhaps the last time in public), much of what she had to say stuck with me, and so when I began my phone interview with her one recent Friday morning, I was able to look back upon much of the information she had disclosed that particular Thursday afternoon.
During the course of the interview, which was conducted August 12, Faye disclosed that her oldest son had just got engaged the night before. Faye and husband Harvey Cohen have three sons altogether (in order): Binyamin, Yitzchak, and Meir. As Faye put it succinctly: "three weddings in three years….One got married last October, one will get married this October and the one who got engaged will get married next summer."
JP&N: "Where do your sons live?
Faye: "Binyamin lives in Chicago (where he's a Jewish educator and his fiancé is doing a PhD in the school of divinity), Yitzchak (who obtained an engineering degree from McGill and is now moving on to acquire another degree in computer science) lives in New York where his wife is a resident in pediatrics, and my youngest, Meir, has lived in Toronto for many years, where his fiance is doing a PhD in clinical psychology."
I observed that Faye and Harvey's situation is, in some ways, emblematic of the problem that has affected Winnipeg's Jewish community for years now: "Retaining people in Winnipeg." I asked Faye to respond.
Faye: "Yes, because we have a global Jewish community and they can move back and forth whenever they need."
I referred to Faye's having told at that Remis lecture how she had transitioned from being a volunteer for the Winnipeg Jewish Community Council in the early 1990s to a paid staff member. I asked her to repeat the story.
Faye: "I was on the planning committee for the WJCC and it was really an exciting time because we were talking about what would be needed on the campus.
"The planning committee was vetting the needs and the requirements to go into the campus development plan."
JP&N: "So this is in the early 90s then. And you were already working in data management – so your skills would have been a perfect fit for what the campus planners were looking for."
Faye: "I had a masters in computer science (from the U of M. Faye noted that she was one of "three women in the masters class… My mother was one of three women who graduated in commerce.) I had been working in data design and executive information systems management for almost 13 years (at that point)."
I asked how she became involved with the WJCC?
Faye: "I started as a volunteer with the Young Women's Division. Then I was invited to take a seat on the board as (a representative) from Young Leadership and chaired the young leaders course. I was given a Young Leadership award when my oldest son was a baby."
I remarked to Faye that I recalled her telling the Remis Lecture audience that when she began working for the WJCC she was actually doing work for which she had previously volunteered.
Faye: "I was on the planning committee, but then the actual Director of Planning, Loraine Bentley, moved to Ottawa because her husband got a job there. So Bob (Freedman, who was then the executive director of the WJCC) called me. He knew that at that particular moment I was not working and he invited me to apply."
JP&N: "Were you not working because you were looking after one of your kids?"
Faye: "No, I was not working because I had a brief but very bad experience at another job – which is a whole different story."
JP&N: "So Bob offered you the position that you've been holding ever since, although your title has changed slightly."
"You were involved in the original development of the campus – right?"
Faye: "It was a campus committee before it became the campus corporation. Sheldon Berney was the chair. The meetings were held in a little building on the site.".
"I worked with the planning committee to finish vetting some of the requests and the expectations. I had been in technology so I worked on the technology requirements part of it…the rfp for putting in phone systems and networking."
I remarked that the offices of the WJCC used to be at the former YMHA building at 370 Hargrave. "So you must have worked there first?" I asked.
Faye: "I did. I got the job offer from Bob – another offer for a different systems job – and a positive pregnancy test – all in the same morning."
"I didn't know I was pregnant when I got the job offers so I called both of them back and said, 'I'm going to give you a chance to withdraw the offers.'"
But – the offer from the WJCC still stood – even though Faye says that she did take a pay cut to take the job.
Faye: "I remember trotting along with Evelyn Hecht – who is a very fast walker and I was very pregnant, and we walked over to the Immigration Office and we met with someone who was a prospective immigrant to Manitoba. He was from Buenos Aires – and he was Jewish, and lo and behold that became the inspiration for 'Grow Winnipeg'."
At that point I wanted to switch gears, and I asked Faye to give a description of how her role as the community's principal planner has evolved since the first took on the role 28 years ago?
Faye: "I was very fortunate in that I was given the freedom to grow it – to identify the most important areas to work on, and bring those forward to different leadership and planning committees. So I got to work writing the 'Grow Winnipeg' strategy. We were going to have a new home and we could focus more on bringing the community back together and focus on other issues rather than worrying about whether all the buildings were going to leak.
"I was just going through some files. We got to work on youth engagement as part of that. I was involved in helping build the 'Club Fed' leadership training program. Then, much later we got to build a 'Jewish engagement strategy.'
"I say 'we' because that was the point when we had other people come on board, like Rena Elbaze (Secter), Avi Posen, and Florencia Katz – who's now the director (of Education and Engagement). We brought Limmud to Winnipeg, PJ Library…PJ Library is probably the best thing that's happened to Jewish communities in North America – maybe in the world – in over 40 years. It's such a fantastic way of engaging young families and getting to know them."
JP&N: "In terms of 'Grow Winnipeg', what were the basics of the plan? I take it it was to encourage immigration."
Faye: "It was actually more than that. It was to encourage immigration, it was also to encourage people to stay. It turns out that the factors that allow young people to stay include that it's easier to live here, they find significant others, they build lives here…it's actually been a growing population. We'll find out for sure when we see the next census data (which is not scheduled to start being released until November)."
JP&N: "There's always been much talk about the initiative to Argentina. I assume you were quite involved in that, weren't you?"
Faye: "Yes, I worked alongside Evelyn (Hecht) and after two years I was responsible for Grow Winnipeg, where I supervised Dalia (Szpiro) (GrowWinnipeg director), so I was part of it right from the start."
JP&N: "Speaking of immigration, I know there's been a bit of a downturn in the numbers coming here since Covid, but since all provinces have been given increases in the numbers of immigrants they'll be allowed to bring under Provincial Nominee Programs, can you put your finger on how many new immigrants have come here over the years?"
Faye: "I can honestly say when I look at those numbers it's somewhere around 1/3 of the community."
JP&N: "So you'd say it's somewhere between 4-5,000?"
Faye: "I think it's more than that."
JP&N: "You know that I've always been skeptical about the numbers that have been used for the population of the Jewish community by the Federation. I think though that it's always been more of a case of identification – who identifies as Jewish? Has part of your role been trying to get people who didn't identify as part of the community more involved?"
Faye: "Yes, in the 1990s it was called Jewish continuity and Jewish renaissance and now we talk about welcoming and engagement, but I think the key issue is trying to build the community and make everyone feel welcome in some part of Jewish life. That doesn't necessarily mean that they have to have a membership somewhere."
JP&N: "I know we've spoken about this before. Evelyn Katz used to be the unofficial demographer for the community. Is there a database for what you would consider the entire Jewish community?"
Faye: "No, once privacy legislation came along, that was it. Evelyn used to talk to real estate agents, and find out who died, who was born. And then it stopped, nobody could tell her anything. It was against the rules."
JP&N: "So how do you arrive at your estimates for the size of the Jewish population then?"
Faye: "I rely on the analysis from the census."
JP&N: "But the last census that was really valid was the 2011 National Household Survey."
Faye: "So we had to make the best guess that we could – what we could see with our own eyes, and where the gaps were in the data."
JP&N: "I remember when you started a community planning process in 2016 where Carol Duboff was the chair."
Faye: "Yes, we called the consultations community conversations."
JP&N: "What do you think are the keys to maintaining a strong and vibrant community?"
Faye: "That's always been my focus, Bernie. I'm the person who's been tasked with looking ahead as the planning director. If you look at our webpage, which is jewishwinnipeg.org/planning, you'll see that we lay out those priorities. I talked to more than 400 people that year.
"We focused it around four priority areas. It turns out that one of those priority areas, which was Jewish connection, is not something that you act on by itself. It's the glue that says everything we do needs to promote more and more connections between Jews and with the Jewish community
"Then we focused on the priority areas in terms of goals that we could set – an action plan including: vibrant Jewish life, an inclusive and caring community, and then the things that were the supportive structures.
"I think there are a lot of different kinds of vibrant Jewish life; there's not just one kind."
JP&N: "Let's talk about your retirement. Are you going to be fully retired when you leave your position?"
Faye: "I am. I have an ambition and a plan. I'm going to go be a student for a term."
JP&N: "And what about Harvey (Faye's husband)? Is he also retired?"
Faye: "Harvey is also about to retire. He's worked at the Convention Centre for many years where he worked as the systems manager for the director of the Convention Centre. Once he retired from there he worked at a Catholic counseling centre for the past six years, where he was the equivalent of a CFO."
Faye then proceeded to explain that both she and Harvey will be going to Israel in the near future. "Harvey is going first and I will go in January when I'm finished (at the Federation). I will be a student at the Pardes Institute…where I'll be studying Talmud and maybe Chasidut, maybe something about Jewish history…When I was graduating high school those things weren't available to girls in the same way it was for my boys. You couldn't go to a program in Israel where you were allowed to study Talmud in a co-ed situation."
JP&N: "I think there's something to be said for the Federation, too, as people have come in. It seems to me there's always been someone there to provide them with mentorship." Are you the longest-serving employee at the Federation?"
Faye: "No, Elaine Goldstine came a year before me. She worked with (the late) Gerry Kaufman on the fundraising side, who was also a mentor to me. Gerry told me that when he went out on calls he wasn't soliciting funds, he was finding Jews. If you found the pintele Yid (the Jew inside) the money would follow. But first you need the connection."
At that point I told Faye that I would send her this interview and offered to let her add anything pertinent that we might have missed during the course of our half-hour conversation.
She sent this post script:
I have worked with so many brilliant lay leaders who taught me so many things, I can't even make a list small enough for the paper. In the last few years, we've been able to build up process, create continuity with vice chairs set to become the next chair, building strong collaboration across the community.
We are not a large enough community to have too many separate groups and agencies and silos. Our great advantage in Winnipeg is that we are out here in Winnipeg. We have to work together to get things done for ourselves and embrace the diversity of our community. We have a long history of doing just that.
I feel like I'm leaving behind something robust enough to let the next planning and allocations director dig in, get started, and then put their own self into the work. And I am grateful for having had the chance to serve my own Jewish community.