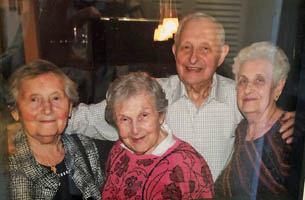 By BERNIE BELLAN We were recently contacted by Allan Novak, who is the son of Anne Novak. Anne is one of four Fink siblings – the others being sisters Sally Singer and Ruth Zimmer, while their lone brother is Sol Fink.
Sally, who turned 101, is the oldest of the four, while Anne is 100, Ruth is 96, and Sol is 98. Together, these four siblings make up the oldest collection of Holocaust survivors who are siblings anywhere in the world.
We ran a story about these incredible siblings in our Oct. 13, 2021 issue, written by Carol Sevitt, also Anne's daughter, titled "Canada's Oldest Siblings: Three Bodies, One Heart, and a Set of Lungs." (You can find the story on our website just by entering the name "Carol Sevitt" under the "Search Archives" heading.)
In that story, Carol tells how the four siblings (who actually had another younger brother, Eli, who perished in the Holocaust, as did 80 other relatives) were transported to a labour camp in Siberia – something that, difficult as it may have been for them to endure at the time, ultimately saved all their lives.
As Carol notes in her story: "They were teenagers when the Nazis stormed into Poland – the start of the darkest period of their lives. Although being transported to a Siberian labour camp was traumatic, it was the reason behind their survival. The family spent the war years enduring bitter hardships in Russia, facing hunger and deprivation, but being together somehow made it bearable. The horror of having one brother and 80 relatives exterminated by the Nazis made the siblings hang onto each other even more."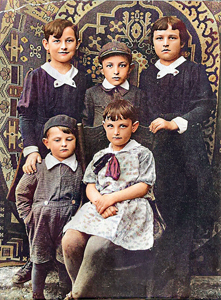 Allan Novak, who is a distinguished filmmaker in his own right, has now created a loving tribute to his mother – and her siblings, in the form of a 32-minute film titled "Crossing the River – the Fink Family Story."
According to biographical information sent to us, Allan "is a respected independent media creator, consultant and entrepreneur with over 30 years experience. Working in TV, he creatively shaped many of the top shows created in Canada and exported internationally. Since 2014 Allan has taught at Ryerson's Faculty of Communication and Design (FCAD) in both the RTA School of Media and for Creative Industries.
"He is an award-winning creator, writer, director, editor, producer (showrunner) and executive producer of numerous documentary, reality factual and comedy series for broadcasters including HBO, Disney, Comedy Central, PBS, CBC, Comedy Network, Super Channel, Shaw Media, W Network, TVOntario, VisionTV and others. He is a blogger, filmmaker with a passion for big ideas.
"Most recently Allan has been embracing new production and teaching platforms and formats, starting a virtual summer camp for media makers, called ScreenzCamp, shooting travel films in 180 3D and 360 Video formats and founding a post-Covid collective of content creators."
Allan might be best known to Winnipeg audiences as the creator of the show, "Loving Spoonfuls," which featured Winnipeg-born David Gale cooking different ethnic dishes with a rotating cast of grandmothers from different backgrounds. His first co-host was Allan's aunt, Ruth Zimmer.
There were a total of 65 episodes of the show created altogether, and it was eventually broadcast in a host of different countries, including: Finland, Italy, New Zealand, Israel, Nigeria, Singapore, South Korea, Kazakhstan, Kuwait, Brunei and Singapore.
In a recent phone conversation Allan described the attention to detail that went into making his most recent film about his mother and her siblings, including obtaining archival footage of the family's home in Sanok, Poland (near the Carpathian Mountains).
The film received its world premiere at the Shaftesbury Retirement Residence this past Sunday, August 28, when Allan was able to gather his mother, her sisters, and their brother, all together in the movie room to watch it.
Allan says that he has not finalized plans to have the film shown elsewhere as of yet, although he has received many requests from Jewish film festivals and Holocaust museums around the world as word of the film has got out. (By the way, during our conversation Allan paid special tribute to Jewish Heritage Centre President Mark Kantor for coming up with the idea for Allan to make a film about the Fink family.)