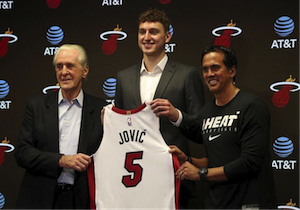 American sports are some of the biggest and best-loved on the planet. And while the sports are huge, it's often the players who generate the interest and passion from fans. At present, and over the years, there have been some megastars gracing the scene, and many of them have gone on to become global icons.
Sue Bird
We begin as we mean to go on with a mention for Sue Bird, a point guard for the Seattle Storm. In terms of big games, the forty-one-year-old, who is of Jewish heritage, has been there and done it all in the WNBA and in basketball. In 2002 she was named Women's National Player of the Year, becoming a 3x WNBA champion and a 13x WNBA All-Star. Add to that Bird's haul of two Olympic gold medals as part of the US Women's Olympic Basketball team, and you see why she's worth inclusion.
Nikola Jokic
We had to follow up on Bird's inclusion with the NBA's current MVP Nikola Jovic. What can you say about this man that hasn't already been said? The twenty-seven-year-old Serb is now looking to secure his third consecutive MVP award this coming NBA season, and his pursuit of glory will no doubt increase worldwide fascination with the NBA Finals. The Denver Nuggets star man has just penned a substantial new deal with his team as he continues to take his game and the sport of basketball to the next level. 
Aaron Donald
Aaron Donald, who hails from Pittsburgh, Pennsylvania, in the eyes of many, was the best player in the NFL last season. And, as well as being one of the biggest names in American Sports right now, we're potentially talking about this thirty-one-year-old going down in history as one of the greatest defensive players of all time. What you get with Donald is a defensive tackle who not only overwhelms every opponent he comes up against, but he makes game-winning plays, as seen in the NFC Championship and the Super Bowl.
Connor McDavid
Connor McDavid isn't just one of the biggest names in American sports and the NHL right now. It's been the case for several years. McDavid, 25, who plays as a centre for the Edmonton Oilers, who he's been with since 2015, is a player who draws people to the sport of ice hockey because of how talented he is. He's the highlight reel king, and not only does he make everything look effortless, but he also racks up the points at an impressive rate. As a result, it's likely McDavid will go down in history and could get close to achieving Wayne Gretzky status.
What the biggest names in American sports tend to do is not only rack up personal and collective achievements. They also put their sporting discipline on the map, be it the NBA, NFL, NHL or something else. It's one of the reasons why American sports continue to prosper.