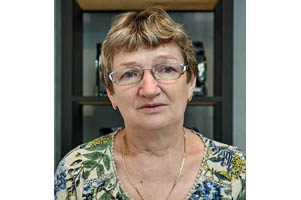 By MARTIN ZEILIG In late July, I received a document from a friend, which was sent to him by someone associated with the Beamsville, Ontario-based charitable organization, Friends of the Mennonite Centre in Ukraine , (FOMCU).
The document was part one of a story written by Iryna Lynka, the mayor of Molochansk, a city in eastern Ukraine.
Lynka was captured by the Russians around March 15 after Russia's unprovoked, illegal and genocidal invasion of Ukraine began on February 24, 2022. She was released three and a half weeks later, and is now living in the Ukrainian controlled city of Zaporozhian, Alvin Suderman, the FOMCU Chair in Steinbach, wrote in an email to me.
"It is a horrific story," he wrote.
"Imagine being held in the prison in Tokmak listening to the screams of people being tortured."
The report was translated into English by Oksana Druchynina, the FOMCU manager now living in Abbotsford; B.C. Ms. Druchhnina is still translating the second part of Ms. Lynka's narrative.
Iryna's story
The former mayor of a town in south eastern Ukraine has finally been released, after nearly four weeks in Russian captivity. What's more, she is defiant.
"And I didn't surrender, I was reborn from tears. I was born Ukrainian." Those words are from a song Iryna Lynka knew before she was abducted by Russian soldiers.
Iryna was elected mayor of Molochansk in Zaporizhzhia. After Russia attacked Ukraine in February, her community was occupied in two days. She says initially, the Russians did not behave cruelly, as it seemed they believed their own propaganda that they would be welcomed. They were wrong. When the security arm of the Russian military arrived, three weeks later, the abductions began.
"On March 31, at 6 am, they came to my home. A search was conducted. My sister and my mother, who is 82-years-old, were staying overnight. I asked them not to disturb my family, and they did not. First, they asked if there were police or Ukrainian soldiers in our house. I could report that there were none.
"Then they asked why I—as a local politician— supported a pro-Ukrainian party called the "Servant of the People" rather than the pro-Russian party called OPZZH. They took away all the papers and work files. They took me outside and the home was searched by five Russian agents. I noticed that there were many fully armed men on the street. They surrounded the house.
"As they were taking me away, we passed a Russian armoured vehicle, and the driver turned to me and scornfully said: 'Are you disappointed that this is not the Ukrainian Armed Forces!'"
WITH A BAG ON THE HEAD
"Then they put a bag on my head and put me in another car. They drove to the Tokmak police station, 12 km away. My deputy and another town worker were also brought there. I noticed through the fabric covering my face that they also had bags on their heads. Their primary goal was to lure me— as the head of the community— to their side.
They took my phone and passport and said that we know everything about you, that you have authority among the population and that you are very suitable for us. They wanted me to join their side, to make a video of me distributing their "humanitarian aid" and to talk about the advantages of the Russian Federation. I was to tell people to join the Russian side. And I immediately said "No."
"At first, they seemed to be polite, addressing me with respect. Then later, they were very rude and disrespectful."
"REAL BANDERA!"
Iryna says she was interrogated by young security services men who were not older than 30. They teased and threatened her.
"They opened my passport and saw my place of birth, which is the Lviv region. But I have lived almost my entire life in Eastern Ukraine, in Zaporizhzhia.
"Ah, so you are a true Bandera! " (a pejorative term for Ukrainians, coined after the Nazi collaborator and anti-Semite Stepan Bandera), they said.
"All the interrogations took place at the police office assembly hall. I had been placed on a chair in the middle of the room, surrounded by six to eight men with machine guns pointed at me. They all wore balaclavas, but I will never forget their eyes. I think I could recognize them now."
"I was told I had two options: to cooperate or to hope for an exchange. Of course, I wouldn't want to go with a suitcase to an unknown place where I don't have anywhere to live. But personally, I did not imagine how it is possible to cooperate with them. Later, the lawyers in Ukraine explained to me that if I had given my consent to cooperate, it would not have been seen as collaboration by Ukrainian authorities, since I was forced under machine guns, and it would not have been a voluntary decision. But I immediately understood that Russians are people with whom there will be no compromise, no dialogue. And if I had agreed to hand out their 'humanitarian aid,' then they would have had more orders, they would never stop forcing me to do what they need."
BLACKMAIL AND THREATS
As a result of refusing to cooperate, Iryna was threatened and told her family and children (she has two adult sons) would suffer the consequences. "They said: 'You will die and rot here. We will take you to Russia and we will put you before the court and judge you according to Russian laws. No one will find you!' ". She understood all this was possible.
"I was interrogated in the evening when it was already dark. They were angry… because they couldn't get what they wanted from me, they couldn't do anything with me. But physically they did not touch me."
Still, Iryna says they used whatever means they could to intimidate and blackmail her. She says when she returned to her cell after the interrogations, everything felt mixed up. She had never written poetry in her life yet, while in captivity, she wrote half a dozen poems.
She did not know what would happen from one minute to the next, and whether she would ever be released.
And she recalled her friend's song. "When I remembered these lines, I didn't think about my troubles, but I thought of people who had it much harder than me, and especially our men and women at the front. And I had to survive through all these troubles. I only asked and prayed to God that they would not take advantage of my family, so they would not arrest and torture them."
OUR GUYS WERE
UNGODLY TORTURED
But Iryna's time in her cell was excruciating. She could not bear the sounds she heard coming from men being tortured nearby.
"We, the women, were not beaten up, but what I heard… the window in the cell was opened deliberately so that I could hear what was happening there, how people screamed, how they were mocked. The boys were brutally beaten, which was not done to the women! They were moaning, and screaming, and begging… just horror. Later, one of them told me that they poured water into a bowl and passed an electric stream through his legs, and something was inserted under his nails, and he was pricked.
"And here you are, lying in the cell, no one touches you, but you are tortured by those sounds and screams of terror. I thought how can those who torture people, return to their families, how can they hug their wives and children, be gentle? They were not acting human."
"KYIV, CHERNIGIV AND
SUMY ARE OURS!"
While in captivity, Iryna had no information from the outside. Taking advantage of this, the security services officials said that the Russians had already taken Kyiv, they had taken Chernihiv and that there would be no Ukraine.
"Somehow, I was able to receive a small package of chocolate and prunes from my sister, Svetlana. Hidden inside, was a note: 'Kyiv, Chernihiv and Sumy are ours!' "
"God, how I kissed that note! I understood that they were deceiving me, that everything was not so bad. Over time I received a few more notes. How important that was. It broadened my understanding of what was happening."
"Something I won't forget is how afraid I was of getting sick. In April, it was very cold in the concrete cell. My feet were freezing. Medicines were sometimes given, but there were times when a doctor was deliberately not called. Once I woke up and I was shaking; I took a pill. I did not know whether my blood pressure was very low or, on the contrary, too high. I called for a doctor, but he never came. And in the evening, they called me for questioning and smiling, asked 'Well, how are you?' I said that everything was fine, but I thought to myself, 'You will not get me!' For them, all their tactics were acceptable, and I understood that one must never show weakness or fear. I'm not saying that I'm fearless and I was not afraid. No, I was afraid. I understood that anything could happen."
HOPE FOR AN EXCHANGE
"A week later, I signed a letter of resignation, saying I was no longer mayor. I understood that according to Ukrainian laws, this would not change anything, but the security services wanted me to formally acknowledge I was not the head of the community. Together with the resignation letter, I made a written request to be included in a prisoner exchange and this was handed over to the Molochansk town council.
"Although under the Geneva Convention, civilians cannot be captured and therefore can't be exchanged, the Russians did just that. They abducted people so they could have an 'exchange fund' for their side.
"My name was included on a prisoner exchange list three times. Two Russian soldiers were offered for me. However, I was taken off the list every time. I'm convinced that the man who lost the mayoralty election to me, and who now cooperates with the Russians, helped remove my name."
MORE THREATS
"One day, a new commander was going around the cells. I asked him about a prisoner exchange. He told me it was 'in the process.' That's when I realized an exchange was very possible. Soon, during another interrogation, an officer offered to record a video of me appealing to my community, with propaganda about the Russian Federation.
"I refused again. 'Then you will die in the cell!' And I said, 'I will be exchanged!' He replied that they tore up my application and flushed it down the toilet, that there would be no exchange. 'It will happen,' I said. 'There is already a resolution." He snapped: "How do you know?"I told him that I had been informed. He shouted: 'That's it! No more relief packages from your family.'
"I was afraid that they would search the cell and find the notes. As soon as I returned from the interrogation, I tore the notes up. These pieces of paper were so dear to me, I reread them multiple times, but I threw them into the toilet."
RELEASED, BUT THE FEAR REMAINS
In the end, Iryna Lypka was not exchanged, but released. The Russians did not explain anything. She believes that she was saved because the men holding her captive were reassigned and a new, more compassionate team was brought in.
"I was released in the afternoon on April 23, just before Easter. When I came out, I was so dizzy, that my legs wobbled. I was not weak, but the arrest left its mark. For example, I woke up on Sunday at home, opened my eyes and got scared – why is there so much light in the room?
"Or when a dog barks on the street – I run to the window. If a tractor is driving by, I imagine that I see a tank. If I see Russian military vehicles driving by, I think they must be coming for me.
"Soon after my release, Mayor Kotelevskyi of Tokmak was killed. This is the city where I was held prisoner. Officially it was declared to be a suicide, but the people did not believe that. As the deposed mayor of Molochansk, I did not feel safe and this is when I felt I had to leave."
In the end, together with her 82-year-old mother and her sister's family, Iryna left for the nearest Ukrainian-controlled city of Zaporizhzhia.
"IF WE FIND BANDERA –
WE WILL SHOOT EVERYONE!"
Iryna Lypka says it is difficult for Ukrainian people to understand the Russian army.
"The Russian soldiers went from house to house and asked, 'Do you have Bandera?', and people laughed at them. The Russians said, 'If we find them – we'll shoot everyone!'
"Some Russians made themselves at home in one of the houses. The owner came in and smelled a terrible stench from dirty clothes and socks. She was indignant: 'You could at least ventilate. They were surprised: 'Are you saying that your windows open?' It turns out that they had never seen double-glazed windows, yet they came to Ukraine to 'save' us.
"Russian soldiers are amazed that the houses are all built of brick and stone. It appears that they rob households of microwave ovens as they have never seen them before. The occupiers also told her that they have no natural gas in the villages in Russia. That is, the pipeline goes through the village, but there is no access to the gas for the villagers.
"They were amazed at everything – the paved road, natural gas, and streetlights.
"The security services tried to tell me during the interrogations that Ukraine is a mess and that Zelensky is bad. On the contrary, I started telling them about the program… 'Big construction' being implemented in the country – roads, schools, gardens, sports complexes—large facilities are being built. We have problems and we need to solve them, but we do not go to Russia to solve theirs.
"Only once, during the interrogation, one of them blurted out that 'I feel sorry for you because you are a woman.' And others have no emotions – they just have the orders they follow. And they just have a terrible hatred for us."
Now Iryna Lypka is in Zaporizhzhia, dealing with issues of financing the community, as well as issuing documents to graduates of the schools in the area. She also organizes the work of the Children's Affairs Service. In Zaporizhzhia, they are trying to help those who have fled the Russian-occupied area, and they are also arranging humanitarian aid. Those who leave Zaporizhzhia deliver necessary goods to the Russian-occupied community.
The new mayor appointed by the Russians operates in Molochansk. He drives Iryna's car around the town, the one the Russians seized from her.
"There are people in Molochansk who cooperate with the Russians or seem happy about their new life. There are women who live with the Russian occupiers.
"I cannot understand these people. They see what the Russians do, how they mock the Ukrainians, how they rob and take everything from people. Everyone sees everything with their own eyes, not from the TV screen. And someone goes to bed with that animal. It simply cannot be understood.
"What can be said, of people who are well- off, fighting to get in line for Russian 'humanitarian aid,' so that even the Russians laugh and film them? Well, one could understand if people were really bloated with hunger. But each of us has potatoes and vegetable gardens. You should not disrespect yourself like that! I also don't understand a person who always puts her hand on her chest while singing the National Anthem of Ukraine and today is collaborating with the occupiers. However, there are just a few of them. There are more patriotic people than corrupt ones."
"I believe in our Armed Forces. I believe that we will definitely win and rebuild our beloved Ukraine. Let's all believe!"