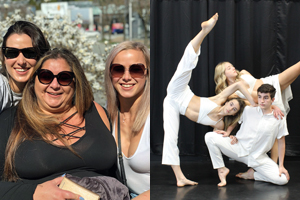 By MYRON LOVE In more ways than one, for Rheesa Schachter, Kids Etc. Youth Movement Company is a family affair. Her daughters, Taylor and Jessica Smith, whom she describes as her two best friends, have been an integral part of Kids Etc. since they were teenagers – both as students and, later, as teachers – and, since 2017, have been her partners in the business.
Taylor is an award-winning dancer, a choreographer and a performer who has also qualified as a personal trainer and has her own personal training gym. Jessica's credentials are equally impressive, having competed in the World Dance Championships and having been chosen as a Hall of Fame All-Star. Jessica has completed her Intermediate Level Cecchetti Ballet Exams. Her mother notes that she has assumed responsibility for Kids Etc.'s marketing and social media initiatives.
In addition, Rheesa notes that her husband, Paul, handles administration duties and is always available to help in a myriad of ways from providing bandaids to editing the music to cleaning the toilets.
On another level though, Schachter says that she considers her staff and students also as part of one big family. She observes that all of her students are like family to her and that half of her 20-plus teaching faculty are former students. During these past few months of pandemic closures, she notes, she kept all of her staff on salary and kept to a teaching schedule via Zoom.
Rheesa Schachter has been dancing – and teaching dancing – virtually all of her life. The daughter of the late Joe and Sunny Schachter – who grew up in River Heights – began studying ballet at an early age. She recalls that when she was young, ballet was the only option for aspiring dancers. Jazz dancing was only open to students 13 and older.
"I felt that jazz dancing should be available to younger students as well," she says.
At the tender age of 16, the future dancing teacher approached the former Ramah Hebrew school – where she had been a student – about offering dance classes after school.
"I started with 12 children, twice a week, teaching jazz dance," she recalls. "It was very exciting. I loved working with the kids."
Over the next few years, while she finished her education – graduating from Grant Park and the University of Manitoba (with a B.Comm. degree) – she continued to teach dance and her student numbers continued to grow. She had also studied dance at York University during her summers off from the U. of M. and completed her Royal Academy of Dance ballet exams.
"After university, I got a real job at a bank," she recounts. "I hated it. My passion was dancing. After a year, I quit and founded Kids Etc."
While at university, she had taught her dance classes in rented spaces at churches in River Heights. In 1986, she opened her first studio on Academy Road in what had been Gerry Gurvey's Uptown Drugstore. A couple of years later, she moved the studio to 686 Academy Road. In the early 1990s, she relocated again – this time to 3525 Roblin Blvd in Charleswood.
"With my student numbers continually growing, I had to keep expanding," she says.
She also had to hire and train a growing number of instructors for the ever-growing number of classes that now include ballet, Jazz dance, Hip Hop, Tap, Lyrical, Modern, Musical Theater, Adult, and Pre-School dance programs.
In 2017, with her lease on Roblin coming due, Rheesa Schachter had a decision to make – retire or expand. "I wasn't ready to retire yet, so I decided to expand. I looked up and down Portage and Grant and Taylor for a suitable new location without success. Then this space came up near McGillvary Blvd, (505 Fort Whyte Way). The developer was willing to build. It was fantastic."
At over 11,000 square feet, she reports, Kids Etc. has the largest studio in Winnipeg. The building contains four large studios (one labeled AFK – alles for the kinder – in recognition of her parents' influence on her), bleachers for spectators and a huge lounge area for parents.
Pre-Covid, Schachter notes, Kids Etc. was offering more than 100 classes a week – with classes averaging 10-15 kids each. "We prefer smaller class sizes so that we can give each child the attention each needs," she says.
"We pride ourselves in that we challenge our students but also focus on maintaining balance," Taylor adds.
Jessica further points out that the staff works to foster a close relationship with the students while also incorporating a sense of fun in their teaching.
Their mother notes that while Kids Etc. has produced some students who have pursued a career in dance, the staff works to encourage each student to build their self-confidence and strive to achieve their personal best in a non-competitive setting.
Schachter says that with the Covid situation hopefully improving, she hopes that Kids Etc can get back to normal business in the fall.
Asked about the accessibility of the Fort Whyte location, Schachter responds that students come from all over – including three students each from Morden in southwestern Manitoba and Arborg in the Interlake.
Schachter has thought about retiring in a few years and leaving the dance studio in the capable hands of Taylor and Jessica. "I will probably never completely retire," she says. "I really love teaching dance."