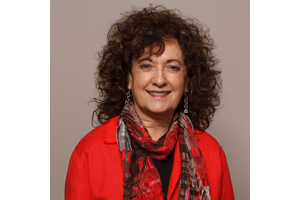 By GERRY POSNER Flexibility is an important quality as chiropractor Martin Gurvey (about whom you can read at http://www.jewishpostandnews.ca/8-features/836-martin-gurvey-a-very-flexible-guy) has demonstrated, but then in another related way, so has Anita Jacobson. You might say that Anita is to Occupational Therapy as Martin is to Chiropractry.
Anita has had, as has Martin, careers in both Manitoba and Ontario and, in both cases, has had considerable success in her chosen profession. As well, aside from her work, Anita Jacobson can make a claim that very few, if any, ex -Winnipeggers can make – more on that later.
Anita is the daughter of Bill Bulstein and Ida Cristall. Her origins are legitimately north end Winnipeg. They include going to Winnipeg Beach every summer, BB Camp and volunteer work at the Logan Neighbourhood House. It was there that she developed her social conscience and, as she says "the learning of the use of self as a therapeutic tool in treating people."
Anita chose to enter the Faculty of Occupational Therapy in its second year of life at the University of Manitoba. Upon graduation, she entered the work force and her career, over a span of over 45 years, took off. Jacobson can rightfully say that she has risen to the top in her chosen field. And if she won't say it, I will.
Following her obtaining a Bachelor of Occupational Therapy degree, then a Master's Degree in Health Education from the University of Manitoba, Anita was invited to be a sessional lecturer in the Faculty of Medical Rehabilitation at the University of Manitob,a which she did for eight years. Later, Anita was a lecturer in the Department of Rehabilitation at the University of Toronto. Along the way, she received awards from the Y.W.C.A. in 1983 and 1984 as Manitoba Woman of the Year.
In the management category, Anita earned her honours with a serious devotion to her work, starting with 23 years from 1964-1987 at the Health Sciences Centre as a clinician in Mental Health and ending as the Director in the Occupational Therapy Department – covering four separate hospitals. Giving all of that up and moving to Toronto in 1987 was a major decision for Anita, who took her three children, Perry, Darryl and Lori with her at a time when they were all quite happy in Winnipeg.
Anita came to Toronto cold, seeking more challenges, really knowing no one except a sister who lived there. No matter how you slice it, this was a bold move, yet Anita carved out a career and life for herself and kids that was both enriching and satisfying.
Anita's professional work in Toronto has been extensive and varied. She has been a consultant on several occasions to the Ministry of Health and Long Term Care at Toronto East General Hospital, St. John's Rehab Hospital and St. Elizabeth Health Care. She was also involved with the Women's College Hospital and at the Joseph Brant Memorial Hospital in Burlington.
Possibly her most important position was as the Practice Resource Liaison of the College of Occupational Therapists of Ontario ( COTO), the regulatory body of the profession. Her positions as Director of Services in the areas of hospital, community and in-home services prepared her for this position. In that capacity she was responsible for writing and developing standards and regulatory policies for Ontario occupational therapists as well as providing advice to the public and OTS on regulatory practice issues.
On top of all of that, Anita has volunteered her time and energy right from her days in Winnipeg. Some readers might remember Anita as mayor of the Israel Pavilion at Folklorama in 1983 and 1984. Anita even had her daughter Lori selling bagels on a stick at the age of four at Folklorama. Anita also has had volunteer experience with the Canadian Mental Health Association, Skills Unlimited and the Mental Health Programme Services in Toronto. In each of those roles, she served on the Boards of Directors.
With all that Anita has achieved in her professional life, Anita is quite clear in her gratitude to the Health Sciences Centre, where she she found openness among various disciplines working together in innovative treatment models. She says, "As a teaching hospital, there were students from the diverse disciplines who worked with the range of staff and we learned from each other… We have to thank Drs. Harry Prosen, Bill Bebchuk, Chiefs of the Department of Psychiatry, and the psychiatrists who valued the skills and contribution of the multidisciplinary staff and who promoted teamwork."
Now, I mentioned Anita has yet another claim to another unusual kind of fame. It's true that she moved away with her children at a critical time in their lives. Both sons, Perry and Darryl, completed B.Sc. degrees at the University of Toronto, with Perry graduating in medicine and Darryl in law in Manitoba and both ending up earning M.B.A.'s from Western University in London, Ontario. How rare is that?
Even more unusual is that Anita's daughter Lori made just as big a decision as her mother did in 1987 when Lori chose a few years ago, following her obtaining a B.A. at York University, to return to Winnipeg as a full time resident. It is in Winnipeg where Lori works as a manager in Human Resources. Do you suppose it was the selling of bagels at age four that drew her back? You could argue that Lori's return to Winnipeg was a form of pay back from Anita to the city of her roots. Whatever the cause, Lori's presence in Winnipeg is just another key reason for Anita to make trips (when it becomes feasible) to the city and to renew her many friendships there.