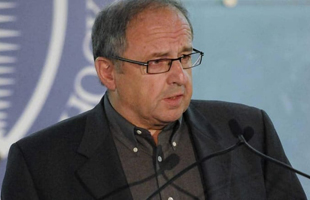 By BERNIE BELLAN A while back I was sent a link by reader Morley Bernstein to a very interesting story that happened to be on the CBC website. The story was about longtime hockey guru Sherry Bassin, who has spent a good part of his life managing hockey teams at various levels.
This particular story had to do with an episode in Bassin's life that happened in 1983, when he was the assistant coach and general manager of Canada's national junior team.
When I read the story my first thought was to try to obtain reprint rights from the CBC itself. But, to my chagrin, the CBC wanted way more than I was prepared to pay to reprint that story, so I decided not to do pursue that avenue.
Then, I began reading "The Ninth Terrorist". If you read my accompanying review on the opposite page you'll see that a good part of that book also has to do with a hockey tournament in Russia and, as was the case with Sherry Bassin, about a Canadian Jew wanting to help Russian Jews through subterfuge.
Here, in a nutshell, is what Sherry Bassin did back in 1983. What follows is based upon that original CBC story, written by someone by the name of Gary Waleik. My story also includes references to a phone conversation I had with Sherry, with whom I was able to get in touch from his Oshawa home.
What transpired in 1983 was Canada's national junior team's going to Leningrad to play in the World Junior Championship that year. About a month before the tournament was to begin, Sherry told me, he had the idea that he could do something useful for the Jewish community of Leningrad.
He decided to purchase a great many tallisim (prayer shawls) and sidurim (prayer books), all at his own expense, and smuggle them into Russia.
I asked Sherry what motivated him to do that – especially considering that he was taking a great risk that, if discovered, he could be arrested?
He said to me that his father had come to Canada from Ukraine. When his father was only seven, Sherry told me, he was sitting on a watertower with some friends in his hometown one day, when a pogrom broke out. To his father's horror, he watched as Ukrainians and Jews fought a bloody battle, leaving many Jews dead. Seeing that left an indelible mark on Bassin senior – but it was also something that carried over into Sherry's identity as a Jew.
Although hockey was his passion as a youth, Sherry realized that he would never make it to the pros, so he decided to seek an education instead. According to Gary Waleik's story, "Bassin earned a Juris Doctorate, a Masters in hospital administration and a Ph.D in pharmacy. He spent decades as a college professor, pharmacist, junior hockey coach and team general manager. He also worked as a television color commentator and served as assistant general manager of the NHL's Quebec Nordiques."
Then, as already noted, in 1983, Bassin took upon himself the mitzvah of transporting sidurim and tallisim to what was then still the Soviet Union.
He hid the religious articles among the hockey bags of the players on the team – with their consent. But, as Waelik describes in his article, "In December 1982, with the beginning of the tournament just days away, the Canadian team boarded a train in Helsinki bound for Leningrad. When it reached the Russian border Bassin recalls, 'The soldiers came on the train. One was a commissioned officer, and two of his assistants. And they're holding rifles. One guy's pointing it at me.' "
The soldiers confiscated the bags, much to Bassin's chagrin. He knew he would have to get to them before any Soviet official did, so Bassin had to act quickly. According to Waelik's article, Bassin was asked to produce a lineup of the Canadian team for one of the tournament organizers. Thinking quickly, Bassin said the lineup was in one of the bags that was confiscated.
However, during my phone conversation with Bassin, he had a slightly different version of what happened. He told me that he was able to get in touch with the deputy mayor of Leningrad and, at 2:30 in the morning, arrangements were made to get the hockey bags back to the team's hotel. No one had opened them.
So, the next morning, Bassin, along with a box full of tallisim and sidurim, took a cab to the Leningrad synagogue. (There was only one synagogue, Bassin explained).
"The cab driver told me there was no way he was going to drive all the way to the synagogue (no doubt thinking the KGB had it under surveillance), so he dropped me off a block from the synagogue."
He shlepped that heavy box to the front door of the synagogue and went inside. The 40 or so men who were there suspected he was a KGB agent, until he reassured them he wasn't.
At that point the men began "rejoicing like you wouldn't believe," Bassin said. "They were dancing and singing, hugging me, and they wanted to give me an aliyah."
The rest of Waelik's story deals with the hockey tournament (in which Canada finished third, despite having such future stars of the NHL on the team as Mario Lemieux, Steve Yzerman, and Dave Andreychuk).
But, in my conversation with Bassin, he recalled one more colourful anecdote. The KGB kept a constant watch on Bassin and the rest of the team, he told me. One day he wanted to take a cab from the team's hotel and, although there were loads of cabs outside, none of them would give him a ride.
The reason, he explained, was that there was a big car parked nearby, in which a KGB agent was sitting – and who was not trying to hide his presence. When the KGB agent saw that none of the cab drivers would pick Bassin up, he himself drove over to Bassin and asked him where he was going? Bassin told him.
"Hop in," he said to Bassin. "I'll give you a ride."
During the course of the ride, Bassin asked the agent where he had learned to speak English.
"I went to university in Washington," he answered. The agent went on to explain that different agents would get sent to different countries to further their educations and learn the languages of those countries.
While Bassin could certainly have taken pride in revealing what he had done to help Soviet Jews back in 1983, he kept what happened to himself for years afterward (although his wife had been aware of his plan, he told me, and had offered her full support. He also only told his father what he had done after he returned from Russia.)
"I didn't want to get anyone in trouble," he said to me – in case Russian authorities would have heard about his escapade and exacted some form of punishment upon the Jews of Leningrad who had met Bassin.
While "The Ninth Terrorist" tells a different story, the parallels between fiction and reality in that hockey tournaments in Russia provided perfect cover for subterfuge in both the book and, in Sherry Bassin's case – in reality, that ended up helping Jews in that country, and which certainly makes for interesting reading.