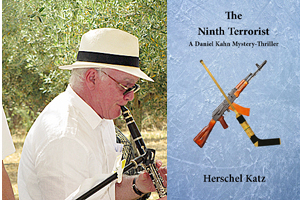 By BERNIE BELLAN In 2019 I wrote a review of a book titled "The Clarinetist". It had been sent to me by an expatriate Canadian who had moved to Israel in 1984 by the name of Herschel Katz.
As I noted in that review, the book was quite good for a first-time author. In it we were introduced to a young Montreal high school student by the name of Danny Kahn who ends up enmeshed in an intriguing situation having to do with the Montreal father of his girlfriend.
The father, it turns out, is tied in with some very shady characters and, one thing leading to another, Danny becomes involved in some hair-raising adventures that take him from Montreal to New York, and then Israel.
Katz had become a writer, he noted on the book jacket, because "Several years ago, the author worked as a part time book reviewer, then decided to try writing his own story."
Now, two years later, Katz has come up with another mystery novel, again featuring Daniel Khan (who, I guess, has graduated from being called "Danny"). By this time Daniel has progressed to becoming a 22-year old medical student at McGill, also a writer for the McGill student newspaper. The book is titled "The Ninth Terrorist" and, after reading it, I sent Katz a note saying he had the makings of another Daniel Silva, who is one of the world's most popular mystery writers and who has also created a recurrent hero by the name of Gabriel Allon.
As good as "The Clarinetist" was for a first-time effort, "The Ninth Terrorist" shows terrific improvement on Katz's part in terms of plot structuring and dialogue. The book actually blends three different plots into one overarching story, which has to do with nefarious activities involving East Bloc bad guys in the 1970s – when the Soviet Union was still very much a Communist dictatorship and closely aligned with Palestinian terrorist organizations .
The story begins with the legendary "Summit Series" between Canada and the USSR in 1972, in which a team composed of Canada's best professional hockey players from the NHL faced off against the powerful Soviet team in an eight-game series.
I had forgotten though, that at the same time as that series was being played, the Munich Olympics were also being staged and, anyone who was around then will no doubt recall how horrified we all were at the tragic murder of 11 Israeli athletes by members of the terrorist group known as "Black September".
Into that backdrop of high drama Katz inserts Daniel Khan, who continues to display the ability as a clever agent that he first demonstrated in "The Clarinetist". This time, however, Daniel is enmeshed in a series of events in which he has to play multiple roles, all the time fully aware that one slip-up could lead to his arrest and imprisonment in the Soviet Union.
Katz is clearly a great hockey fan and his depictions of the action during games are quite vivid. You don't have to be a sports fan at all in order to enjoy the book though, as hockey merely serves as the excuse for Daniel to be able to go to the Soviet Union as a reporter. Still, setting so much of the action in venues that would resonate with Canadian sports fans makes "The Ninth Terrorist" all the more appealing.
I would note, too, that in my review of "The Clarinetist" I was somewhat critical of the dialogue in that book, writing that Katz could have used help in creating some more authentic sounding conversations between characters. This time around, the dialogue is much improved and sparkles with often very clever exchanges.
Turning Khan into a reporter is an especially credible device, as reporters have often served as agents for various intelligence services. The fact that Khan is a Canadian Jewish reporter who can easily substantiate his wanting to go to the Soviet Union (and who also speaks German, it turns out) certainly adds plausibility to his becoming an agent for not just one intelligence agency, but several, all of which are aware just how useful he can be to them.
One aspect of "The Ninth Terrorist", however, that seems drawn straight out of the 1960s "Mission Impossible" television series (and later, the movies as well), is the use of facial disguises. Having a number of different characters put on masks that are so lifelike they can get you through any number of checkpoints is something that still remains a largely fictitious plot device – even at a time when 3D print technology has certainly made it more feasible.
Still, the ruse that Daniel Khan must employ in going back to the Soviet Union a second time – four months after the first Canada-Soviet series, certainly adds to the complexity – and intrigue of what is already a terrific spy novel. In fact, not only must he adopt a disguise at various times, he has to help others disguise themselves. At times it all becomes a little dizzying trying to remember just who it is that not only Daniel is pretending to be, but others as well.
Into this already fairly complicated plot Katz inserts a quite clever subplot having to do with someone who purportedly assisted the members of Black September when they went about kidnapping the 11 Israeli athletes in 1972. The individual, who is the "ninth terrorist" referred to in the title, turns out to be an extremely dangerous agent and Katz certainly makes this character come alive.
With action aplenty and very creative plotting, "The Ninth Terrorist" is an excellent thriller. When one considers that both "The Clarinetist" and "The Ninth Terrorist" have been self-published by Herschy Katz, one wonders how long it will be before he's approached by a major publisher with a juicy offer to continue producing more in what could become a Daniel Khan series.
I asked Herschy how one could buy "The Ninth Terrorist". (He had sent it to me as a pdf.) He replied that "My book is available directly from Pomeranz Booksellers in Jerusalem. www.Pomeranzbooks.com. My previous book, "The Clarinetist", is also available through them."
Both "The Clarinetist" and "The Ninth Terrorist" are now available on Amazon – Kindle for $9.99 CDN.
Then Herschy sent me another quite interesting tidbit of information after I told him that I was going to print an accompanying article, also about someone who entered into some subterfuge in the Soviet Union (in his case, smuggling tallisim and sidurim), during a hockey tournament. (See my story about Sherry Bassin on the opposite page.)
After I wrote Herschy about Sherry Bassin's escapade, he sent me this note:
Dear Bernie,
A personal note about me you may want to add to your book review. My late father, Boris Katz, z"l, escaped Stalin in 1924 and came to Montreal as a young man. He and his nephew founded a business making men's clothes, which became quite successful. During the 1950s, 60s and 70s, he would send packages of clothes to his family back in the USSR. Knowing how the Russian customs inspectors would steal the contents, he would pack extra jeans and put some American dollars inside the box, which, of course, were stolen. However, inside the cuffs and collars of the clothes that weren't stolen, he sewed large amounts of cash, which his family ended up getting.
This tidbit I incorporated into my story, "The Ninth Terrorist".
Herschy
I enjoy helping to publicize Jewish writers (in particular, writers from Israel) whose works might not otherwise receive much publicity because they're self-published. In Herschy Katz's case, providing a boost to a former Canadian who made aliyah 37 years ago, but who's also remained a huge hockey fan, should be ample reason for some readers to want to proceed to buy "The Ninth Terrorist". Herschy even sets some of the action in Winnipeg – in case you needed any more cajoling!